Convenient payment

Trusted-Delivery


Fast Delivery
Multi-warehouse direct hair fast delivery

Exquisite service
Exquisite service after-sale guarantee

Hassle-free return
Shop with confidence, worry-free refund
Features
Provides compatible USB 3.0 /USB-C Laptop with up to two additional displays. Build in USB 3.0 GPU, Plug and Display Certified by DisplayLink. (Note: It doesnt charge laptop.)
Supports resolutions up to Ultra 5K (5120 x 2880@60Hz) single display when using dual DisplayPort ports with 5K monitor/ Dual 4K HDMI / 4K HDMI +4K DisplayPort (4096 x 2160) @60Hz. (Note: For Display port make sure your monitor supports DP 1.2 and monitor settings are configured to use DP 1.2). Docking station is suggested for use with web and productivity software; not recommended for gaming.
Supports 5.1 channel surround sound through HDMI / DP ports, with separate amplified audio output, you can enjoy crystal-clear and full-bodied sound to have a wonderful theater enjoyment.
System Support: Windows 10, 8, 7,& legacy XP systems, Chrome OS R55. Surface RT, Linux/Unix are not supported. Please install the latest driver software from the DisplayLink website before using the product
Fantastic
Modern vertical aluminum design for unbreakable and durable use, ideal for families with children. RJ-45 Gigabit Ethernet network port supports 10/100/1000Mbps for high speed connectivity, ideal for file sharing, downloads, streaming, web videos, and so on. 2 x DisplayPort (Dual Mode DP1.2) and 2 x HDMI (Version 2.0) support resolution up to 4K (4096 x 2160p60) Supports 5K (5120 x 2880p60) when only using one DisplayPort. Supports DP MST, which allows for the use of daisy-chained DP monitors, or port expansion to up to 1080P monitors. Notes -Cannot be mixed with non-DisplayLink USB graphics adapters and drivers (e.g. MCT, j5, or SMSC).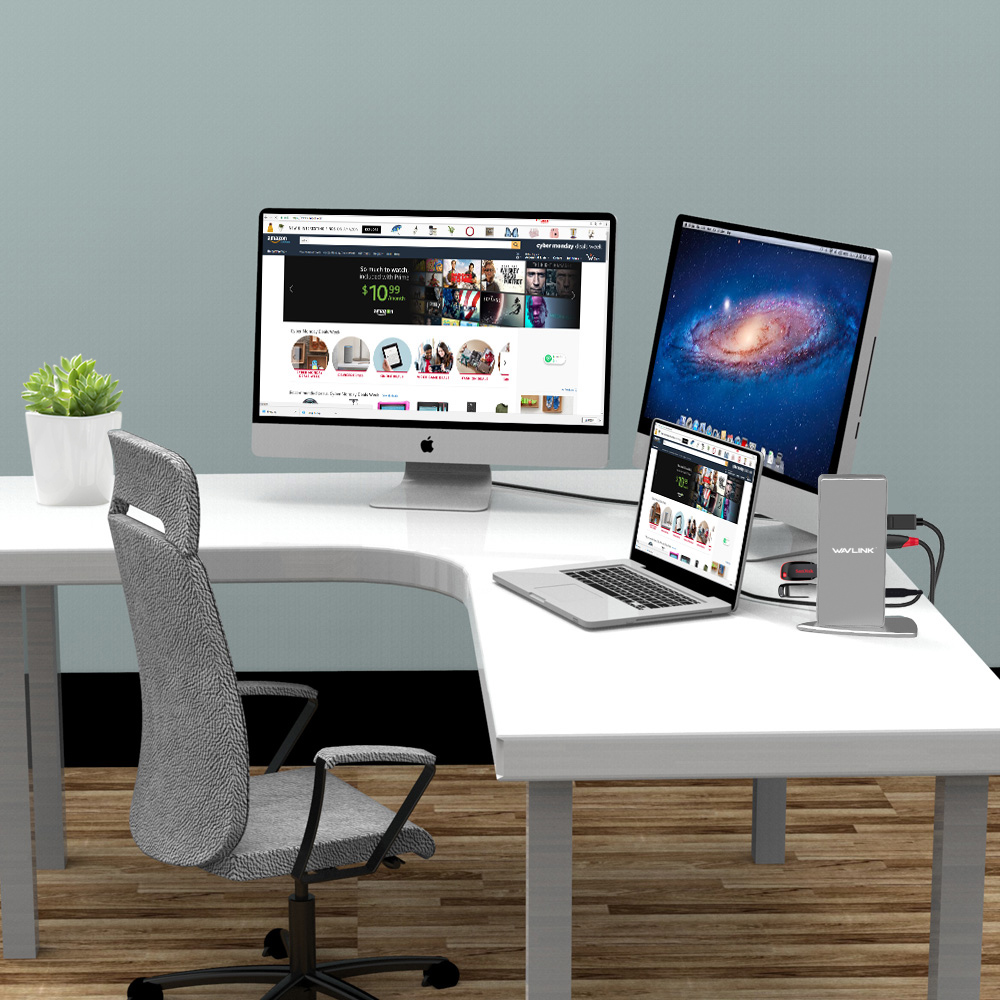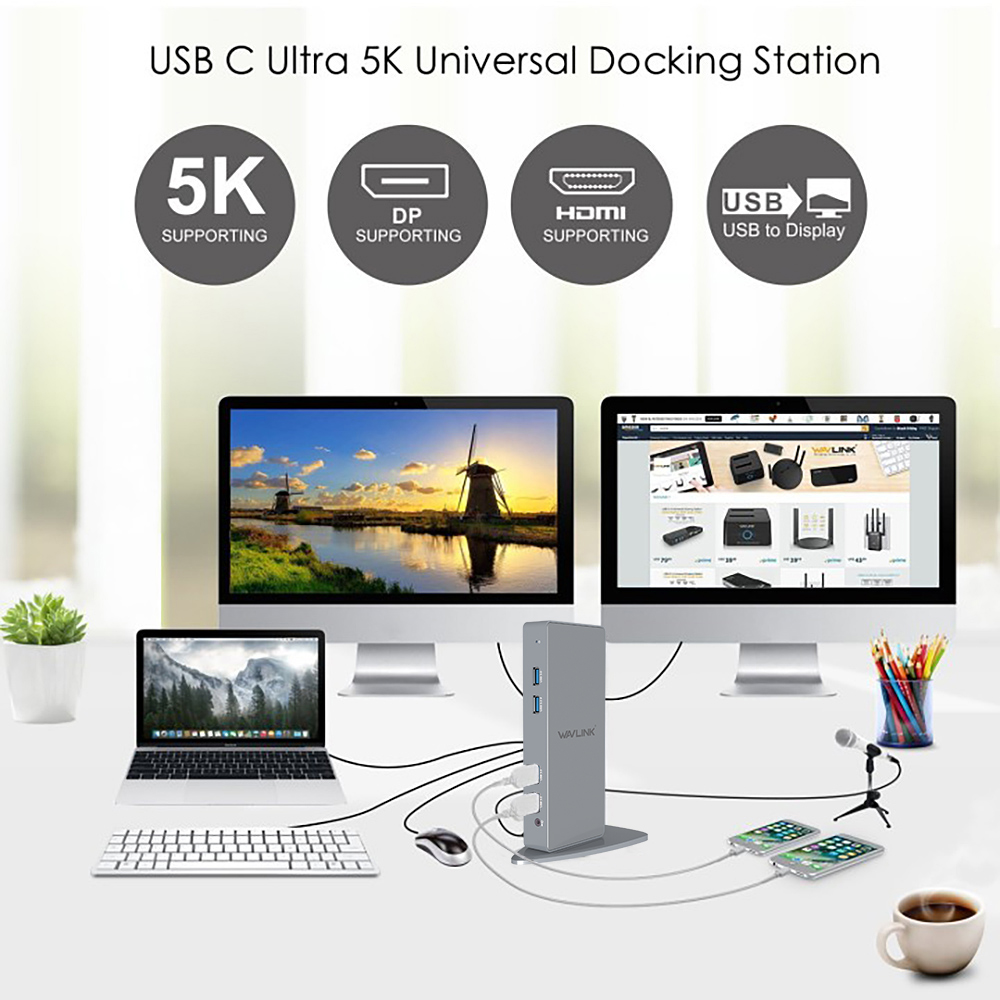 Ports
6 x USB-A2 x DisplayPort2 x HDMI1 x 4-Pole Phone Jack1 x Type-C (Connect to laptop)1 x RJ45 Gigabit Ethernet1 x DC Power Jack Port (THIS DOCK do not support charging !)
Package Content
1 x USB-C Universal Docking station
1 x USB 3.0 C to C Cable
1 x USB 3.0 A to C Cable
1 x DC20V Certified Power Adapter
1 x User Manual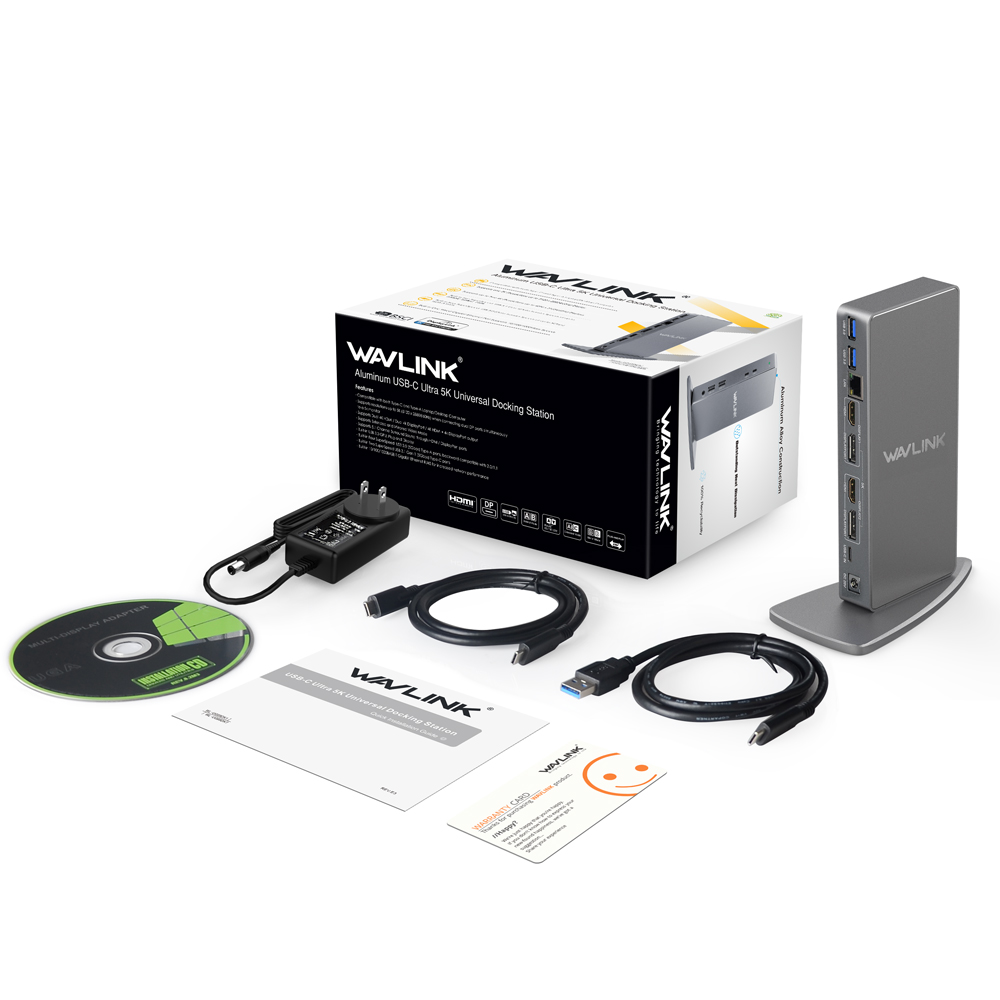 Note
5K resolution is only avaliable when you connect one monitor to two DisplayPorts.

Does not provide power attached to host laptop or tablet; the host system will still require its power cable/charger.

Supports resolutions up to 5K (5120 x 2880@60Hz) single display when using dual DisplayPort ports.
Ask Question About Product
Note:
HTML is not translated!
All(0)
Good(0)
Fair(0)
Poor(0)
Image(0)