Convenient payment

Trusted-Delivery


Fast Delivery
Multi-warehouse direct hair fast delivery

Exquisite service
Exquisite service after-sale guarantee

Hassle-free return
Shop with confidence, worry-free refund
Feature
●【Max 100W Power Delivery】 This device supports maximum 65W power delivery to laptop by upgrading the firmware, no need of extra power supply (Note:computer must support Type-C charging capabilities, support for this features is determined by your laptop manufacturer).[Please contact our technical support for firmware upgrade.]

●【Flexible Expandability】 Wavlink 14-in-1 USB-C docking comes with all the necessary functions you need in daily life and general work which includes 2x HDMI & Display ports, gigabit Ethernet, 6x USB-A 3.0 ports, 1x audio output/mic input and 1x USB-C port. One dock for all devices.

●【Dual 4K or Single 5K Display】 Support up to Ultra 5K@60Hz(with dual Display ports), or dual 4K display(any two of the HDMI and Display ports). Enjoy HD for your multitasking work, gaming, conference or other various scenarios.

●【Universal Compatibility】Adopts high performance controller IC, it is suitable for use with Windows 10, 8.1, 8, 7, & legacy XP systems, Mac OS, Android. (Go to DisplayLink website for more information.)

●【What We Offer】:1 x USB-C Dual 4K Universal Dock Station; 1 x 100W Power Adapter; 1 x USB Type C to C Cable; 1 x USB 3.0 A to C Cable; 1 x Instruction Manual. 30-day free return, 12-month warranty (extra 6 months for registered members) and life-long technical support."
Description
"Wavlink Brings Technology to Life
The new USB Type-C connector works seamlessly with this Ultra HD 4K Universal Docking Station. It can connect to any host with Standard A or Type C connectors providing a fully backward-compatible and future-proof docking station. Allow you to connect up to two additional monitors and twelve accessories through a single USB cable. Including the latest drivers for compatibility with Windows 10/8.1/7 or Mac OS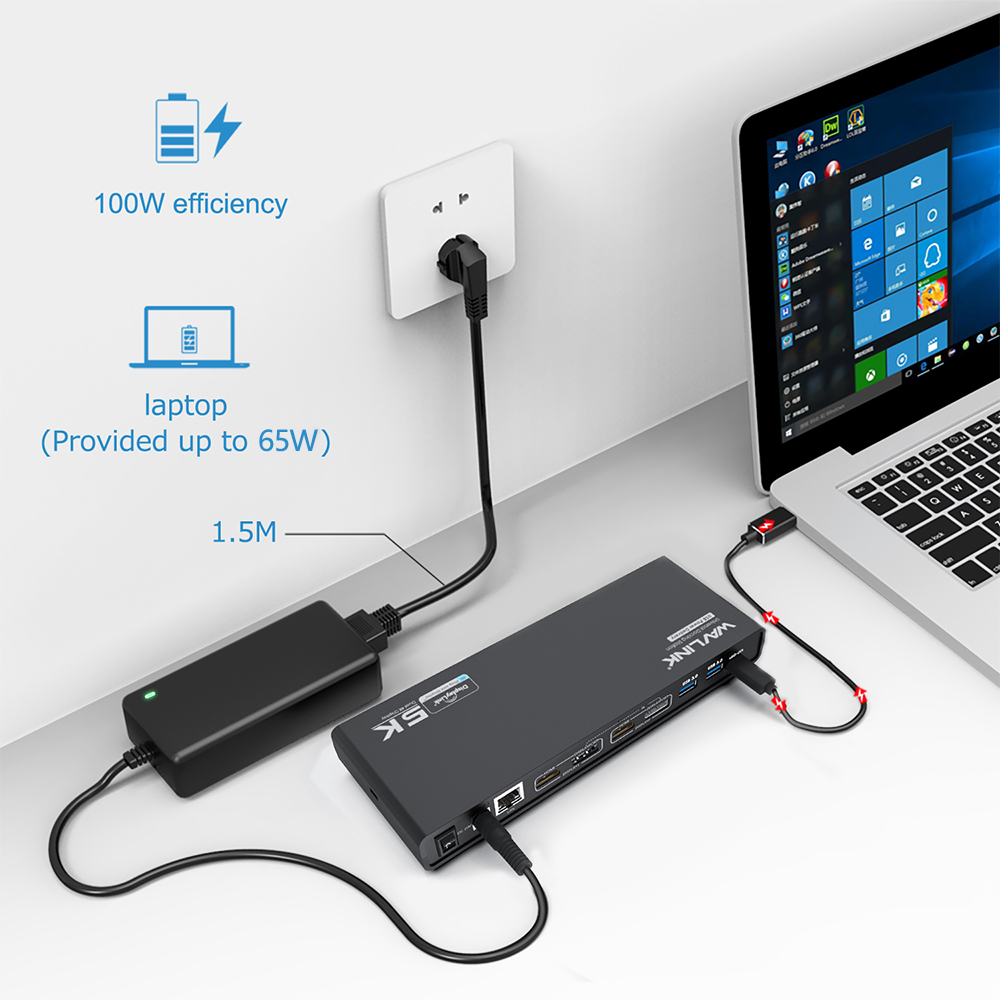 Designed Perfectly for You
With a single cable, the dock can free up space on your desk and in your workspace with the added ability to mount behind a monitor or on your desk. Great for presentations, the sleek Dock enables fast, efficient connectivity to multiple displays and all your various peripherals(like a mouse, keyboard or flash drive) through one convenient cable.

Sync-and-Charge USB-C Port
Come with a 100W power adapter, this usb c dock can charge your laptop up to 65W via the USB-C connector after firmware upgrading, as well as syncing data, photos and music.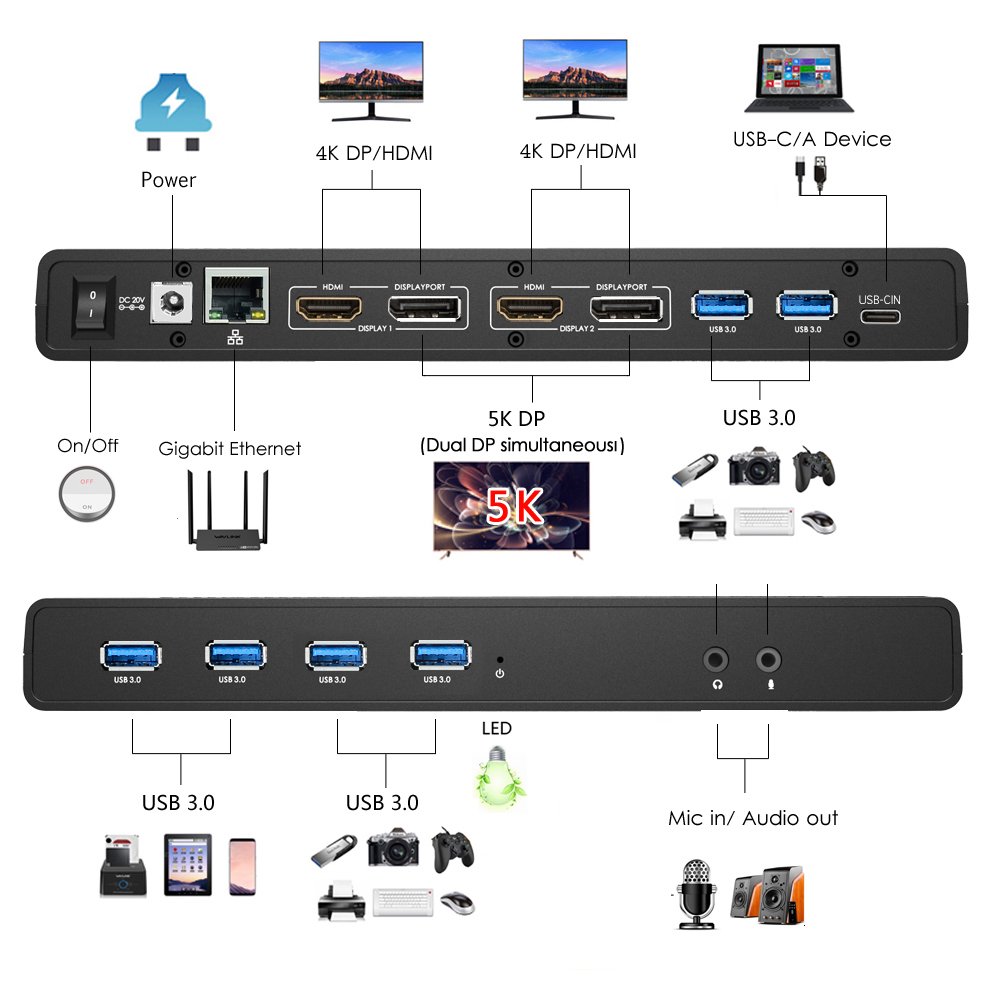 5K@60Hz Output
14.7 million pixels give you amazing feast vision, showing every details clearly as like be personally on the scene. It also helps to improve operational efficiency on images and video editing.

Dual 4K@60Hz
Featuring the DisplayPort and HDMI port, Wavlink Docking Station gives you the flexibility to connect your displays as needed. It supports dual monitors or a single high resolution 4K monitor. It will greatly help you facilitate high-resolution works, graphically intensive images, video editing, CAD drawings, medical imagery and more.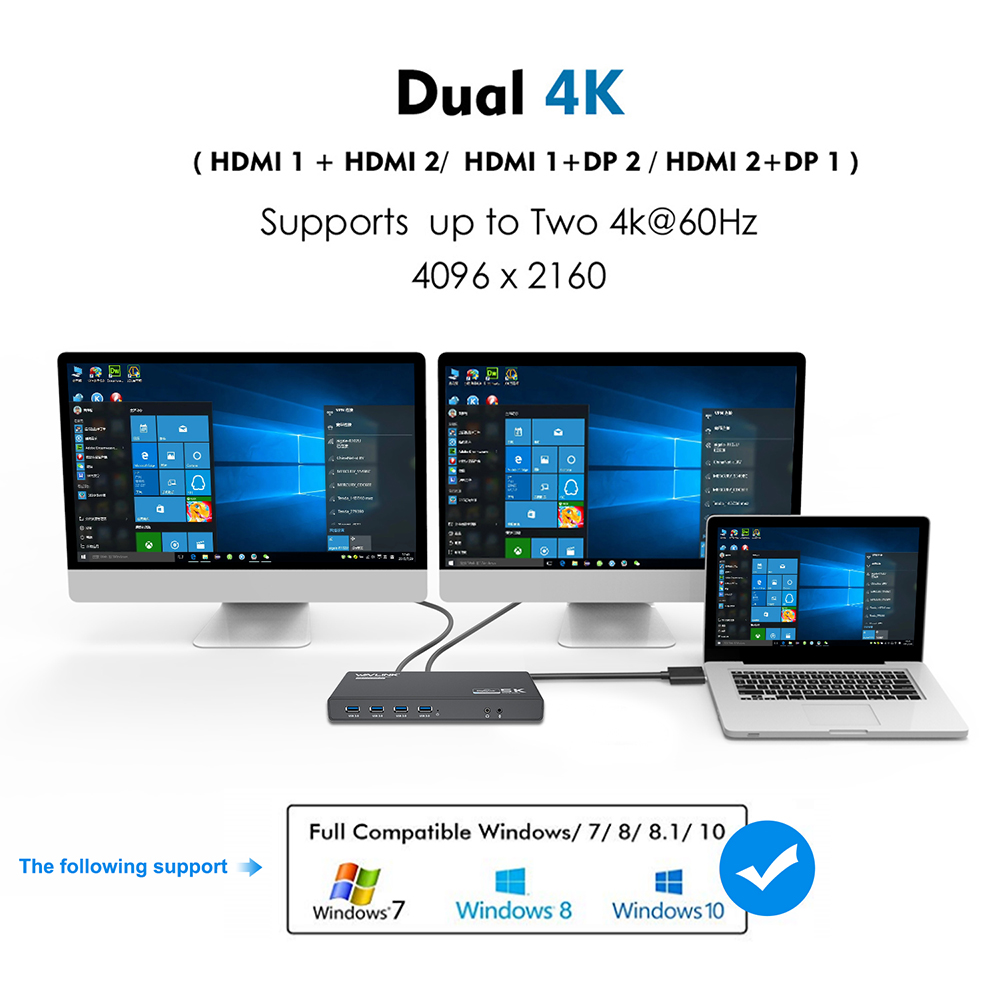 SuperSpeed USB 3.0
SuperSpeed USB3.0 provides up to 5Gbps data transfer speeds, which is 10 times faster than USB2.0. The WAVLINK Universal Dock features 6 ×USB3.0 ports, allowing for SuperSpeed data transfer between peripherals.

Blazing-fast Gigabit Ethernet
Wired network connections are faster and more reliable than any Wi-Fi. The dock helps you tap into the full performance of wired network connections with built-in Gigabit Ethernet port.

Your Choice of Sound
With separate microphone input and amplified audio output,you can enjoy crystal-clear conference calls or any other project benefits from having your voice heard. You'll be amazed at the immersive music it gives you.


System requirements
-Windows 7 (32-bit and 64-bit editions)
-Windows 8 (32-bit and 64-bit editions)
-Windows 8.1 Update 2014 (32-bit and 64-bit editions)
-Windows 10 TH (32-bit and 64-bit editions builds up to 10586)
-Windows 10 Anniversary Update (32-bit and 64-bit editions, tested on build up to 14393)
Windows XP SP2 and Vista are supported by older versions of the DisplayLink software: http://www.displaylink.com/downloads

DisplayLink USB Graphics Software for Mac OS X
-EI Capitan 10.11
-Yosemite 10.10
-Mavancks 10.9
-Mountain Lion 10.8
-sierra 10.12
-Lion 10.7
-Snow Leopard 10.6


Specification
1.Voltage: 100~240V
2.Operating Temperature: 0°C~40°C
3.Storage Temperature: -10~70°C
4.Port: Type-C, 2×DP, 2×HDMI, 6×USB3.0, Earphone and Microphone Jack, RJ-45 Jack, LED, ON/Off Switch
5.Chipset: DL6950 VL813
6.Processor: Core i7
7.Power Adapter: 20V/2A
(Full-Screen Video Playback)
RAM: 4GB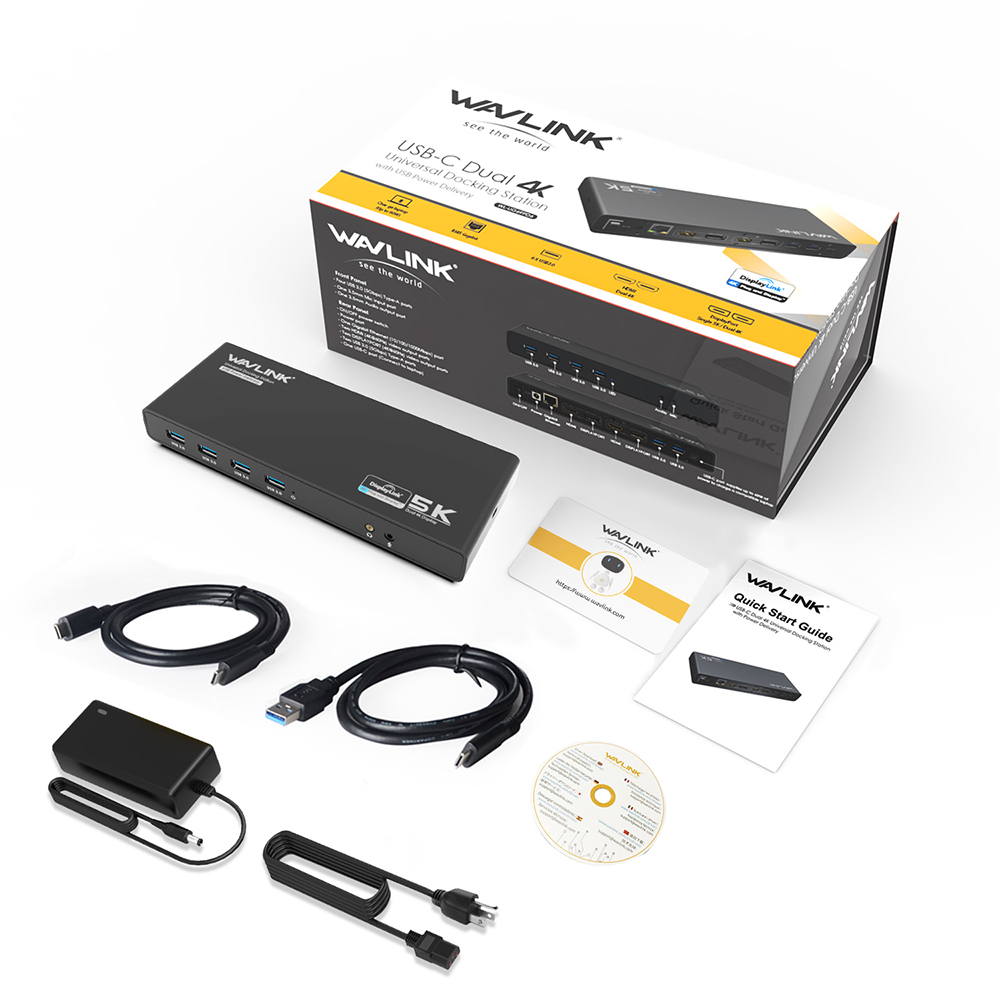 Note
HDMI and DP ports in the area of Display1 or Display2, if they are connected to the monitor at the same time, DP will have the priority.
The new firmware has been upgraded to support MAXIMUM 65W to charge the upstream laptop. Please feel free to contact our technical support for more information."
Ask Question About Product
Note:
HTML is not translated!
All(0)
Good(0)
Fair(0)
Poor(0)
Image(0)
Take note
---
Wavlinkstore is the official online sales platform directly operated by Wavlink. All products are shipped by Wavlink and we take full responsibility for after-sales support. Please feel free to make your purchase with confidence.
How is the shipment arranged?
By default, we use DHL, UPS, and 4PX as our courier companies. If there are areas that cannot be reached by these couriers, we will utilize local postal services for delivery.
How to track the shipment?
We highly recommend making purchases as registered users. By accessing the registered member portal, you can track the shipping progress of your order. If you checked out as a guest user, it is advisable to save a screenshot of your order or note down the order number for easier reference when contacting our customer support staff for inquiries.
How are after-sales issues handled?
After-sales support follows the after-sales service policy, which is strictly adhered to. If there is an established after-sales service guarantee policy through email communication, it will be implemented accordingly. For technical support during working days, you can call +18889730883(Free call charges). Additionally, you can also reach out for support by contacting contact@wavlink.com. Japanese users can send their inquiries to supportjp@wavlink.com for assistance. More info vist https://www.wavlink.com/en_us/contact.html
Do you support small batch purchases?
Our website supports small batch purchases. If you are interested in making a small batch purchase, please send an email to kevin@wavlink.com to obtain the best quotation. Additionally, we recommend registering as a website member to accumulate points and enjoy upgrades, which will provide you with greater support.
Under what circumstances are orders considered high-risk or subject to delayed shipping?
Not providing an email address or providing a randomly filled email address, such as

abcdefghello@abc.com

.

The phone number appears to be abnormal or consists of consecutive digits, such as 123456789 or 987654321.

Incorrect postal code, incorrect city name, or unclear shipping address. We will send an email confirmation to the email address provided in the order. If we do not receive a response, we may delay or cancel the shipment.
What should I do if I forget the order number or neglect to take a screenshot while using the guest checkout mode?
Firstly, you need to remember the email address you provided during the checkout process. We can use the email address to deduce your order number.
Secondly, if you provided a phone number, we can also use it to search for your order.
If you don't remember anything, please submit a support ticket, and our customer support staff will communicate the detailed progress with you.