Our routers are suitable for various outdoor scenarios, whether you're enjoying a slow life in a detached garden or managing a pastoral life on a farm, our routers can provide you with a fast and stable network connection. At the same time, our routers are also suitable for complex environments such as schools and industrial parks, meeting your network needs in multiple scenarios. No matter where you are, our routers can bring you a smooth and stable network experience.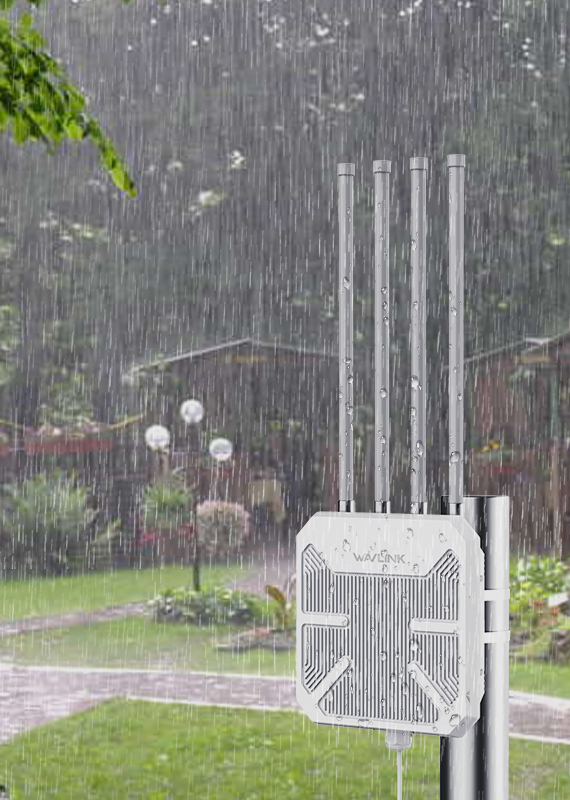 IP67:
Waterproof rating is one of the important standards to measure the reliability of outdoor equipment. Our outdoor routers adopt the IP67 waterproof design, which can withstand extreme weather conditions such as rainwater, snowwater, and seawater. The waterproof performance of this rating is not only simple splash-proof or water-resistant, but also has the characteristics of complete waterproof. The IP67 waterproof rating ensures the stability and reliability of the router, allowing you to use it with peace of mind in various outdoor environments, while ensuring that your network connection remains unimpeded.
> depth reading

The IP67 waterproof rating indicates the waterproof performance of the device, where "IP" is the abbreviation of "Ingress Protection". The number "6" indicates that the device can prevent dust from entering, while the number "7" indicates that the device can be submerged in 1 meter of water for 30 minutes without damage. Therefore, if a device has an IP67 protection rating, it has a relatively high level of dust and water resistance, making it suitable for outdoor use.
1. Our fiberglass antenna is made of lightweight yet sturdy material, providing powerful signal reception for a more stable network connection.
2. With a fiberglass material, our antennas not only have an attractive appearance, but also outstanding waterproof and corrosion-resistant properties, ensuring long-term stability.
3. Our unique fiberglass antenna design greatly enhances signal reception and has excellent wind resistance, unaffected by harsh weather conditions, providing you with a more stable network connection experience.
4. The brand-new fiberglass material antenna not only has a high-end and stylish appearance, but also features lightweight durability, ensuring high sensitivity and stability of signal reception.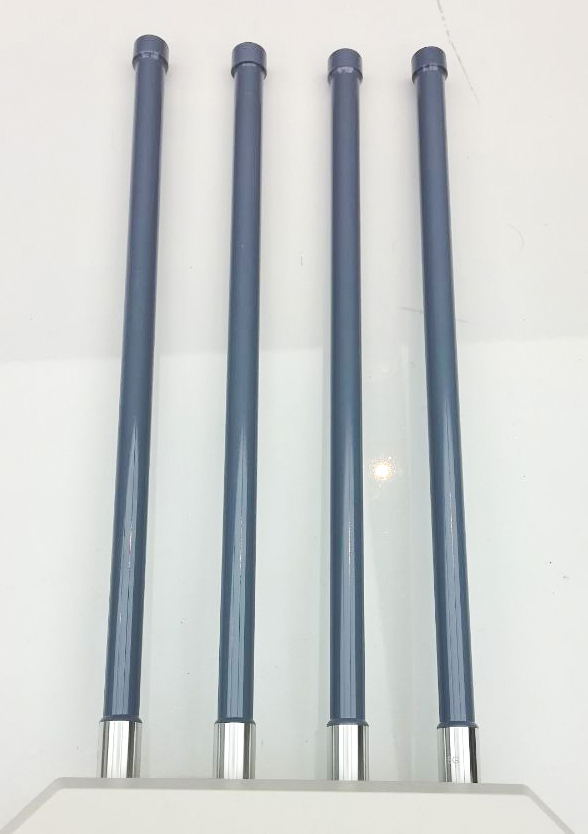 > depth reading

Glass fiber reinforced plastic (GFRP) antennas have features such as corrosion resistance, weather resistance, heat resistance, cold resistance, waterproofness, and insulation, which make them widely used in various fields, including but not limited to the following:

Wireless communication: GFRP antennas are widely used in mobile communication, satellite communication, radio communication, and other fields.

Aviation and aerospace: GFRP antennas are important communication equipment in the aviation and aerospace fields, such as on airplanes and satellites.

Military: GFRP antennas are widely used in the military for communication, radar, navigation, and other purposes.

Large buildings: GFRP antennas are used as antenna equipment in large buildings, high-rise buildings, and other fields, providing indoor signal coverage and enhancement services.

Energy: GFRP antennas are used as monitoring equipment in the energy field, for example, to monitor parameters such as flow rate and pressure in water, electricity, gas, and other pipelines.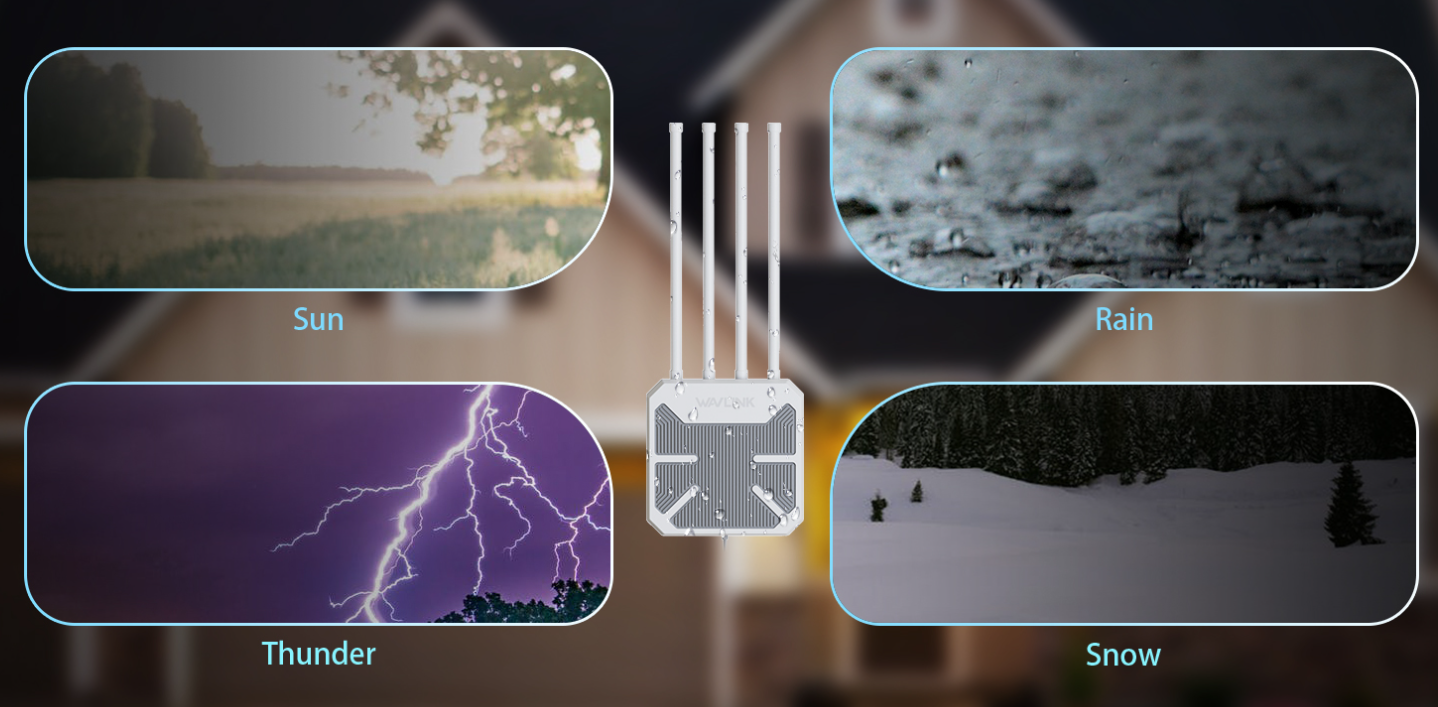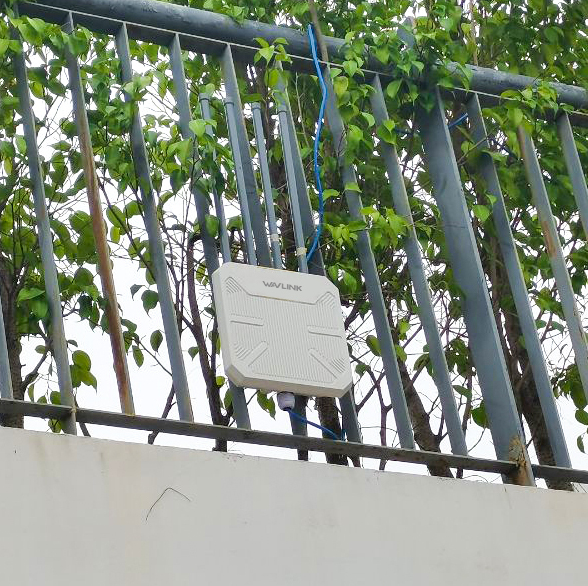 The outdoor Wifi Router Settings Video
Loren: What is IP67, and does it help for outdoor routers?

2023-05-19 11:33:51
Answer: IP67 is a dust and waterproofing standard, which means that the device can prevent dust from entering to a certain extent and withstand being submerged in water for up to 30 minutes. For outdoor routers, if they meet this standard, it can protect the device in harsh weather conditions and ensure its normal operation. Therefore, IP67 is very helpful for the protection of outdoor routers.

2023-05-19 11:36:41
Ask Question About Product
Note:
HTML is not translated!
All(6)
Good(6)
Fair(0)
Poor(0)
Image(1)
Supports 160MHz bandwidth and 1024-QAM for much faster wireless connections.
Supports MU-MIMO & OFDMA technique to simultaneously communicate with multiple devices in a very effective way. - Multiple PoE Options for Easy Installation: Supports both 802.3af/at active PoE and passive PoE power supply, making installation effortless and flexible.
Four 8dBi omni-directional detachable antennas greatly strengthen signals. The glass tube antenna is meant for high precision, corrosion resistance, long life, strong wind resistance.
The durable, weatherproof IP67 enclosure protects the access point against harsh outdoor conditions and provides stable wireless coverage up to 200-300m.
Sets up in minutes with the WavRouter App or Web UI, easily manage WiFi settings and monitor data usage.
Can be easily installed on a wall or a pole with the provided mounting kits.
Better Partner with Mesh System: Compatible with Wavlink Everything Mesh WiFi system for seamless roaming and whole-home coverage.
Related Products
An independent website for brand direct sales
New customers can enjoy a $25 discount on their first order, which includes 20 reward points and a $5.5 credit balance.