Convenient payment

Trusted-Delivery


Fast Delivery
Multi-warehouse direct hair fast delivery

Exquisite service
Exquisite service after-sale guarantee

Hassle-free return
Shop with confidence, worry-free refund
Overview
It enables you to easily connect your computer to the Ethernet and multiple devices, such as a headset, a microphone, a monitor, a SD/Micro SD memory and other USB devices. With Gigabit Intel Ethernet, audio input/output, and USB-C 3.1 (10Gbps), 2 xUSB A 3.1 (10Gbps), 2 xUSB 3.0 (5Gbps) expansion. USB-C computer with USB 3.1 Gen. 1 and USB 3.1 Gen.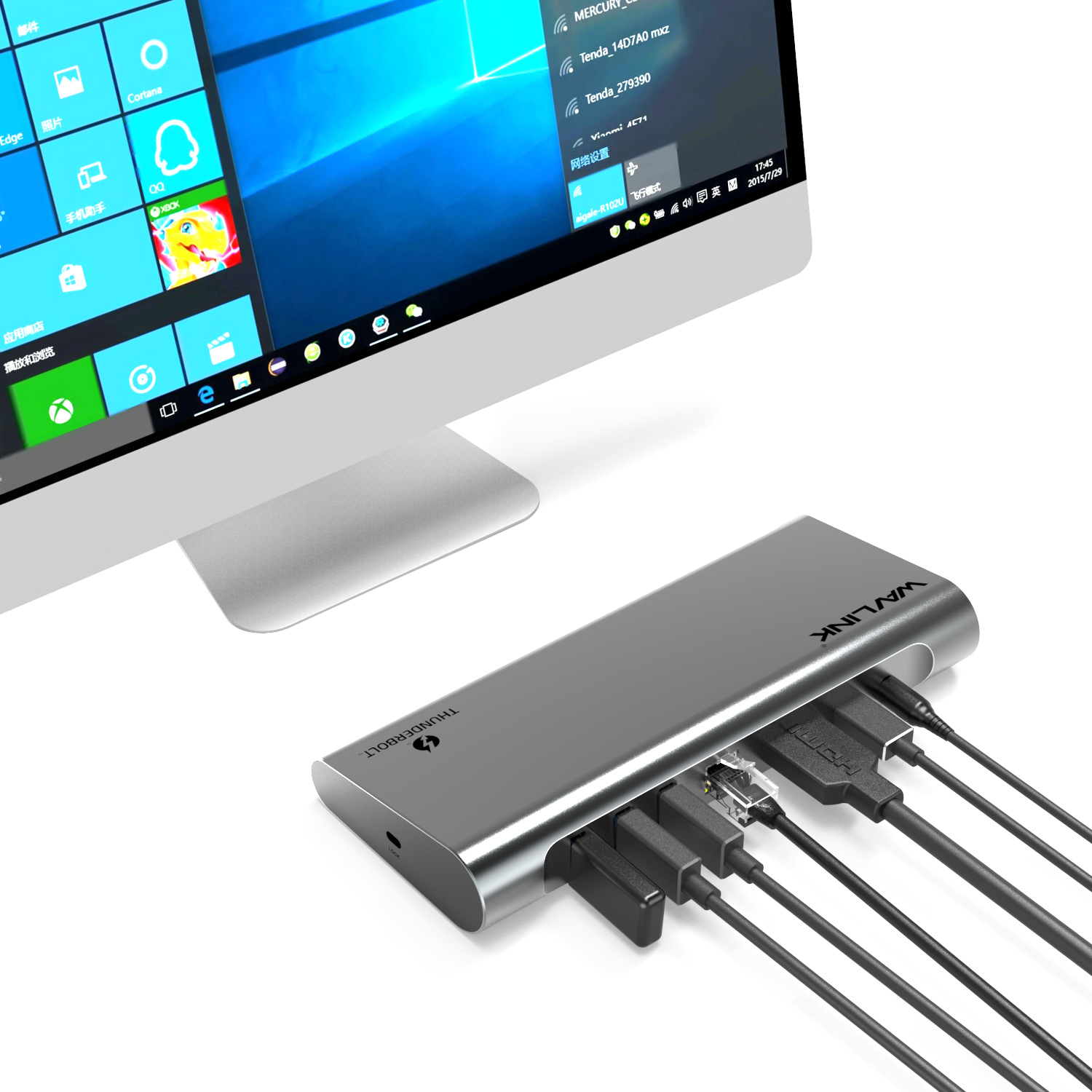 Features
Thunderbolt 3 Docking Station provides usb-c power delivery up to 85W maximum of upstream charging to compatible Thunderbolt 3 host systems and also power to the others peripherals simultaneously with 180Watt Power Adapter.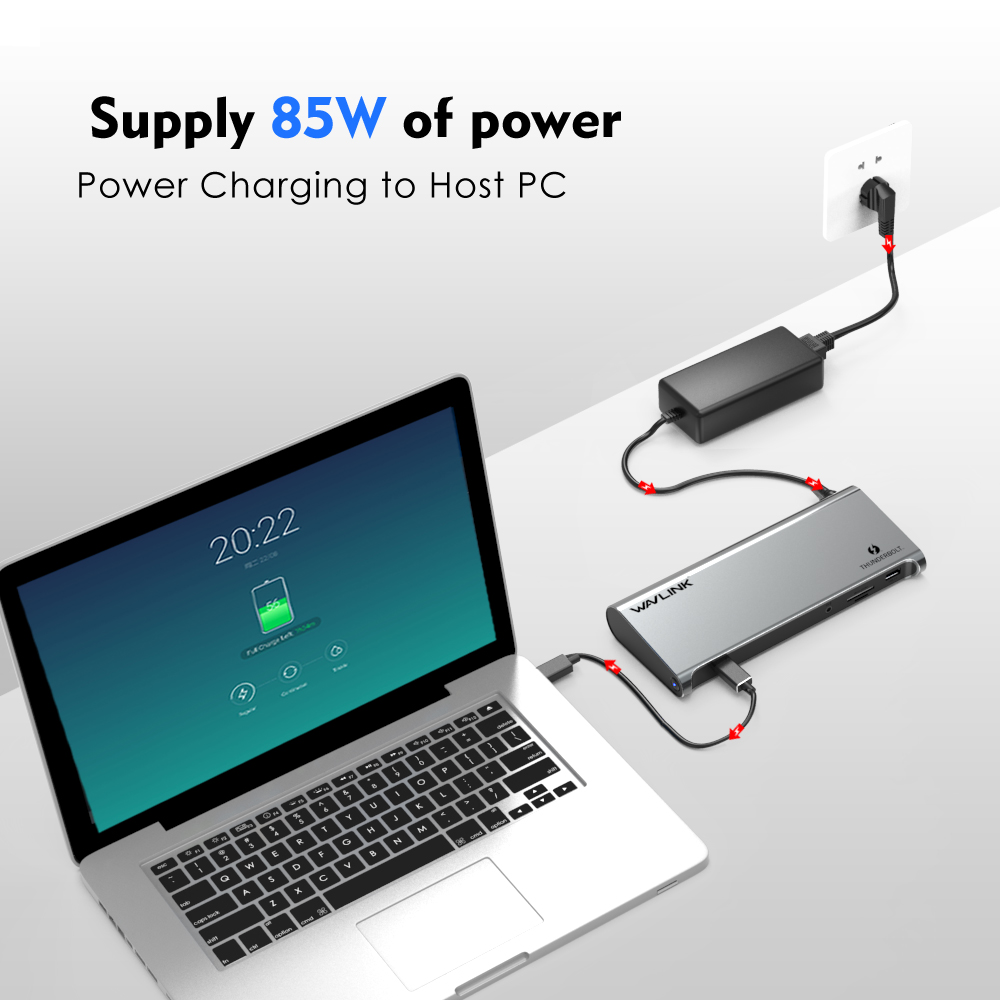 The second Thunderbolt 3 port placed at the front supports up to 5 daisy chained Thunderbolt 3 devices or a single USB 3.1 Gen 2 (up to 10Gbps) device. MacBook Pro2018/2017/2016 and Dell Thunderbolt 3 systems can support an additional USB-C "Alt Mode" video adapter to provide a second display. Great for home office, remote working and online class.
Integrated DisplayPort support 4K 60Hz (4096×2160@60Hz) or an HDMI display using the accessories Active DisplayPort to HDMI 2.0 adapter.(Note:DisplayPort to HDMI 2.0 adapter is not included,you can be self-equipped according to your use.)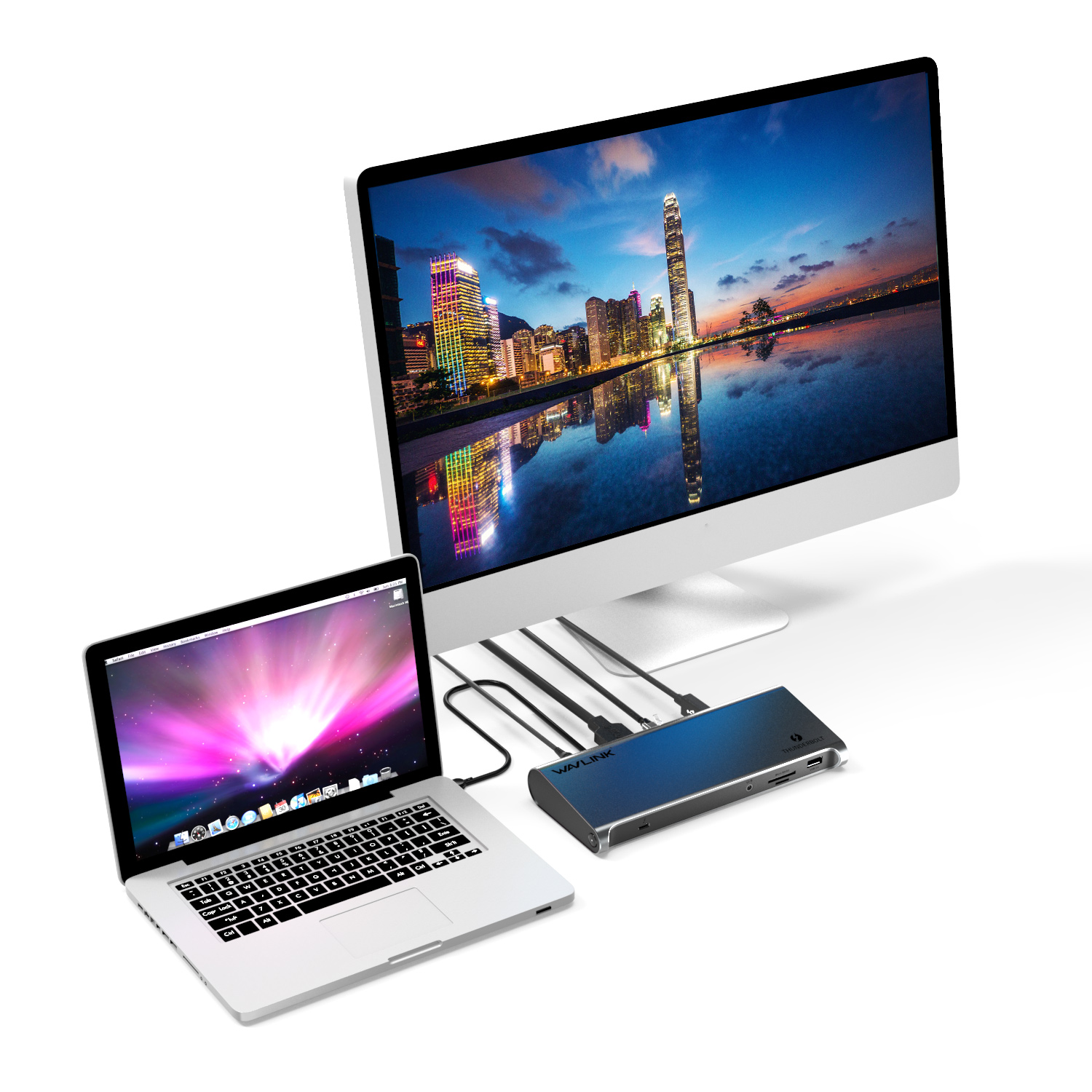 Integrated SD/Micro SD Card Reader easy for copy any photos or movies from your media memory card backup to your laptop directly.
Ports
4 x USB3.0 Ports, 2 x Thunderbolt™ 3 Type-C Port, 1 x DP Port, 1 x SD Card Slot, 1 x Micro SD Card Slot, 1 x Two in One-Audio Out & Mic in Port, 1 x RJ45 Gigabit Ethernet Port, 1 x DC Power Input Port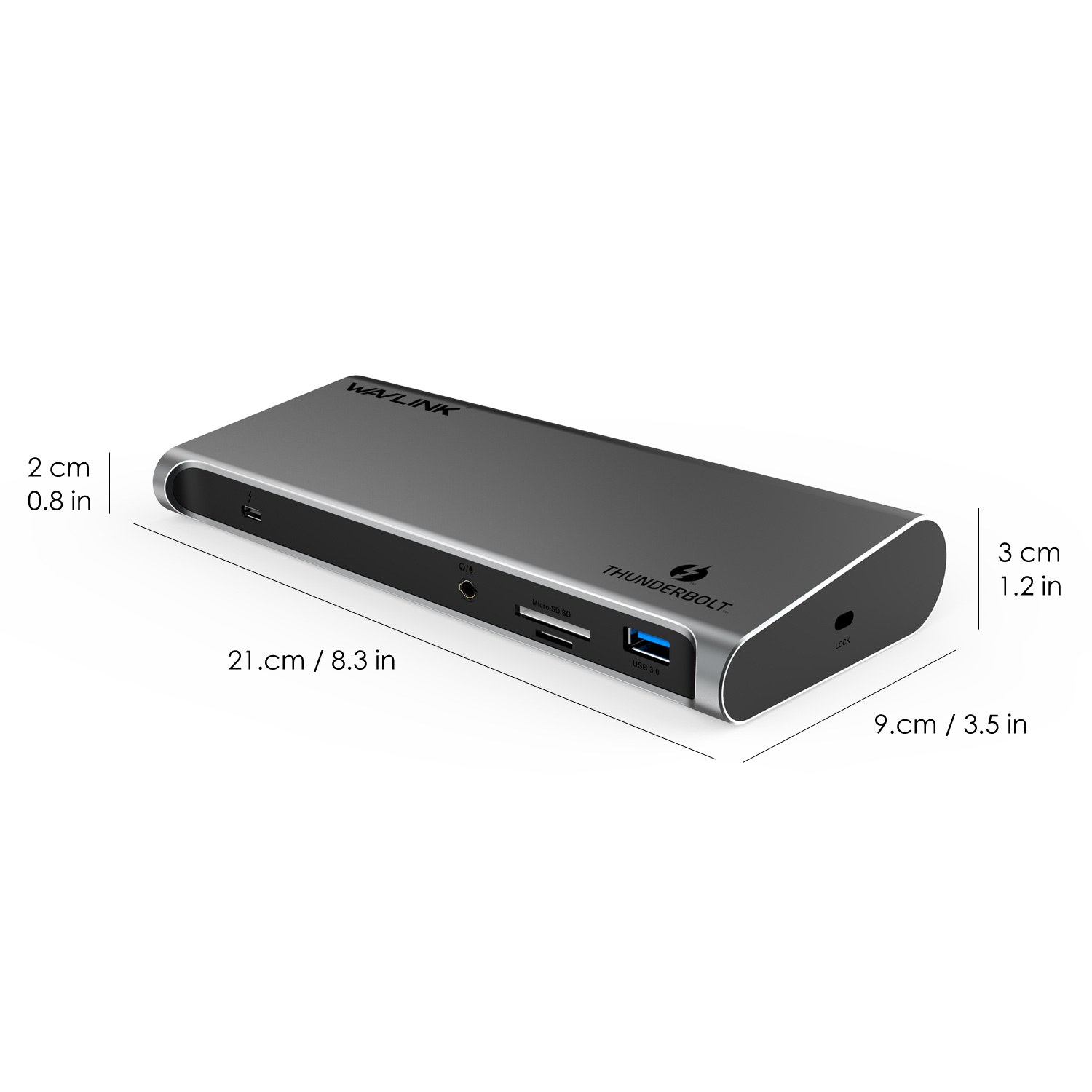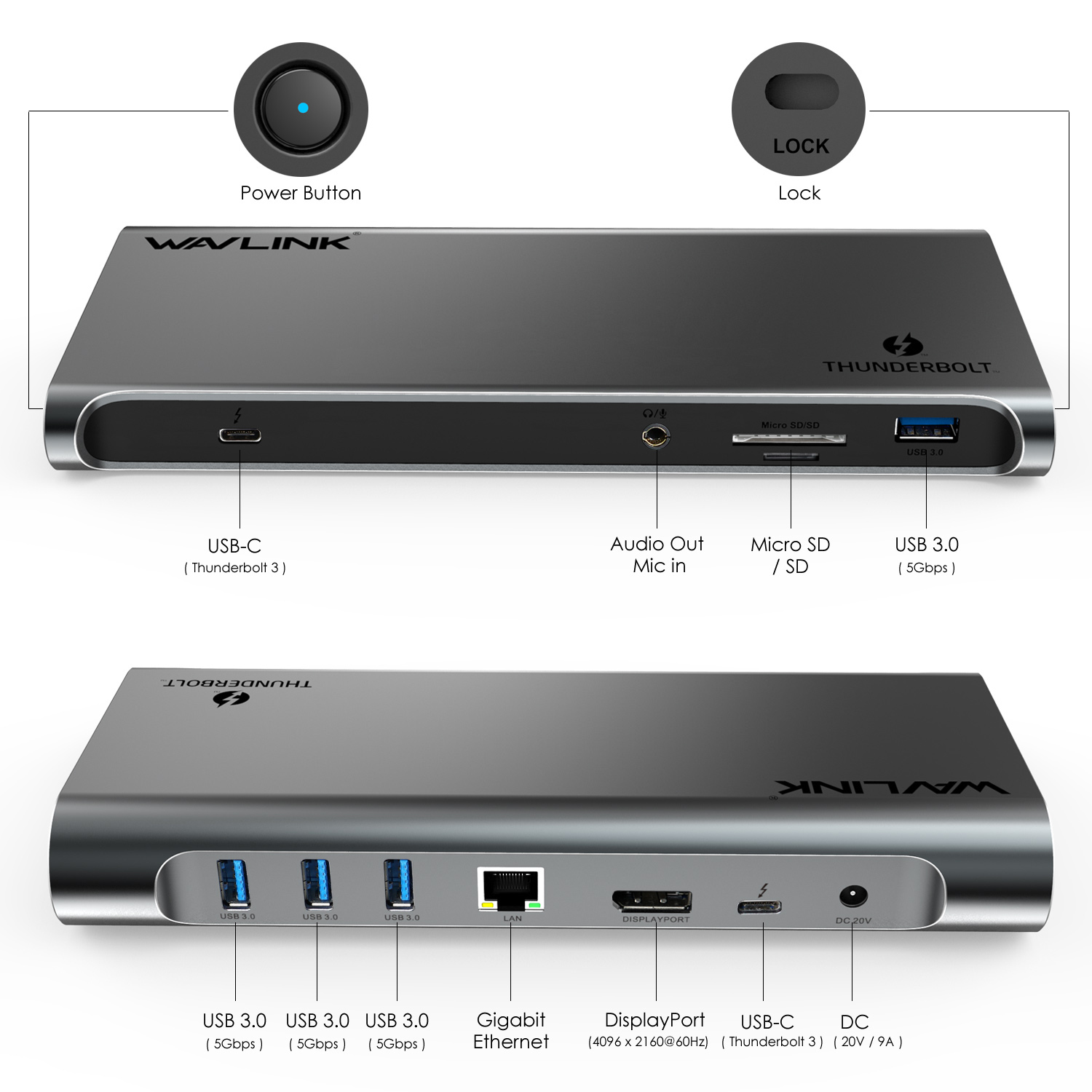 Package
1 x Thunderbolt 3 Docking station
1 x Thunderbolt 3 40 Gbps cable 0.7 meter
1 x DC20V/9A 180W Power Adapter
1 x User Manual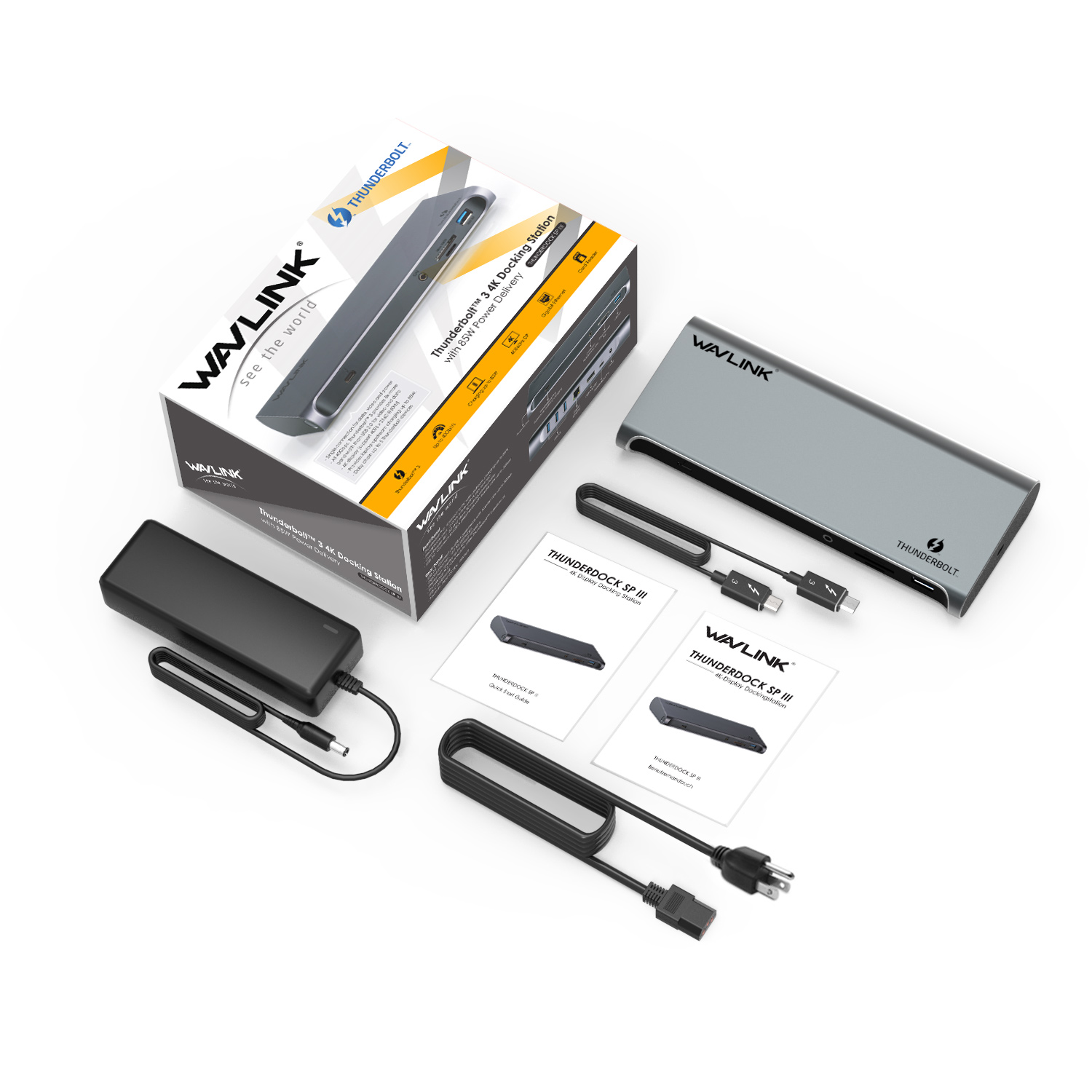 Compatible Systems
MAC COMPATIBILITY
Compatible with (MacBook Pro 2016/2017/2018 & iMac 2017) at full native GPU performance. Supports popular display modes such as 4096x2160@60Hz (4K) / 3440x1440 / 2560x1600 / 2560x1440 / 2560x1080 / 1920x1080 (1080P) and more.
WINDOWS COMPATIBILITY
Compatible with select Windows Thunderbolt 3 systems like the Dell XPS 9350 / 9360 / 9550 / 9560 / 9570 & Precision 5510 / 5520 / 7710 / 7720. Not all Windows Thunderbolt 3 systems support dual video output.
Ask Question About Product
Note:
HTML is not translated!
All(0)
Good(0)
Fair(0)
Poor(0)
Image(0)
Take note
---
Wavlinkstore is the official online sales platform directly operated by Wavlink. All products are shipped by Wavlink and we take full responsibility for after-sales support. Please feel free to make your purchase with confidence.
How is the shipment arranged?
By default, we use DHL, UPS, and 4PX as our courier companies. If there are areas that cannot be reached by these couriers, we will utilize local postal services for delivery.
How to track the shipment?
We highly recommend making purchases as registered users. By accessing the registered member portal, you can track the shipping progress of your order. If you checked out as a guest user, it is advisable to save a screenshot of your order or note down the order number for easier reference when contacting our customer support staff for inquiries.
How are after-sales issues handled?
After-sales support follows the after-sales service policy, which is strictly adhered to. If there is an established after-sales service guarantee policy through email communication, it will be implemented accordingly. For technical support during working days, you can call +18889730883(Free call charges). Additionally, you can also reach out for support by contacting contact@wavlink.com. Japanese users can send their inquiries to supportjp@wavlink.com for assistance. More info vist https://www.wavlink.com/en_us/contact.html
Do you support small batch purchases?
Our website supports small batch purchases. If you are interested in making a small batch purchase, please send an email to kevin@wavlink.com to obtain the best quotation. Additionally, we recommend registering as a website member to accumulate points and enjoy upgrades, which will provide you with greater support.
Under what circumstances are orders considered high-risk or subject to delayed shipping?
Not providing an email address or providing a randomly filled email address, such as

abcdefghello@abc.com

.

The phone number appears to be abnormal or consists of consecutive digits, such as 123456789 or 987654321.

Incorrect postal code, incorrect city name, or unclear shipping address. We will send an email confirmation to the email address provided in the order. If we do not receive a response, we may delay or cancel the shipment.
What should I do if I forget the order number or neglect to take a screenshot while using the guest checkout mode?
Firstly, you need to remember the email address you provided during the checkout process. We can use the email address to deduce your order number.
Secondly, if you provided a phone number, we can also use it to search for your order.
If you don't remember anything, please submit a support ticket, and our customer support staff will communicate the detailed progress with you.