Convenient payment

Trusted-Delivery


Fast Delivery
Multi-warehouse direct hair fast delivery

Exquisite service
Exquisite service after-sale guarantee

Hassle-free return
Shop with confidence, worry-free refund
WAVLINK 6 in 1 USB C 4K HDMI Hub Adapter with PD85W Charging, Boost Your Work Efficiency!
Small but mighty. 3 standard USB ports with 5Gbps transfer speed ensuring quick syncing and file sharing, 1 HDMI port with vivid 4K@30Hz video output that transfers media in seconds with 3D effect. One gigabit Ethernet port supports a wired connection with the original router to maintain a stable data transmission, and the 100W PD port offers continuous power delivery for your USB-C device with max 85W. The versatile USB C travel hub fits perfectly in home and office for easy multitasking and increasing productivity.
Pocket Size
With slim and lightweight design, you can easily take it anywhere with your briefcase or pocket, very suitable for businessmen.
On-The-Go Function
This USB C hub can work with smartphones, to sync and swap with speed. The USB-C phone is required to support data transfer/charging/video output.
Plug and Play
The USB C hub is driverless and plug-and-play, allowing you to effortlessly connect and switch between various devices. It offers a convenient solution for you.
Enhanced Durability
The cable is made of braided nylon strong fiber, which enhances its flexibility, power, and durability. This material ensures a stronger tensile force for enhanced performance.
Warm Tips
☺The USB C PD port supports charging ONLY, it doesn't support data transmission and video output.
☺Please use your own power adapter and cable to charge your device through the "PD" port of the hub.
☺The type-C port of your host should support video output and charging to enjoy the full function of this hub.
☺Support HDCP, you could play protected content from iTunes, Netflix, DirectTV etc. Enjoy variety of online videos as you please.
☺Not compatible with Nintendo switch.
Features:
- HDMI port supports resolution up to 4K@30Hz.
- The USB-C upstream port provides 85W power charging.
- Aluminum fineness sandblasted housing & built in USB-C extension cable.
- Three USB-A ports transfer speeds up to 5Gbps, and backward compatible with USB 2.0/1.1 devices.
- RJ-45 Ethernet port supports Gigabit Ethernet networks.
- Plug and play for user-friendly.
- Support over-current protection.
Specification:
Model: WL-UHP3413
Color: Silver+Black
Ports: 1xupstream Type-C port, 1x4K@30Hz HDMI, 1x100W PD IN, 3x5Gbps USB3.0-A, 1x1000Mbps RJ45
Unit Size: 12.9x3.6x1.8cm/5.1x1.4x0.7in(L x W x H)
Material Type: Aluminum Alloy+ABS Shell+Nylon Cable
Item Weight: 80g/ 2.8oz/ 0.18lbs
Cable Length: 25cm/9.8in
Product Dimensions: 13x3.5x1.7cm/5.1x1.4x0.7in
System Requirement: Windows, MacOS, Linux, iPad OS, Android(OTG), HarmonyOS, etc.
Compatible Devices (PARTIAL LIST):
Note: Please check the compatibility list below before purchasing. If your device is not on the list, please let us know and we will be glad to help you check with it.
MacBook Pro 2021 M1/ 2020/ 2019/ 2018/ 2017/ 2016, MacBook Pro 13", 14", 15", 16"; MacBook 12" 2018/ 2017/ 2016/ 2015; MacBook Air 2020/ 2019/ 2018
iPad Pro 2021 M1/ 2020/ 2018; iPad 2021/ 2020; iPad Mini 6/ 2021; iPad Air 2020
iMac 2021/ 2020/ 2019/ 2017, iMac Pro
Mac Mini 2020/ 2018
Samsung Galaxy Tab 10.1/ S6/ S7/ S7+, Samsung Galaxy Tab A 2018/ A7, Samsung Galaxy Book Flex/ Ion/ S, Samsung Chromebook Pro/ Chromebook Plus; Samsung Galaxy S21+/ S21/ S20+/ S20/ S20 Ultra/ S10e/ S10+/ S10/ S9+/ S9/ S8+/ S8, Samsung Galaxy Note 20/ 20 Ultra/ 10+/ 10/ 9/ 8, Samsung Galaxy Z Fold/ Z Flip/ A52/ F52/ W22/ W21
HP ENVY 13 (2017), EliteBook Folio G1, Spectre X360, Spectre X2, ZBook 15 G3, i5-9300H, HP Pavilion Desktop, HP Spectre 13
Lenovo Yoga 720/ 730/ 900/ 910/ 920, IdeaPad 710S Plus/ 720S/ 730S, ThinkPad T490 Laptop, ThinkPad X280/ X380/ X390
Google Chromebook Pixel (2015 and newer), Pixelbook, Pixel Slate, Pixelbook Go
Dell XPS 15 9550/ 9560/ Dell XPS 13 (9350/ 9360/ 9370/ 9380), Dell Latitude 7373/ 5570/ 5490/ 5400 (2019)/ 5290 2-in-1/ 5285/ 5480/ 7280/ 7480, Dell Inspiron 15 7000/ 13 7000
Microsoft Surface Book 2, Surface Go, Surface Pro 7, Surface Pro X, Surface Laptop 3
ASUS Chromebook Flip, ASUS ZenBook 3/ Pro/ Flip, ASUS ZenBook Pro Duo UX581, Chromebook Flip C302
Acer Spin 7, Switch Alpha 12, Aspire V15 Nitro
LG V50/ V40/ V30/ V20/ G7/ G6/ G5/ G8 thin Q
HTC 10/ U Ultra/ U11/ U11+/ U12+
Steam Deck
Package List:
1x 6-in-1 USB-C Hub
1x Instruction Manual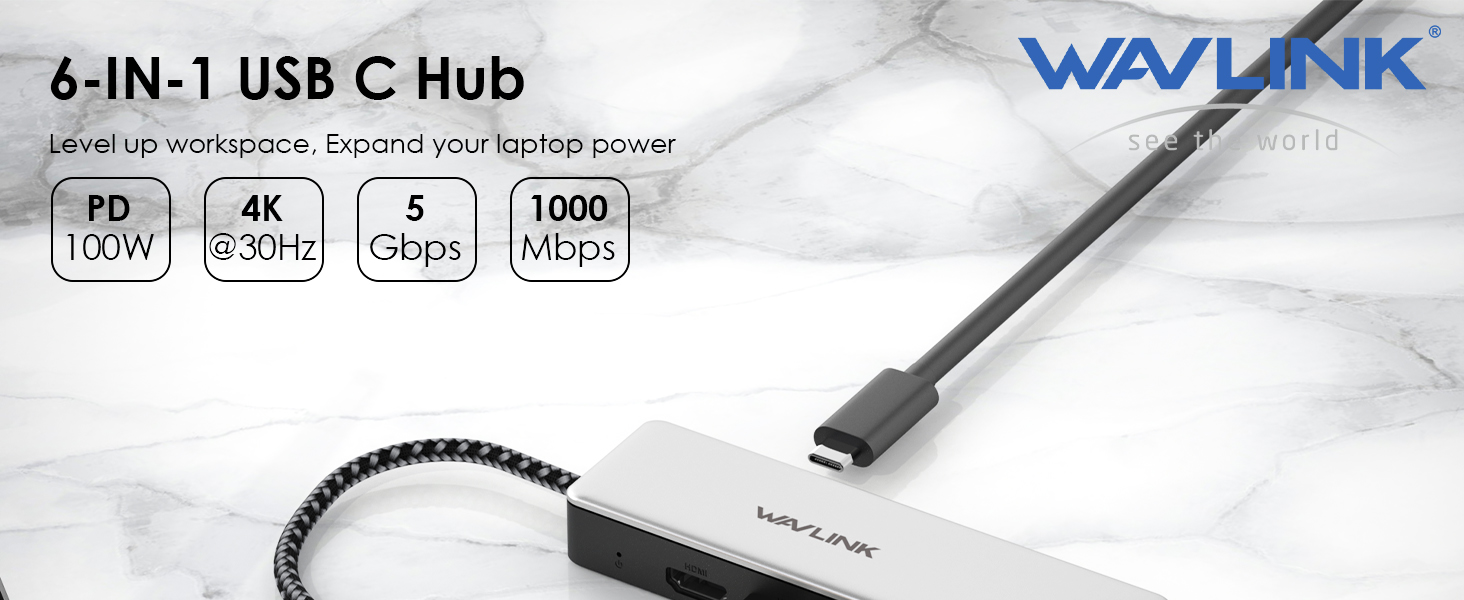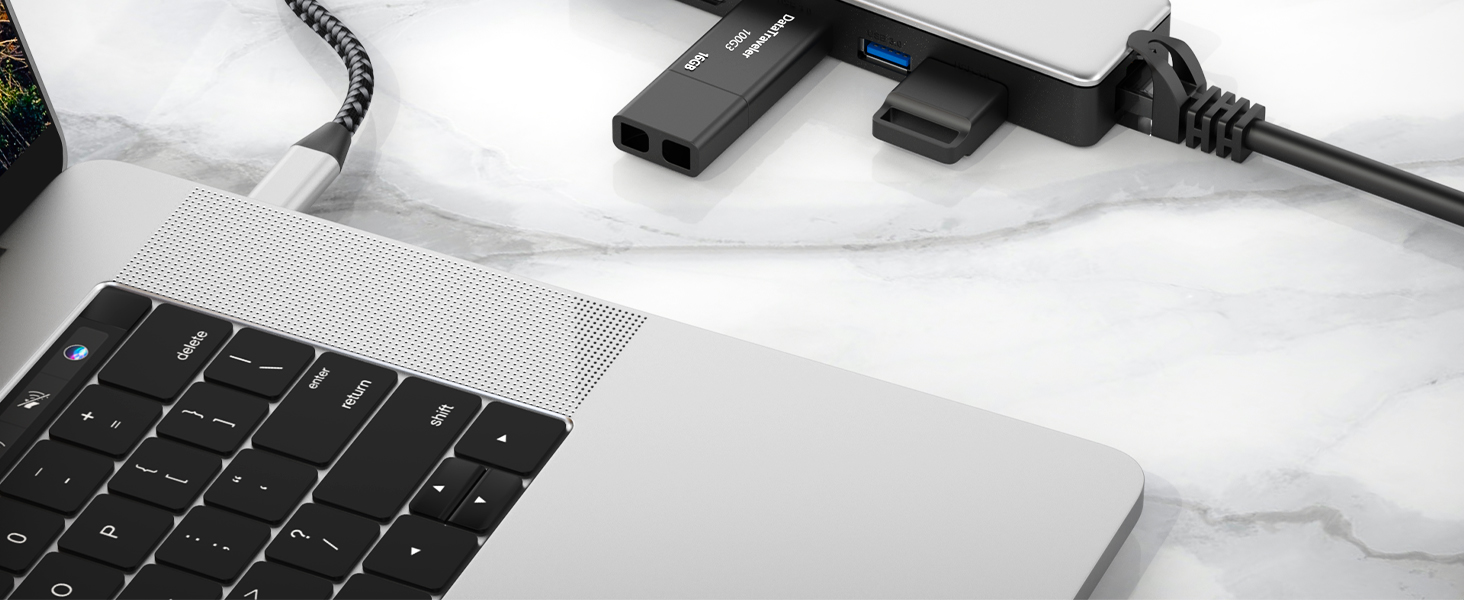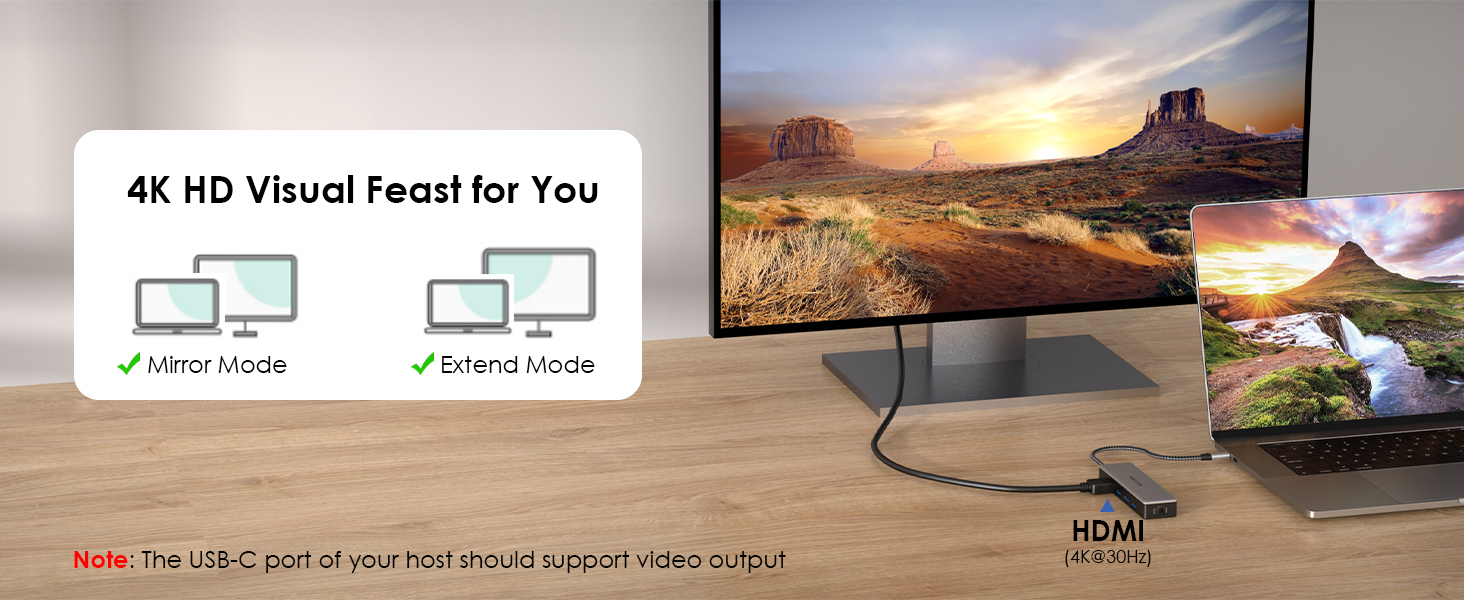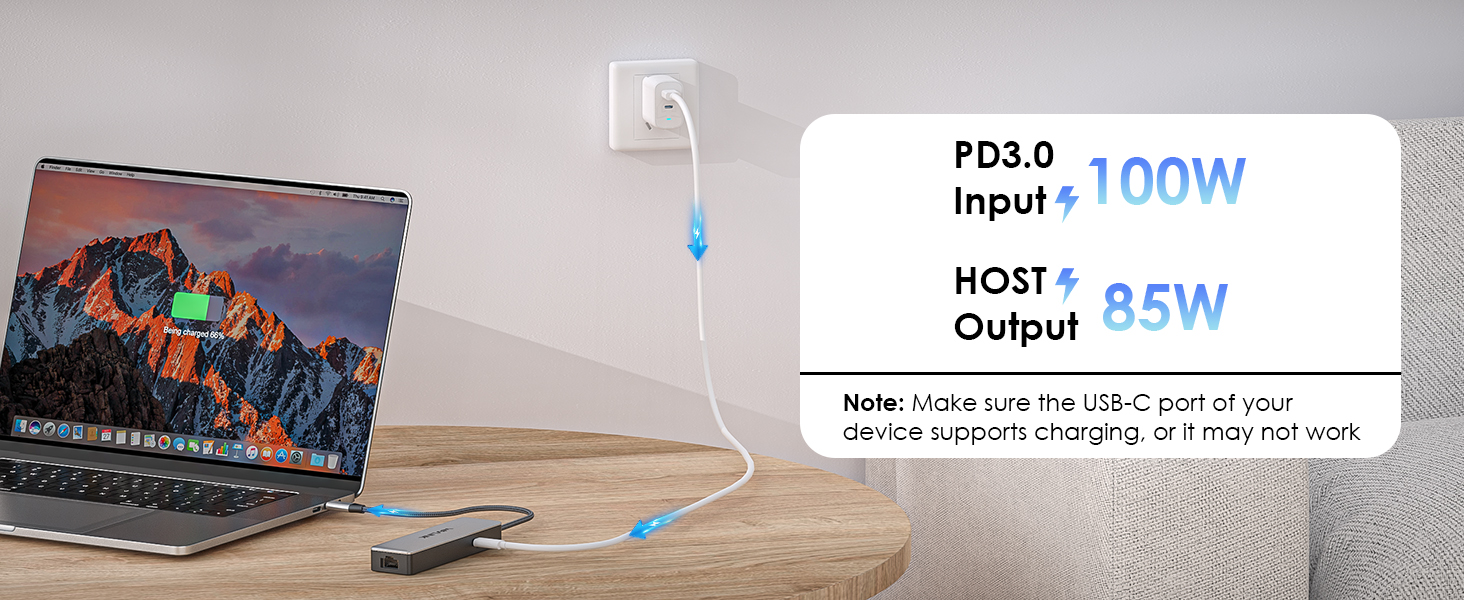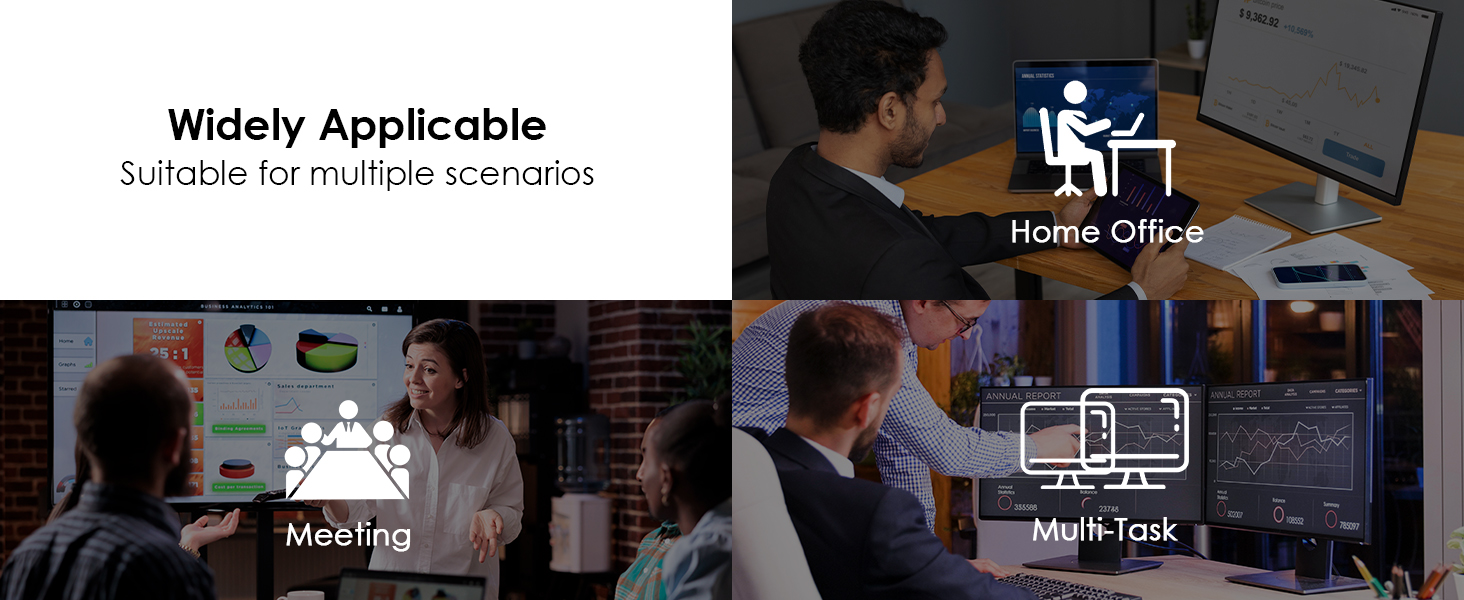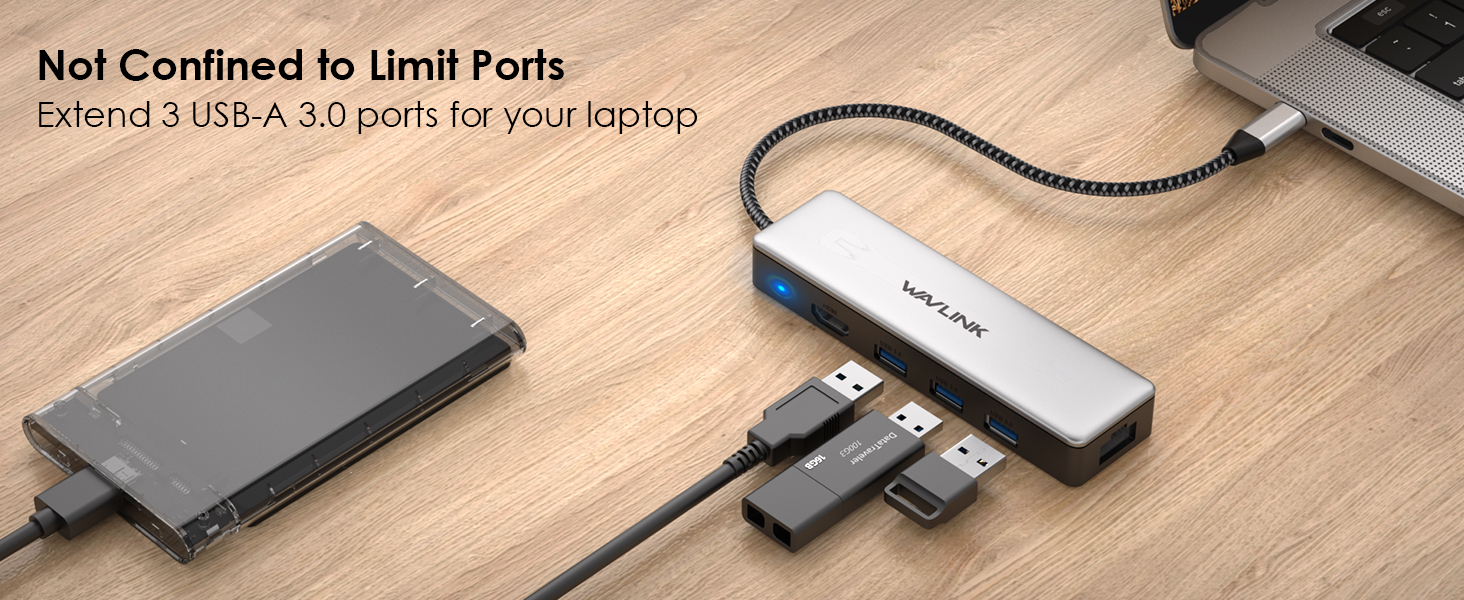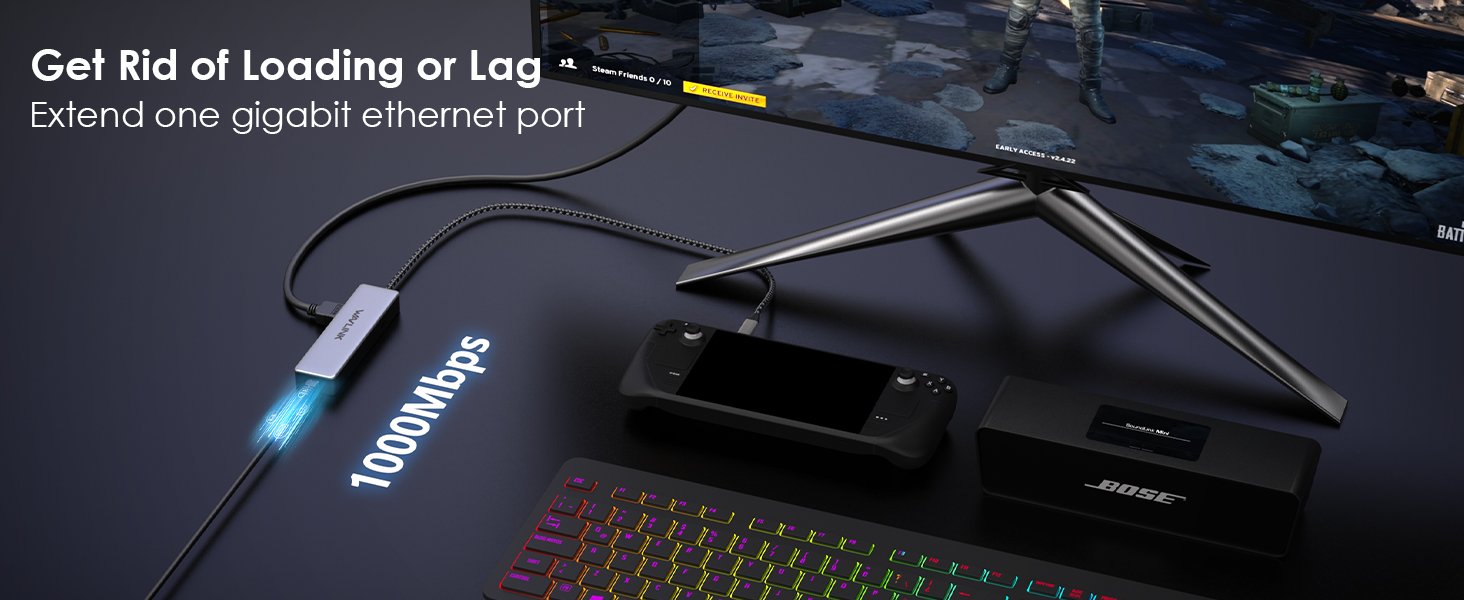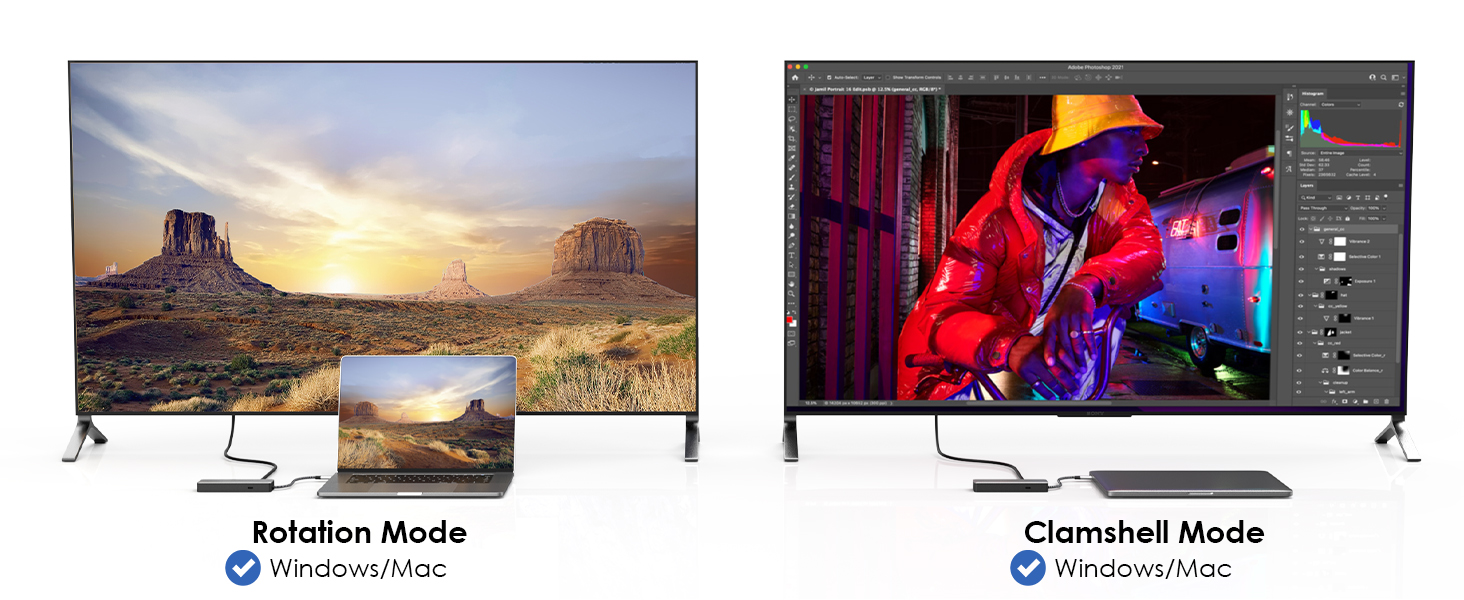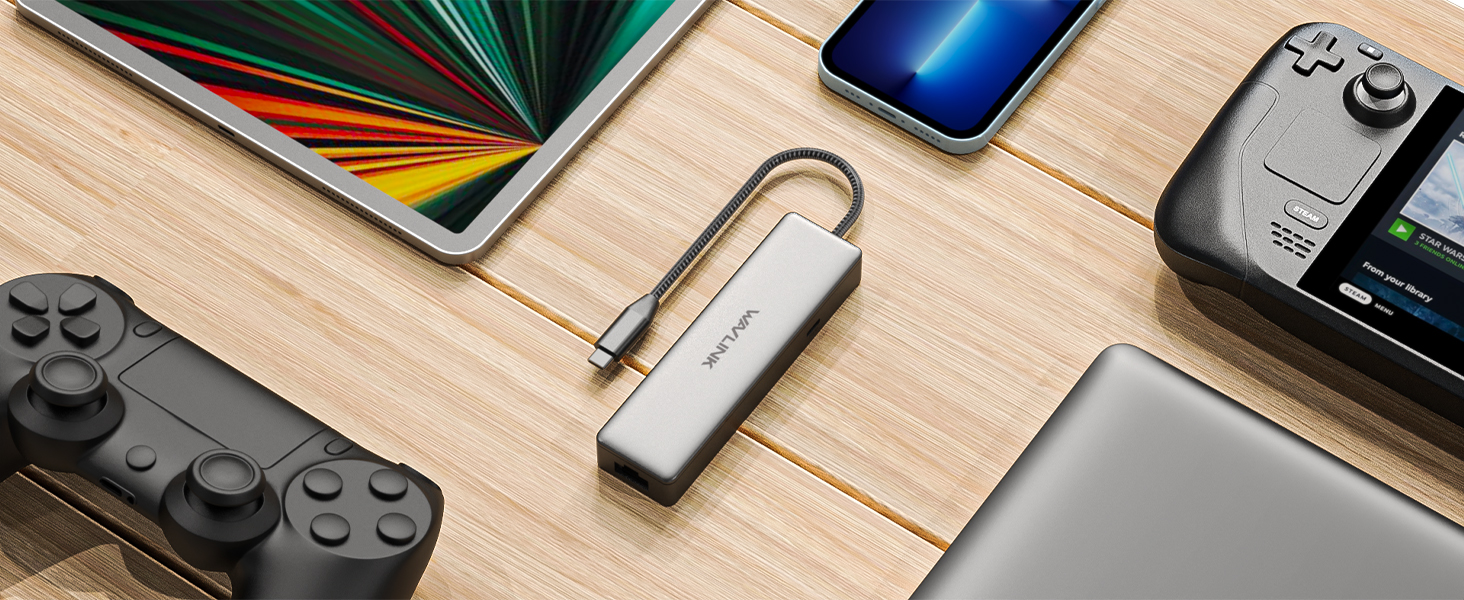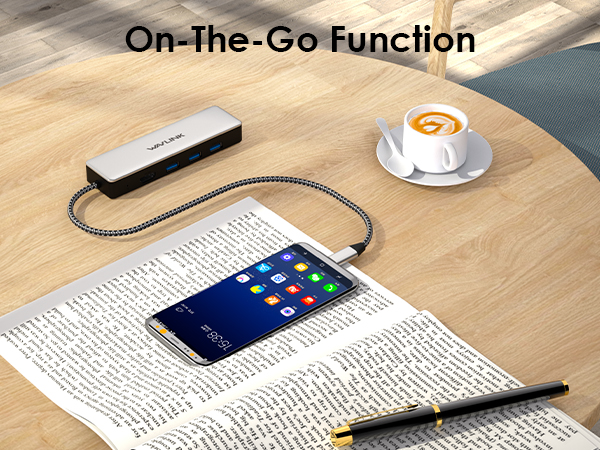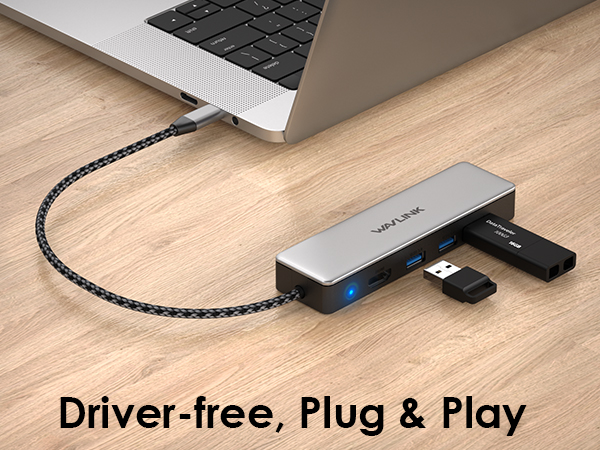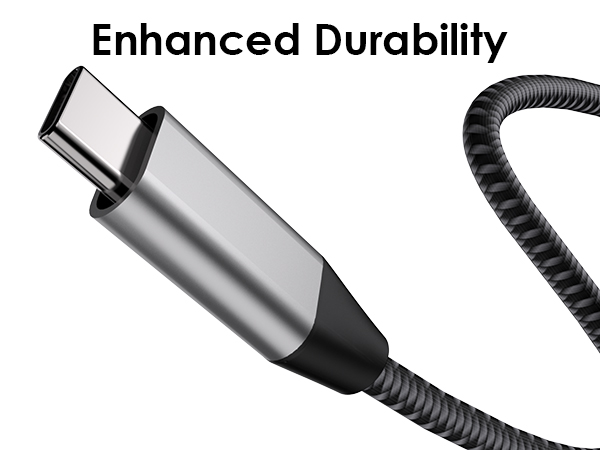 Ask Question About Product
Note:
HTML is not translated!
All(0)
Good(0)
Fair(0)
Poor(0)
Image(0)
⭐6 in 1 Massive Expansion: WAVLINK USB C hub enhances your device with its impressive features, including 4K@30Hz HDMI output, 100W PD charging, a high-speed 1Gbps RJ45 Ethernet connection, and three USB-A ports. It effortlessly transforms your device into a compact workstation, creating a streamlined and efficient workspace for you. Plug and play with no driver or software required.
⭐4K@30Hz Video Output: Elevate your USB-C host screen by using our USB C HDMI adapter to mirror or extend it onto an external display. Immerse yourself in vibrant videos and crisp images, making it perfect for various activities such as business conferences, presentations, online gaming, and enjoying movies with enhanced visual quality.
⭐100W PD Charging: Ensure that your laptop remains continuously charged with max 85W input while utilizing all the other features of this hub by connecting a power adapter with up to 100W power delivery to the PD input port. Please confirm that the USB-C port of your device supports charging and the power adapter and cable are not included in the package.
⭐Ultra-High Speed Data Transfer: Experience blazing data transfer speeds up to 5Gbps with the 3 USB 3.0 ports, providing a remarkable 10x faster performance compared to USB 2.0. Additionally, enjoy the benefits of a more secure and stable network performance with the high-speed wired connection reaching up to 1000Mbps. Say goodbye to wireless issues like dropped signals and unreliable connections.
⭐Wide Compatibility: Works with the latest computers and smart devices with full-featured Type-C ports, such as 2023/2022/2021/2020/2019/2018/2017/2016 MacBook Pro, 2022/2020/2018 MacBook Air, 2021/2020/2018 iPad Pro, 2020/2019/2017 iMac, iMac Pro, 2017/2016/2015 MacBook, Microsoft Surface Laptop 3/Surface Pro 8/Go, Google Pixel Book Go, ChromeBook, Samsung Galaxy Tab Pro S, HP Spectre Convertible, Razer Blade, Huawei Matebook, and more USB-C (Thunderbolt 3/4, USB4) devices.
Take note
---
Wavlinkstore is the official online sales platform directly operated by Wavlink. All products are shipped by Wavlink and we take full responsibility for after-sales support. Please feel free to make your purchase with confidence.
How is the shipment arranged?
By default, we use DHL, UPS, and 4PX as our courier companies. If there are areas that cannot be reached by these couriers, we will utilize local postal services for delivery.
How to track the shipment?
We highly recommend making purchases as registered users. By accessing the registered member portal, you can track the shipping progress of your order. If you checked out as a guest user, it is advisable to save a screenshot of your order or note down the order number for easier reference when contacting our customer support staff for inquiries.
How are after-sales issues handled?
After-sales support follows the after-sales service policy, which is strictly adhered to. If there is an established after-sales service guarantee policy through email communication, it will be implemented accordingly. For technical support during working days, you can call +18889730883(Free call charges). Additionally, you can also reach out for support by contacting contact@wavlink.com. Japanese users can send their inquiries to supportjp@wavlink.com for assistance. More info vist https://www.wavlink.com/en_us/contact.html
Do you support small batch purchases?
Our website supports small batch purchases. If you are interested in making a small batch purchase, please send an email to kevin@wavlink.com to obtain the best quotation. Additionally, we recommend registering as a website member to accumulate points and enjoy upgrades, which will provide you with greater support.
Under what circumstances are orders considered high-risk or subject to delayed shipping?
Not providing an email address or providing a randomly filled email address, such as

abcdefghello@abc.com

.

The phone number appears to be abnormal or consists of consecutive digits, such as 123456789 or 987654321.

Incorrect postal code, incorrect city name, or unclear shipping address. We will send an email confirmation to the email address provided in the order. If we do not receive a response, we may delay or cancel the shipment.
What should I do if I forget the order number or neglect to take a screenshot while using the guest checkout mode?
Firstly, you need to remember the email address you provided during the checkout process. We can use the email address to deduce your order number.
Secondly, if you provided a phone number, we can also use it to search for your order.
If you don't remember anything, please submit a support ticket, and our customer support staff will communicate the detailed progress with you.