Convenient payment

Trusted-Delivery


Fast Delivery
Multi-warehouse direct hair fast delivery

Exquisite service
Exquisite service after-sale guarantee

Hassle-free return
Shop with confidence, worry-free refund
Wavlink USB 3.2 to 2.5Gigabit Ethernet Adapter
Enjoy your Ultra-fast and Stable Wired Network Connection up to 2.5Gbps
Hybrid 2-in-1 USB-C cable with an attached USB-C to USB-A converter allows you always have the right connection
Bring you an excellent and smooth experience for buffer-free online gaming, smooth video conferencing, and seamless movie streaming
Compact size: Smaller than hand size(2.6 x 1.1 x 0.6 inches), which is space-saving when using and super portable for the occasion of business traveling, education, entertainment, etc.
Intelligent chipset: Adopts a proven RTL8156B chipset to maintain ultra-fast, stable and secure data streaming. No more worrying about the network interruption.
Product Overview
Compact and portable, this USB 3.2 Gen 1(USB 3.1/3.0) to 2.5 Gigabit Ethernet adapter converts a USB-C/USB-A port into a (10/100/1000/2500Mbps) Base-T RJ-45 Ethernet port. It can replace a damaged computer network card or connect a USB-C/USB-A PC to a high speed Ethernet Network at places where a wireless connection is slow, inconsistent or not available at all, which is a high performance and low expenditure solution and an ideal desktop network adapter/ laptop accessory. It is faster than gigabit and future-proof, hence suitable for video conferencing, pro gaming, large files transferring and video streaming. Thank you for choosing this 2-in-1 USB to 2.5 Gigabit Ethernet Adapter !
Compatibility (NOT A FULL LIST)
✔ Operating System: Works with Windows 10/ 8.x/ 7/ Vista /XP; Mac OS 10.6 to 11.x; iPadOS; Linux Kernel 3.2 and above; up-to-date Chrome OS.
✔ Technology: Ethernet compliant with the IEEE 802.3u (10/100Mbps), the IEEE 802.3ab (1000Mbps) and the IEEE802.3bz (2500Mbps).
✔ Devices: Universally compatible with any USB-C and USB-A desktops, laptops, PCs, iPad and ultrabooks. (Brands for Apple, Lenovo, Dell, Asus, etc.)
✔ USB 3.2 Gen1 Ports(Type A+Type C): Compatible with all Thunderbolt 3, Thunderbolt 4, USB 3.2 (3.0/3.1), and 2.0 hosts. (USB 2.0 will limit the performance of the adapter.)
✘ Not Compatible: NOT Compatible with ARM-based Windows RT and Windows Mobile, most Android devices, TiVo Series 2, Wii, or other non-PC/Mac platforms.
Features
- USB-C/USB-A(5Gbps) compliant with USB Spec 3.0, 2.0 and 1.1.
- USB to Ethernet Adapter runs as 2.5Gbps is prepared for now and ready for future-proof.
- Designed for USB-C compatible devices, reversible plug orientation and no external power needed.
- Support 'Wake-On-Lan' and 'RealWoW!' to enable remote wake-up of a sleeping PC through Internet.
- Support Microsoft Wake Packet Detection (WPD) to provide Wake-Up Frame information.
- Green and Amber LEDs indicate the status of power, network connection and speed.
- Portable and tiny in size design fits anywhere in your office bag or pocket.
- Design build in heat dissipation for better performance.
In the Box
1 x USB-C and USB-A to 2.5Gigabit Adapter
1 x Quick Start Guide
1 x CD-shaped Paper Card for Driver Download.
Warm Reminder
* Plug and play for Windows 10, Mac OS 10.13.6 to 11.x, iPadOS, Linux Kernel 5.x and above, up-to-date Chrome OS.
* Older versions of Windows, Linux, and Mac OS may require a driver download for the adapter to function.
* Older Mac OS versions will have limited functionality (1Gbps link rate, no jumbo frame support) until the driver is intalled.
* For driver download, please visit our Driver Download Links(See CD-shaped paper card for driver download).
* For USB-A computers, USB-C to USB-A converter is included(2 in 1 USB ports to ethernet port).
Plug and Play for Windows10; MacOS 10.13.6 to 11.x; iPadOS; Linux Kernel 5.x and above; up-to-date Chrome OS:
Step 1:Plug in the adapter, then connect an Ethernet cable between your router or modem and the Ethernet port on the adapter.
Step 2:Just start using it when one LED is blinking.
Note:Open a browser and test the connection.
Note:
* If your device is damaged or defective, please contact our customer service for more details.
* All pictures shown on the package are for illustration purpose only.
* Please recycle.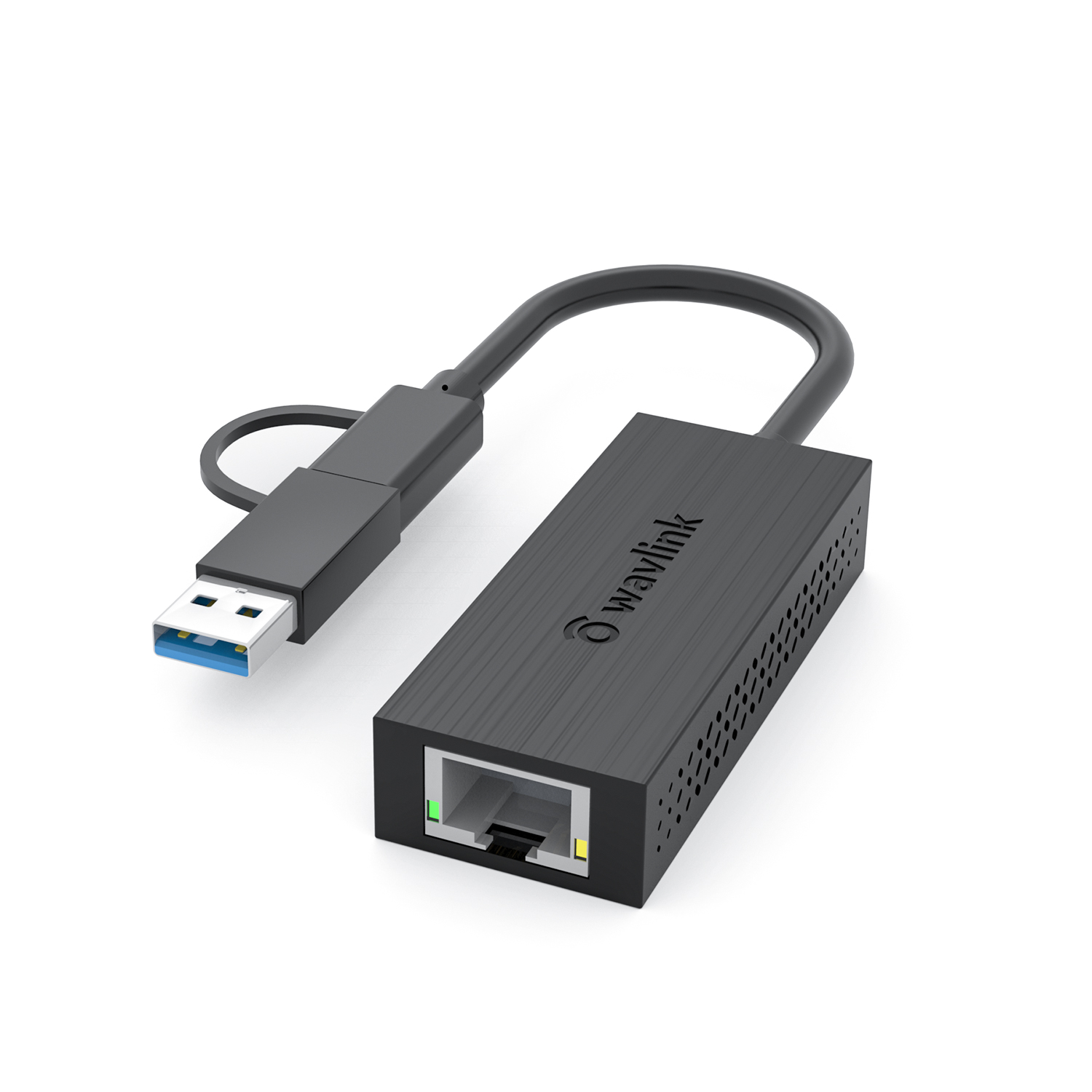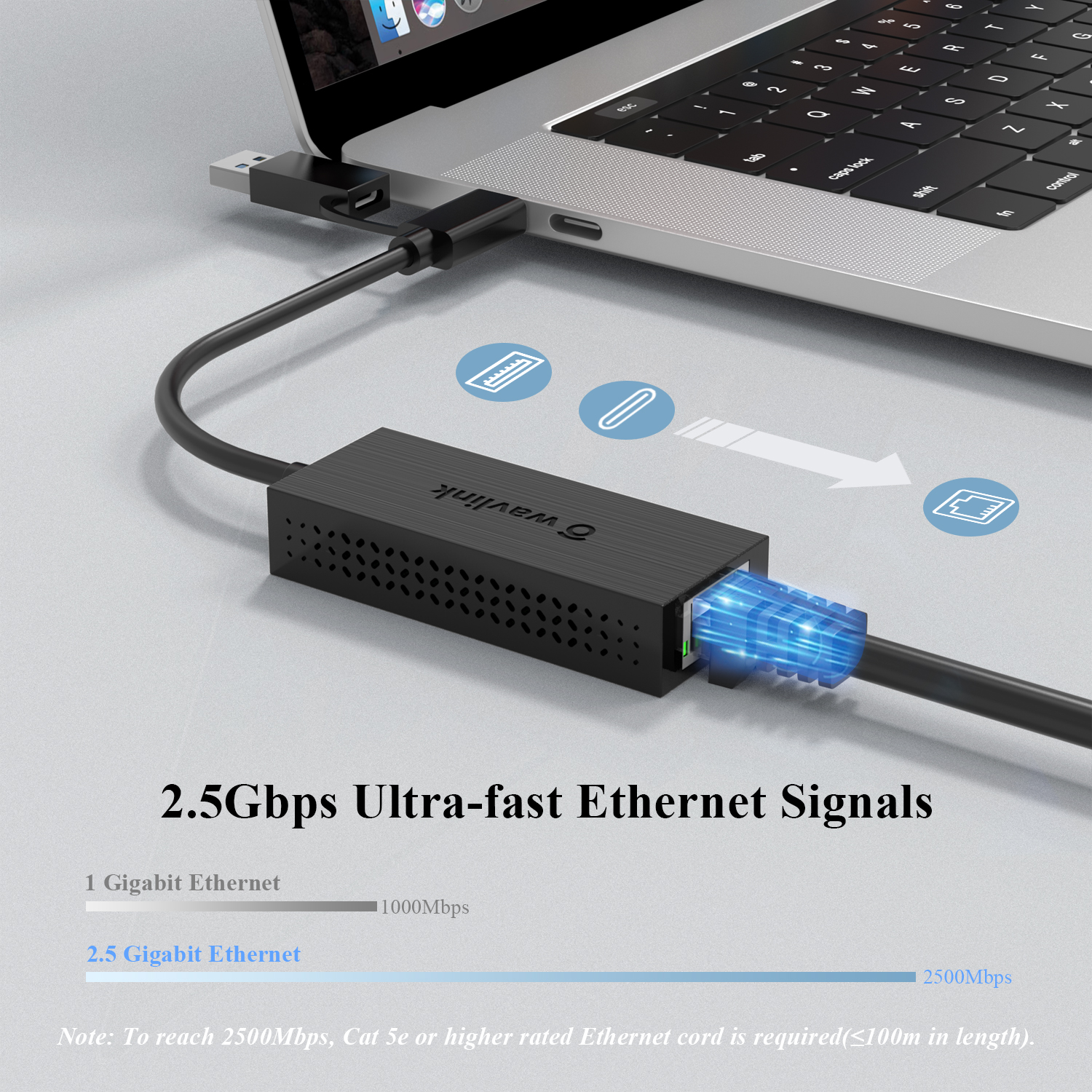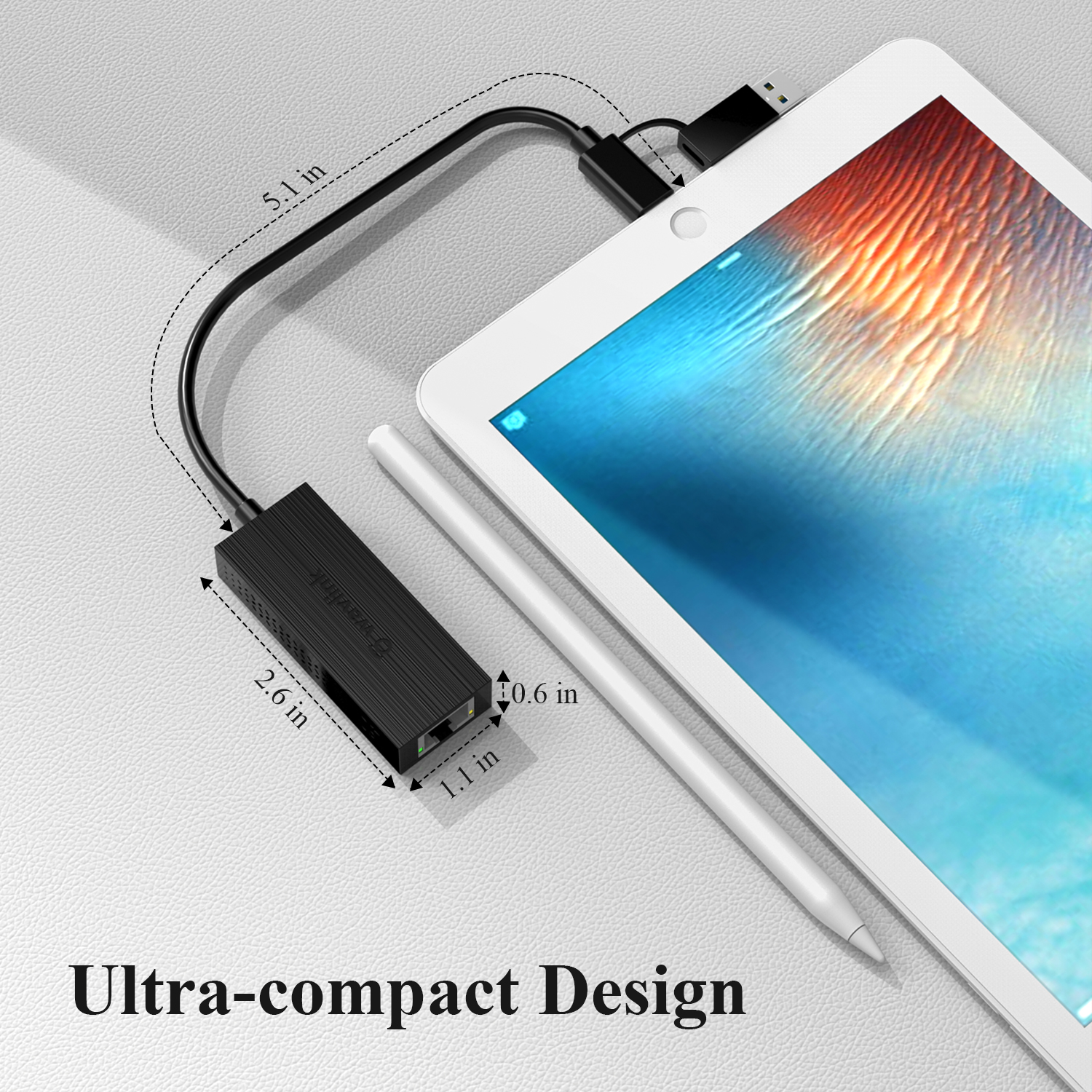 Ask Question About Product
Note:
HTML is not translated!
All(0)
Good(0)
Fair(0)
Poor(0)
Image(0)