Convenient payment

Trusted-Delivery


Fast Delivery
Multi-warehouse direct hair fast delivery

Exquisite service
Exquisite service after-sale guarantee

Hassle-free return
Shop with confidence, worry-free refund
Overview
Enterprise-level universal docking station is an ideal choice for large enterprises and designers. This docking can provide you 4 displays output with 5120 x 1440@60Hz resolution; 2.5Gbps Ethernet giving you to high bandwidth networking; the SD4.0 Card Reader supporting UHS-II SD card as full duplex mode theoretical speed up to 312MB/s fast for copying any photos or movies from your media memory card to backup to your PC directly.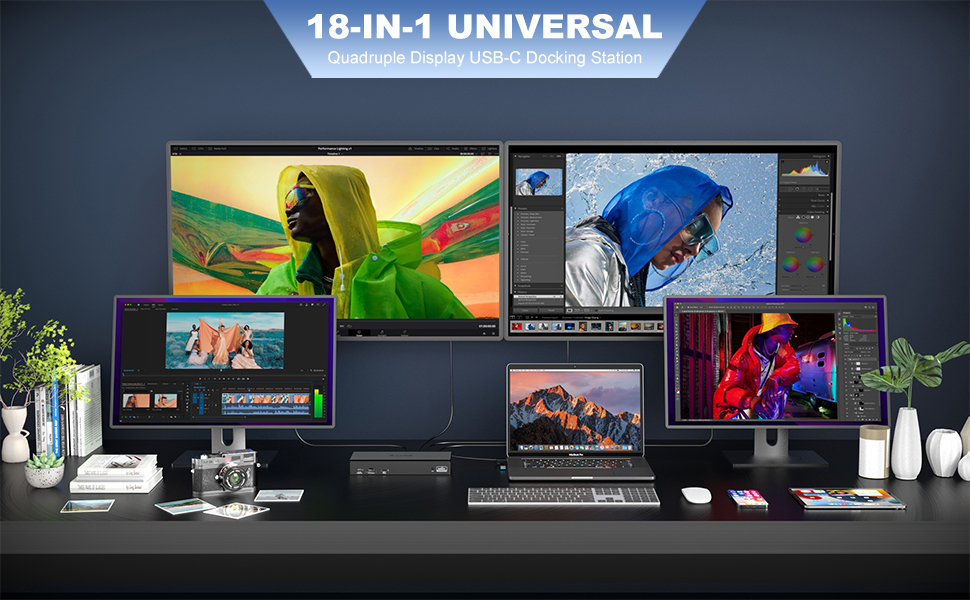 Features
18 in 1 Design & Massive Expansion : Equipped with eight maximum 5K(5120*1440)@60Hz HDMI/DP++ outputs, 100W host PD charging, 2.5Gbps RJ45 Ethernet connection, SD/TF card reader, PD 30W USB-C port(charge only), three USB-A ports(5Gbps), USB-A port(10Gbps), 2-in-1 Audio&Mic. This dock turns your device into a small workstation, providing you with a sleek workspace.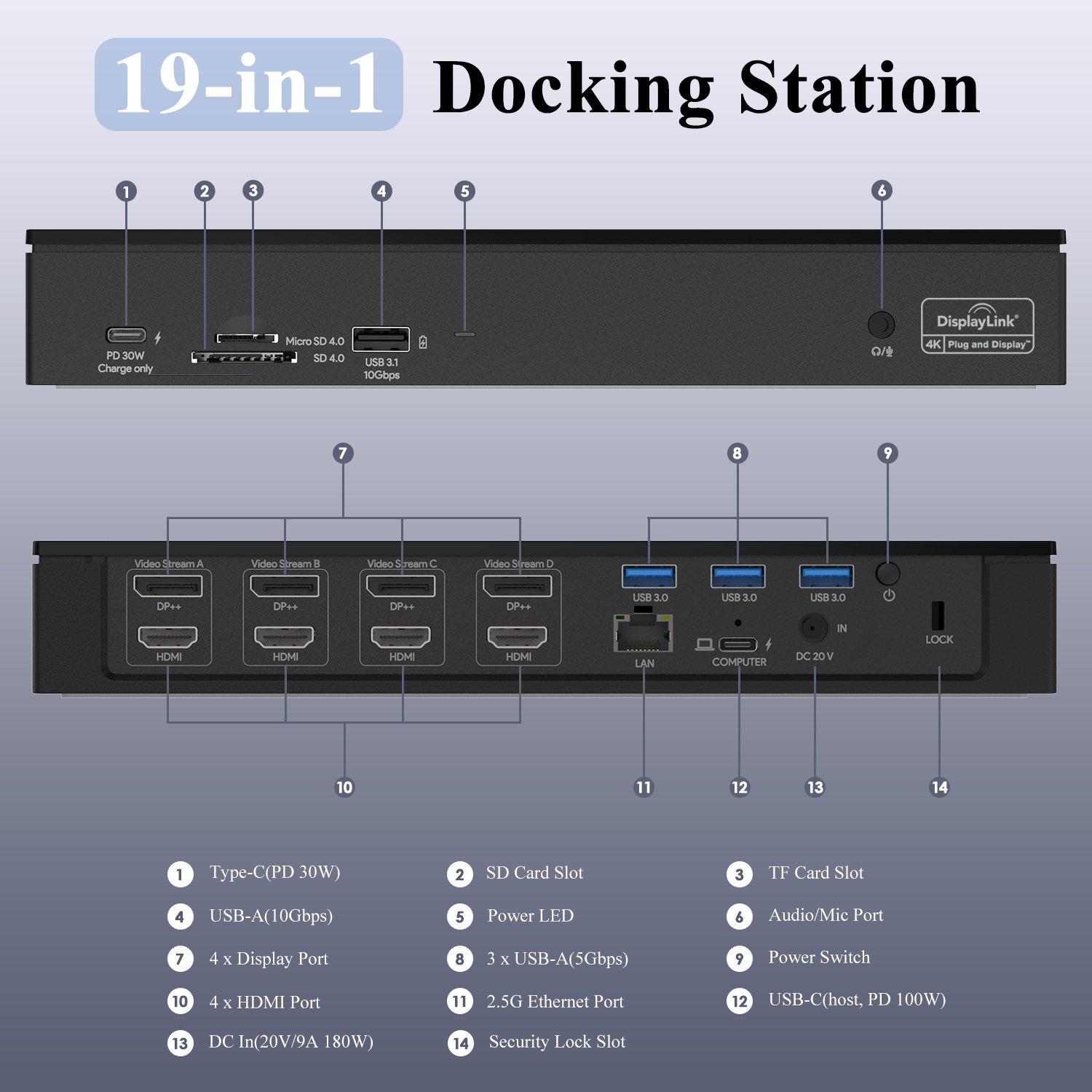 1. This universal docking station works with USB Type-C, Thunderbolt 3 & compatible with USB-A computers.
2. 180Watt Power adapter provide maximum 100W power delivery to charge your computer.
3. Mirror&Extend mode to connect multiple screens: Quad DisplayPort or Quad HDMI or multiple DP + HDMI displays for easy deployment.
4. HDMI or DisplayPort output support audio 5.1 Channel surround-sound.
5. One USB3.1 Type-A (10G) supports BC1.2 fast charging and max 10Gbps data transmission and three USB3.0 Type-A (5G) ports extend more connectivity to USB devices.
6. 2.5G Ethernet network RJ-45 backward 10/100/1000 Ethernet.
7. Integrated TRRS 4-pole phone jack to give audio speaker out and mic in.
8. One USB-C individual 30W PD charging port for any USB-C devices supports USB PD charging.(No data transmission)
9. Integrated SD V4.0 Card Reader with SD/Micro SD slot support UHS-II theoretical bus speed up to 312MB/s.
10. Supports Windows7/8/8.1/10/11(32/64-bit), Mac OS 10.8-12.x or later, Chrome OS, Android &Ubuntu.


Package
1*USB-C Quad Display 4K@60Hz Universal Dock
1*2-in-1 USB-C to USB-C Cable with USB-A Converter
1*DC20V/9A 180W Power Adapter
1*AC Power Cable
1*User Manual
1*Paper made CD (driver linkage)"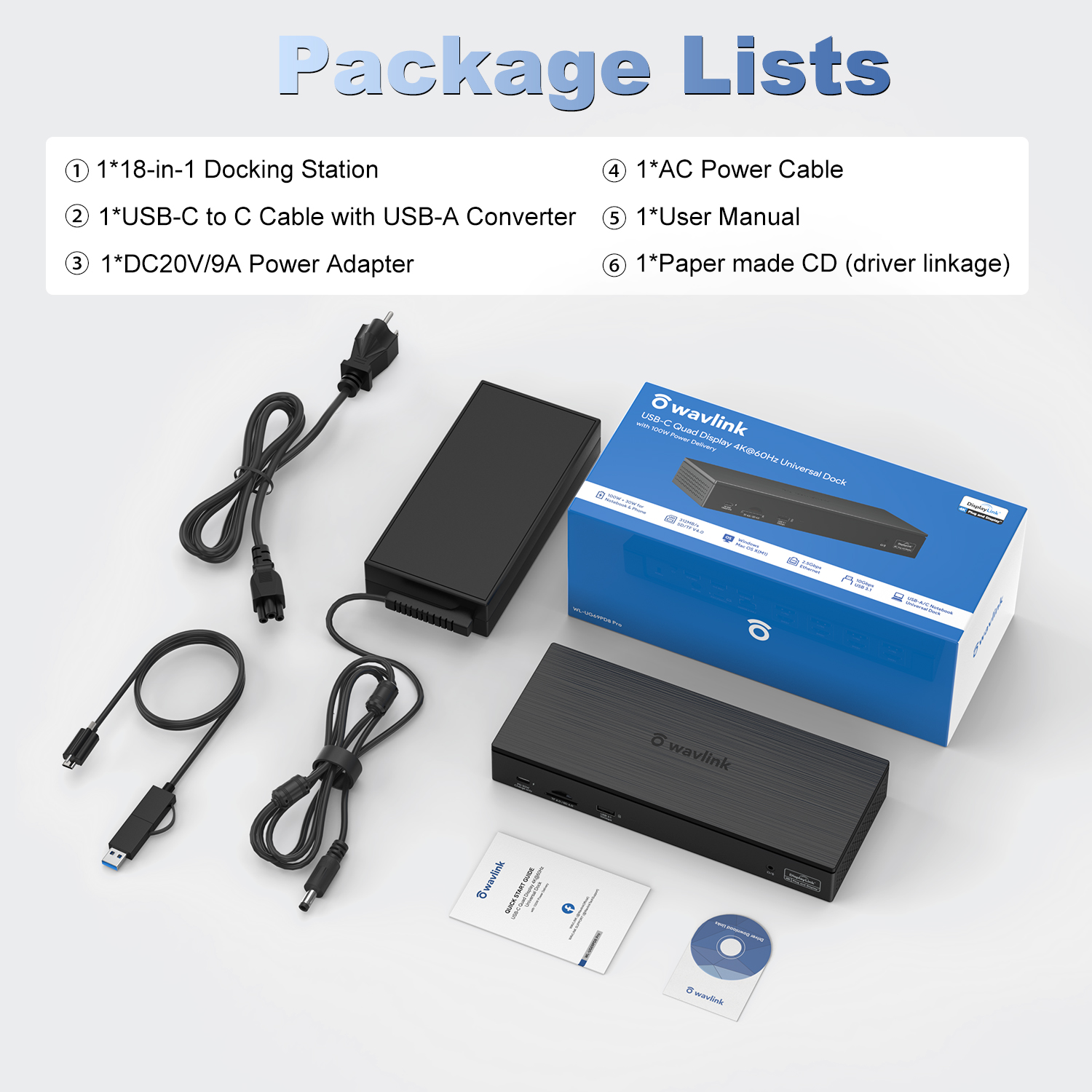 Notes
-This dock works with Thunderbolt 3 laptops with maximum 10Gbps data transfer rate, cannot reach 40Gbps.

-When we use the USB-C to C cable with USB-A converter, the computer cannot be charged through the USB-A interface.

-In each video stream group you can only use one port, either ""DP++"" or ""HDMI"". If you plug in both HDMI and DP within the same video stream, DP will be working, HDMI will not.

-Offering 100W USB power delivery on PD 3.0, you can power laptops and other peripherals through your dock. Making sure that your laptop complies with USB PD charging and supports 100W charging power.

-Resolution up to 5120*1440@60Hz when plug either ""DP"" or ""HDMI"" port within the same stream and the latest driver needed. Links to the latest driver will be provided on our official website. Make sure your display supports 5120*1440 resolution .
Ask Question About Product
Note:
HTML is not translated!
All(0)
Good(0)
Fair(0)
Poor(0)
Image(0)
Related Products