Convenient payment

Trusted-Delivery


Fast Delivery
Multi-warehouse direct hair fast delivery

Exquisite service
Exquisite service after-sale guarantee

Hassle-free return
Shop with confidence, worry-free refund
Wavlink Wi-Fi 6E AX5400 PCIe Tri-band WiFi Adapter with Magnetic Antenna Base--Soaring to New Height!
Product Overview
Wavlink Tri-Band PCI-E is an AX5400 wireless adapter for desktops that supports the latest Bluetooth 5.3. The wireless adapter features stable signal, high speed rate and superior performance. Compliant with 802.11 ax specification,the wireless adapter supports 2.4G, 5G and 6G bands. With 1024-QAM and MU-MIMO technology, WL-WN675X3 delivers wireless signal faster and more effectively by cooperating with an MU-MIMO compatible router.
Latest Bluetooth 5.3
Solve the problem of a poor signal by achieving 2x quicker speeds and 4x greater coverage than BT4.2. Coordinate your game controllers, headphones, and keyboards with the latest Bluetooth standard.
Compatible OS
Support Windows 10/11 64-bit, Linux
*Please note that to utilize 6GHz band, the user must be on Windows 11 version.
WPA3 Security
The latest WiFi security protocol, WPA3, brings new capabilities to improve cyber security. More secure encryption in WiFi password safety and enhanced protection against brute-force attacks combine to safeguard your home network.
Robust Connection with Dual High-Gain Antennas
Two 5dBi high-performance antennas with a magnetized base extend your existing WiFi reception capabilities by allowing you to stream throughout your home. Place the antenna base anywhere on your desktop to find the optimal location for signal reception.
Important Note
We put plastic film on its PCI-e interface for protection before the product is shipped. Please remove it before connecting to the PC's PCI-e slot.
Specification
Product Model: WN675X3(chipset: Intel AX210)
Transmission Rate: 2.4GHz: 574Mbps, 5GHz: 2400Mbps, 6GHz: 2400Mbps
Protocol Standard: support IEEE 802.11a/b/g/n/ac/ax
Frequency Band: 2.4GHz, 5GHz, 6GHz
Technical Support: MU-MIMO,OFDMA, BSS Coloring, 1024QAM, Target Wake Time(TWT)
Support System: Win 11/10 (64 bit), Linux
Bluetooth Version: Bluetooth 5.3
Interface: Compatible with PCI-E X1/X4/X8/X16
Wireless Security: WPA/ WPA2/ WPA3, WPA-PSK/ WPA2-PSK Encryption
Package Contents
-1x WiFi 6E AX3000 PCIe Adapter
-1x Bluetooth Cable
-1x External Antenna
-1x Low Profile Bracket
-2x Screws
-1x Drivers Download Card
-1x User Manual
Warm Tips
1. For desktops only. A bluetooth power cable needs to be connected to the motherboard 9-pin interface, or the bluetooth function won't work.
2. Recommended to use a wifi6 or wifi6e compatible router for faster wireless speed and better network performance of our PCIE wifi adapter.
3. This Wi-Fi card will not boost the speed of the original router, which only helps your computer to receive a better signal and speed of the router(Increase the maximum wireless bandwidth limit).
4. It has nothing to do with the quality of this adapter when you can't get the maximum speed. The network environment, router, barriers, laptop and PC 's internal memory…the interference of many factors can affect the speed.
5. Please turn off the built-in Wi-Fi when using on a desktop pc.( If there is a built-in Wi-Fi function on your desktop pc).
6. Please note that to utilize 6GHz band, the PC must be on Windows 11 version.
7. Please remove the plastic film on gold-plated fingers before connecting to the PC's PCI-e slot.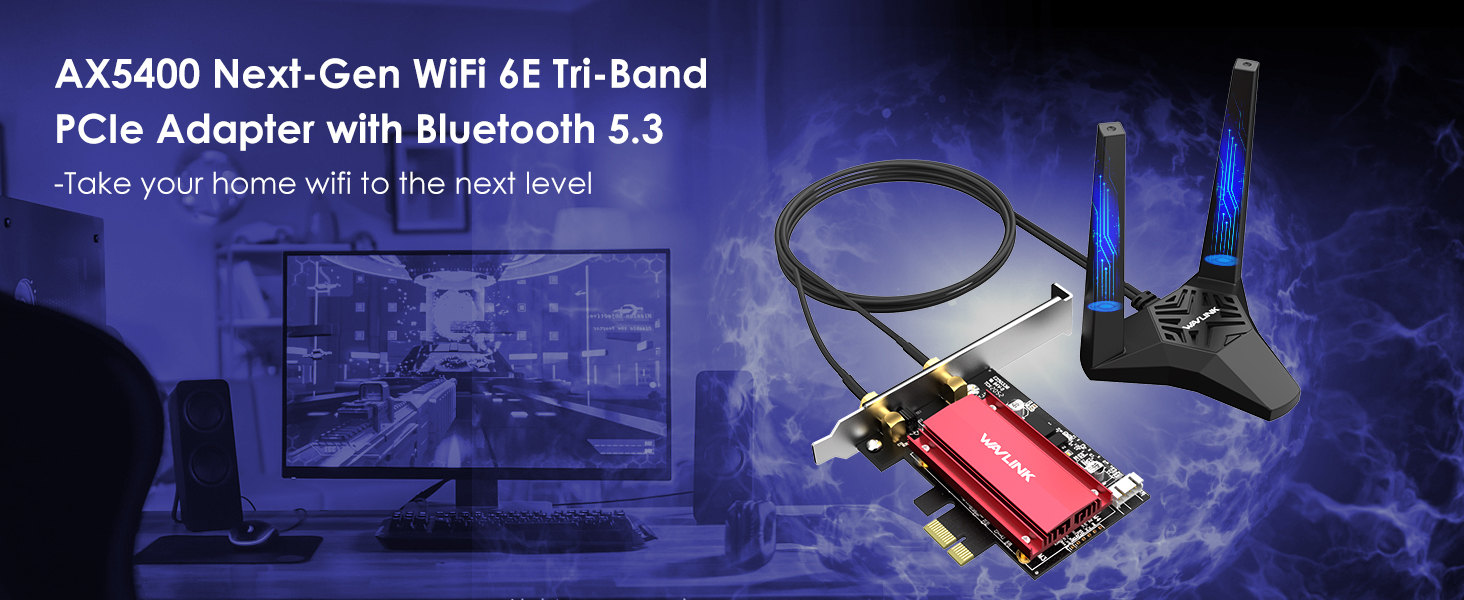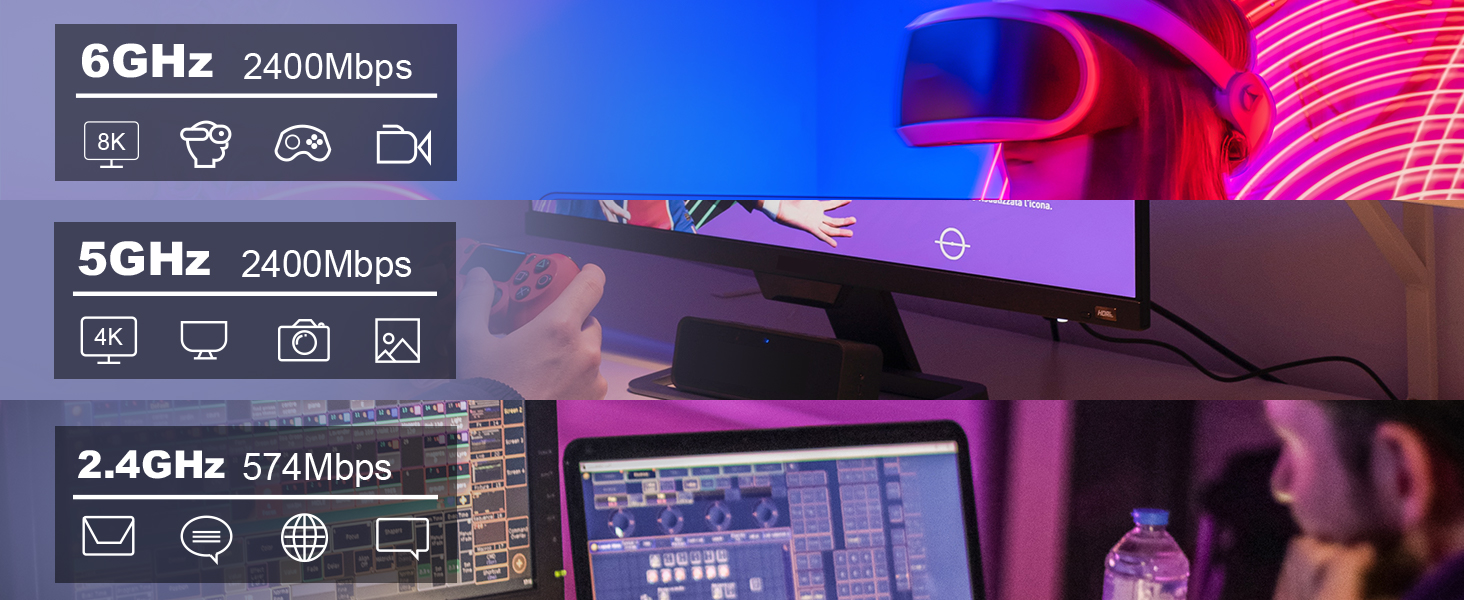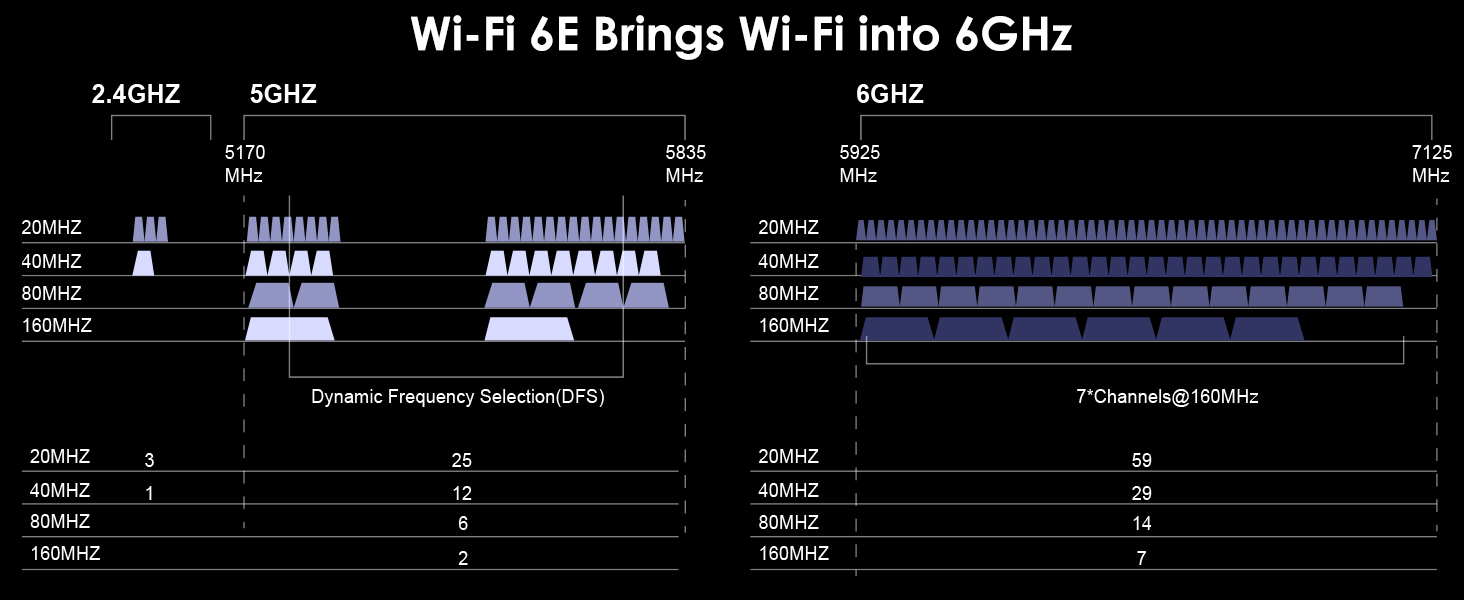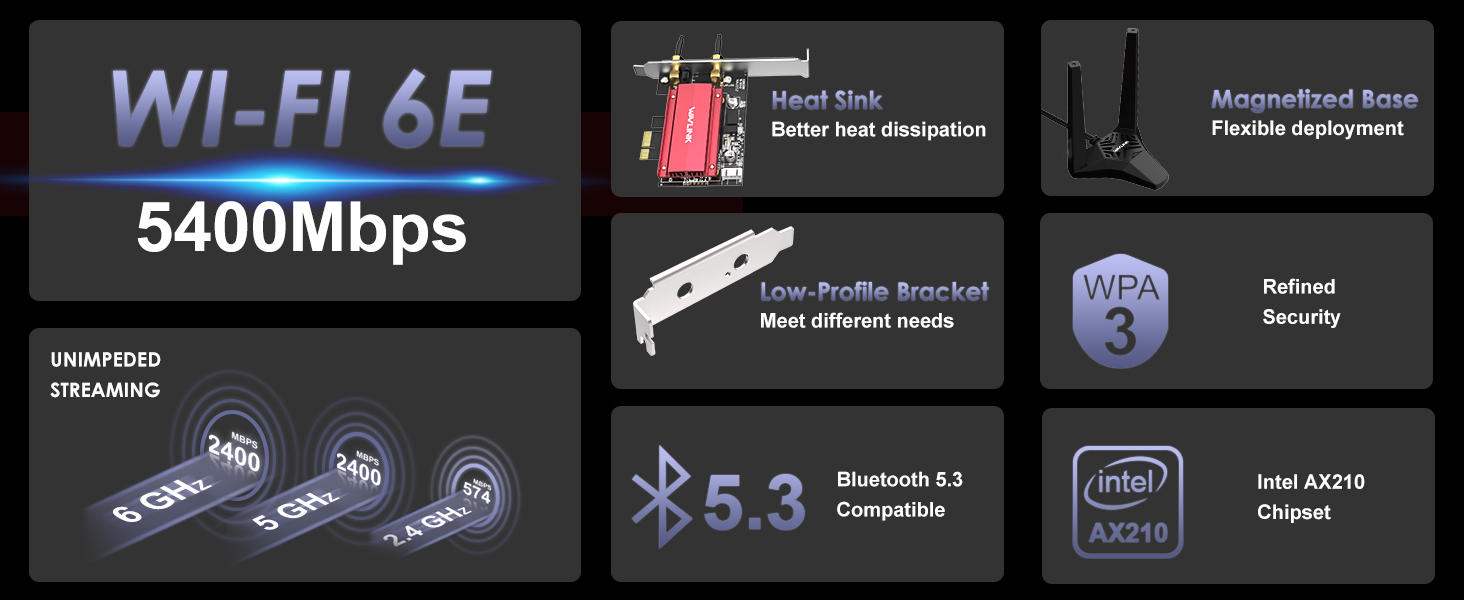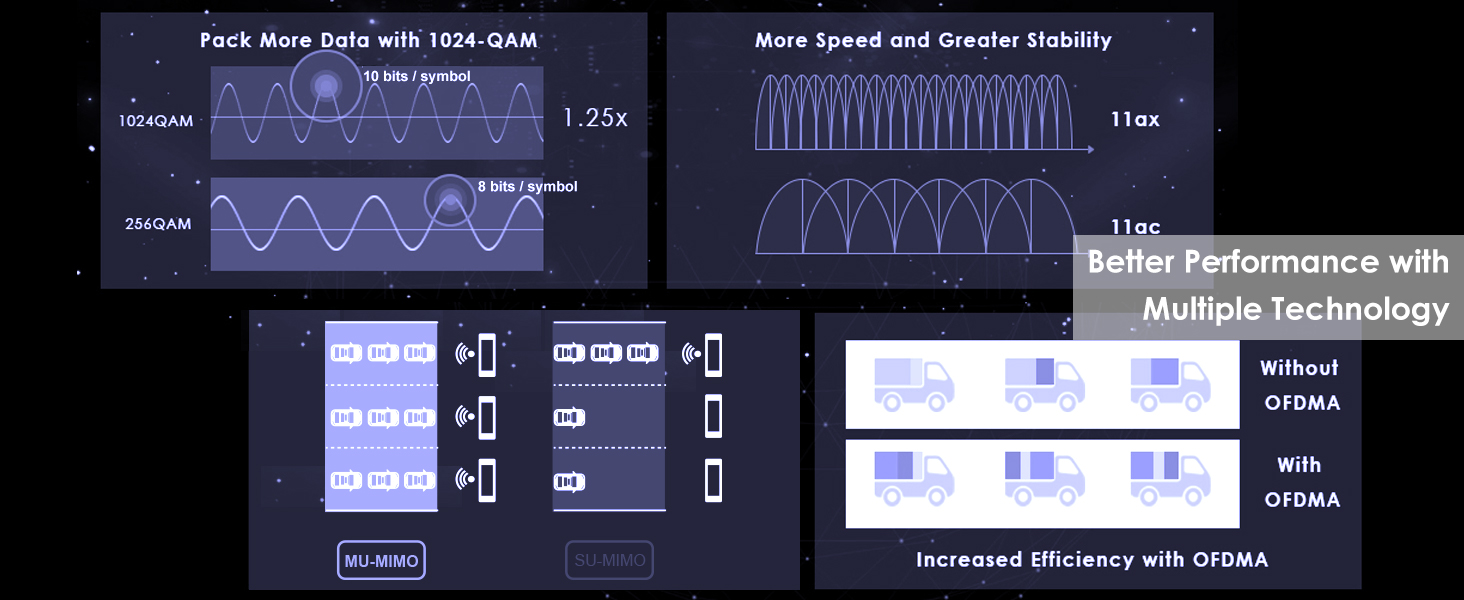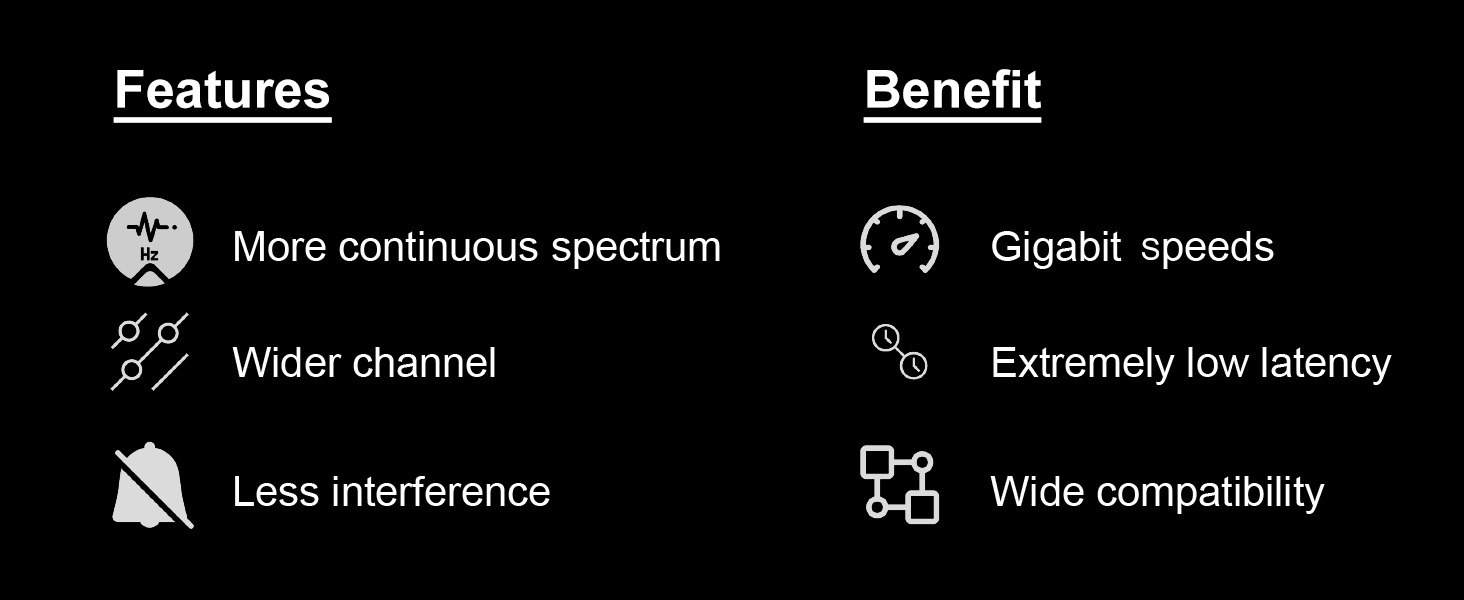 Ask Question About Product
Note:
HTML is not translated!
All(0)
Good(0)
Fair(0)
Poor(0)
Image(0)
⭐Upgrade to Next-Gen WiFi 6E: Comes with a greater capacity and improved performance, this WiFi 6E network card supports the latest 802.11ax technology, such as OFDMA, MU-MIMO, 1024QAM, Target Wake Time(TWT). It delivers a high-speed data rate even in dense or congested environments and gives you an incredibly fast gaming experience with ultra-low latency.
⭐Lag-Free Connection: Intel AX210 chipset extends WiFi into 6GHz band, updating your wifi to tri-band with maximum speeds up to 574Mbps on 2.4GHz, 2400Mbps on 5Ghz, 2400Mbps on 6Ghz. 2.4GHz for the long range transmission, 5GHz for gaming and 4K streaming, while 6GHz is ideal for ultra-smooth and real-time gaming or an immersive VR experience.
⭐Bluetooth 5.3 & WPA3 Security: The newest BT5.3 provides a powerful wireless data connection between your computer and Bluetooth enabled devices, with 2x faster transmission speeds, 4x greater range. In addition, advanced WPA3 security protocol greatly protects the network from hackers and malware, letting you relax with a peace of mind and just enjoy the high-speed WiFi.
⭐High Gain Antennas & Magnetized Base: Two external 5dBi antennas ensure strong signal reception and transmission, greatly increasing network coverage for a smoother online experience. With a magnetized base and 3.6ft RF cable, you can place it anywhere--your desktop or the computer chassis, to get optimal wireless signal. Easily install with the standard or low profile bracket.
⭐Compatiblity & Warranty: Compatible with Windows 10/11, Linux for desktop PC, you can get the driver from our website. Works with PCIe X1/X4/X8/X16 slots( Not for PCI slot). We provide 12-month worry free warranty(extra 6 months for registered members) and life-long technical support, just feel free to contact us if you have any problem.
Take note
---
Wavlinkstore is the official online sales platform directly operated by Wavlink. All products are shipped by Wavlink and we take full responsibility for after-sales support. Please feel free to make your purchase with confidence.
How is the shipment arranged?
By default, we use DHL, UPS, and 4PX as our courier companies. If there are areas that cannot be reached by these couriers, we will utilize local postal services for delivery.
How to track the shipment?
We highly recommend making purchases as registered users. By accessing the registered member portal, you can track the shipping progress of your order. If you checked out as a guest user, it is advisable to save a screenshot of your order or note down the order number for easier reference when contacting our customer support staff for inquiries.
How are after-sales issues handled?
After-sales support follows the after-sales service policy, which is strictly adhered to. If there is an established after-sales service guarantee policy through email communication, it will be implemented accordingly. For technical support during working days, you can call +18889730883(Free call charges). Additionally, you can also reach out for support by contacting contact@wavlink.com. Japanese users can send their inquiries to supportjp@wavlink.com for assistance. More info vist https://www.wavlink.com/en_us/contact.html
Do you support small batch purchases?
Our website supports small batch purchases. If you are interested in making a small batch purchase, please send an email to kevin@wavlink.com to obtain the best quotation. Additionally, we recommend registering as a website member to accumulate points and enjoy upgrades, which will provide you with greater support.
Under what circumstances are orders considered high-risk or subject to delayed shipping?
Not providing an email address or providing a randomly filled email address, such as

abcdefghello@abc.com

.

The phone number appears to be abnormal or consists of consecutive digits, such as 123456789 or 987654321.

Incorrect postal code, incorrect city name, or unclear shipping address. We will send an email confirmation to the email address provided in the order. If we do not receive a response, we may delay or cancel the shipment.
What should I do if I forget the order number or neglect to take a screenshot while using the guest checkout mode?
Firstly, you need to remember the email address you provided during the checkout process. We can use the email address to deduce your order number.
Secondly, if you provided a phone number, we can also use it to search for your order.
If you don't remember anything, please submit a support ticket, and our customer support staff will communicate the detailed progress with you.