Convenient payment

Trusted-Delivery


Fast Delivery
Multi-warehouse direct hair fast delivery

Exquisite service
Exquisite service after-sale guarantee

Hassle-free return
Shop with confidence, worry-free refund
⭐Advanced Wi-Fi 6 Router: Wi-Fi 6 (802. 11ax) technology achieves up to 3x faster speeds, 30% lower power consumption and 75% lower latency compared to the previous generation of Wi-Fi 5. Gigabit router comes with 4 Gigabit LAN ports, ideal for any internet plan and allow you to directly connect your wired devices.
⭐Next-Gen Dual Band Speeds: This high-speed AX3000 Wi-Fi 6 wireless router features a dual-band signal with a 5G transfer rate of 2402Mbps and a 2.4G transfer rate of 574Mbps, which reduces buffering and latency while allowing smooth roaming. Perfect for online gaming, 4K streaming, and fast downloading.
⭐Stronger Signal Throughout Your Home: This Wi-Fi 6 internet router includes 4*5dBi omnidirectional external antennas with 4 high-performance signal enhancement FEM modules. The wireless signal coverage can reach up to 1,600 sq.ft when combined with Beamforming technology. QUANTUM D4X fully improves signal power and receiving sensitivity, extends strong and reliable Wi-Fi throughout your home.
⭐Less Congestion for More Devices: The 5G frequency band supports 160MHz ultra-high bandwidth, which can double the speed compared to 80MHz, making it easy for multiple people to play online without worrying about network congestion. By OFDMA+MU-MIMO technology, up to 256 devices can be connected to the Internet at the same time and the transmission efficiency is significantly improved.
⭐Patented TouchLink Technology: TouchLink is an original Wi-Fi technology designed by our WAVLINK R&D team. It enables Wi-Fi connection by simply touching the sensing pad, which saves time and effort in memorizing a complex password. Easy to share Wi-Fi with your friends or guests without telling the password. Note: Password-free connection within 120s.
Dual-band Speeds
Up to 2976Mbps WiFi for faster browsing, streaming, gaming and downloading at the same time.
LAN Ports for More Performance
Connect up to four networking devices for fast Ethernet performance with speed up to 1000Mbps. It's ideal for desktop computers, laptops, smart TVs and more.
SuperSpeed USB 3.0
Built-in one SuperSpeed USB 3.0 (10X faster than USB 2.0) Type-A port — easy to share media and storage across your local network.
Eliminate Wi-Fi Dead Zone
4 external 5dBi antennas equipped with Beamforming technology provide whole-home coverage for small and medium households.
Enhanced WPA3 WiFi Security
The latest Wi-Fi security protocol, WPA3, brings new capabilities to improve cyber security in personal networks.
Speedy & Steady Wi-Fi Performance
Compared to the previous Wi-Fi 4 & Wi-Fi 5, Wi-Fi 6 provides greater capacity to handle more devices on your network.
Specification
Model:WL-WN531MX3 (QUANTUM D4X)
Ports: 1 x WAN(10/100/1000Mbps), 4 x LAN(10/100/1000Mbps), 1 x DC in, 1 x Reset Button, 1 x USB3.0 Port, 1 x Switch
Frequency Band/Speed: 2.4GHz(574Mbps)+5GHz(2402Mbps)
Antennas: 4 x 5dBi Omni Directional Antennas
Status LED: Blue
Encryption: Open, WPA2-PSK, WPA2/WPA3-PSK MIX
Foldable Product Size: 218*195*41mm/8.6*7.7*1.6in
Ethernet Cable Length: 100cm/39.4in
Features:
- Supports 160MHz bandwidth and 1024-QAM for much faster wireless connections.
- Supports MU-MIMO & OFDMA techniques to simultaneously communicate with multiple devices in a very effective way.
- Supports TWT (Target Wakeup Time) technology to save power consumption.
- Provides a total networking speed of about 2976Mbps with 2402Mbps@5GHz and 574Mbps@2.4GHz.
- Features four 5dBi patented antennas that are powerful, omni-directional, foldable and fitting in smaller box.
- Provides 1 x Gigabit WAN + 4 x Gigabit LAN (1000Mbps) for high-speed wired Internet.
- Supports 1 x USB3.0 port for Samba.
- TouchLink Patent: Share WiFi with your guests in no time by simply touching on the top of this WAVLINK router.
- Protects network security with up to WPA2/WPA3-PSK MIX.
- Supports IPV4 / IPV6.
- Sets up in minutes with the WavRouter APP or Web UI, easily manage WiFi settings and monitor data usage.
Warm Tips:
1). This router supports router mode ONLY. Does not support AP/Extender/Mesh mode.
2). The actual coverage may vary based on the environment.
3). The 5G frequency band supports 160MHz ultra-high bandwidth, while the 2.4G band does not.
Package Includes
1 x WiFi 6 AX3000 Router
1 x Power Adapter
1 x Ethernet Cable
1 x Manual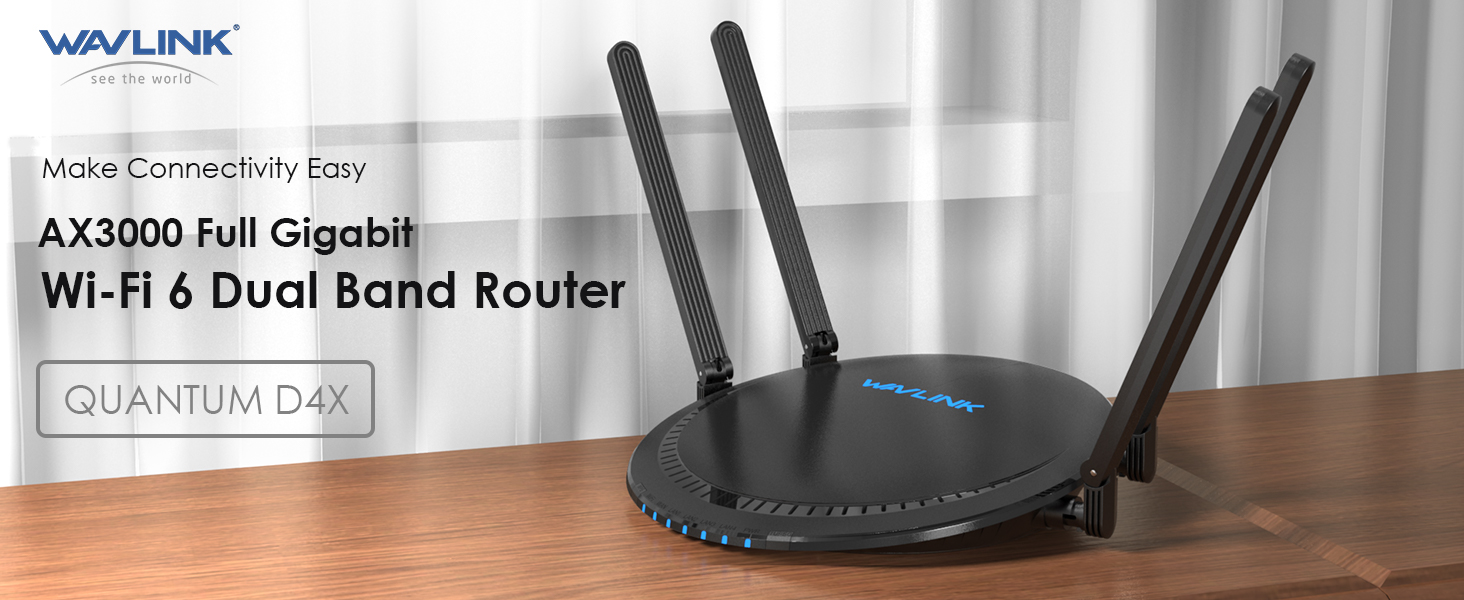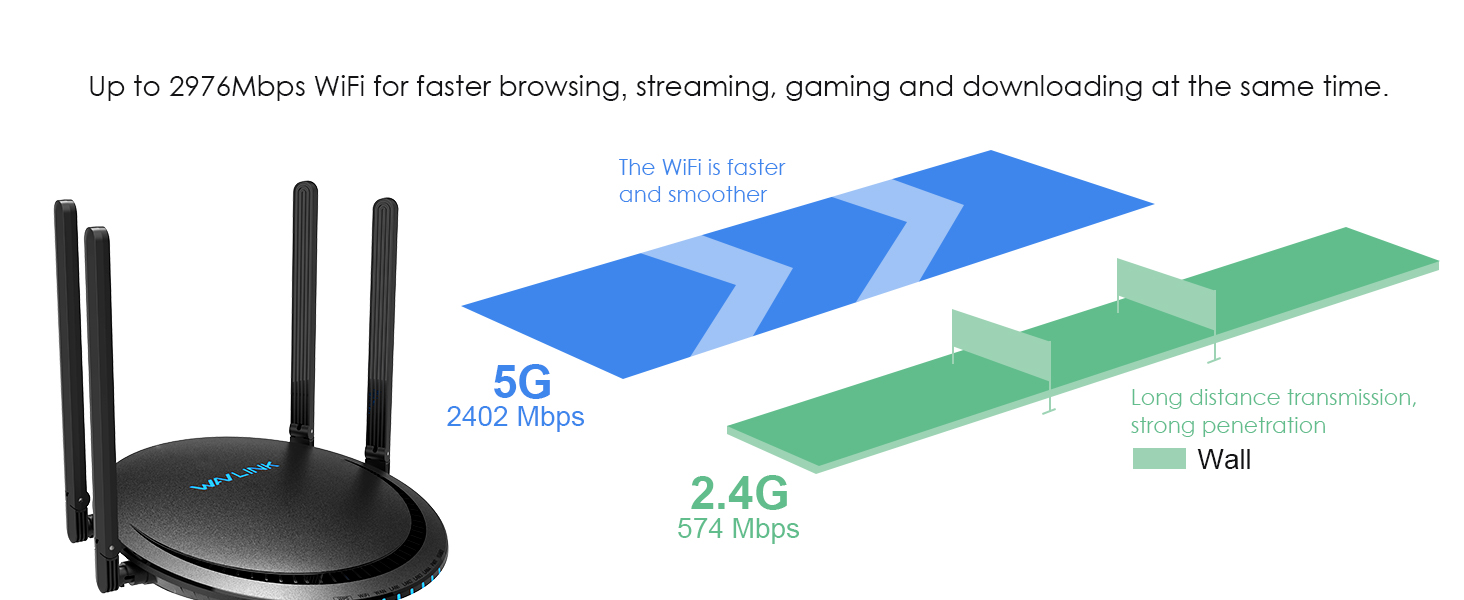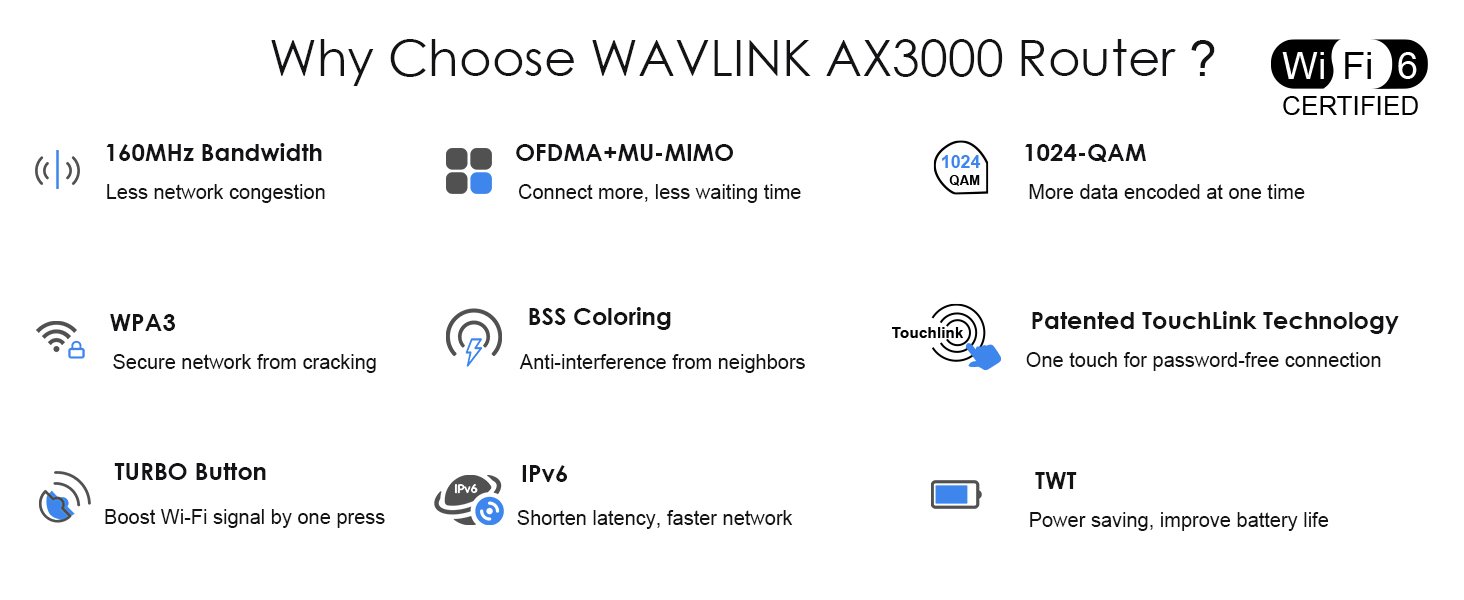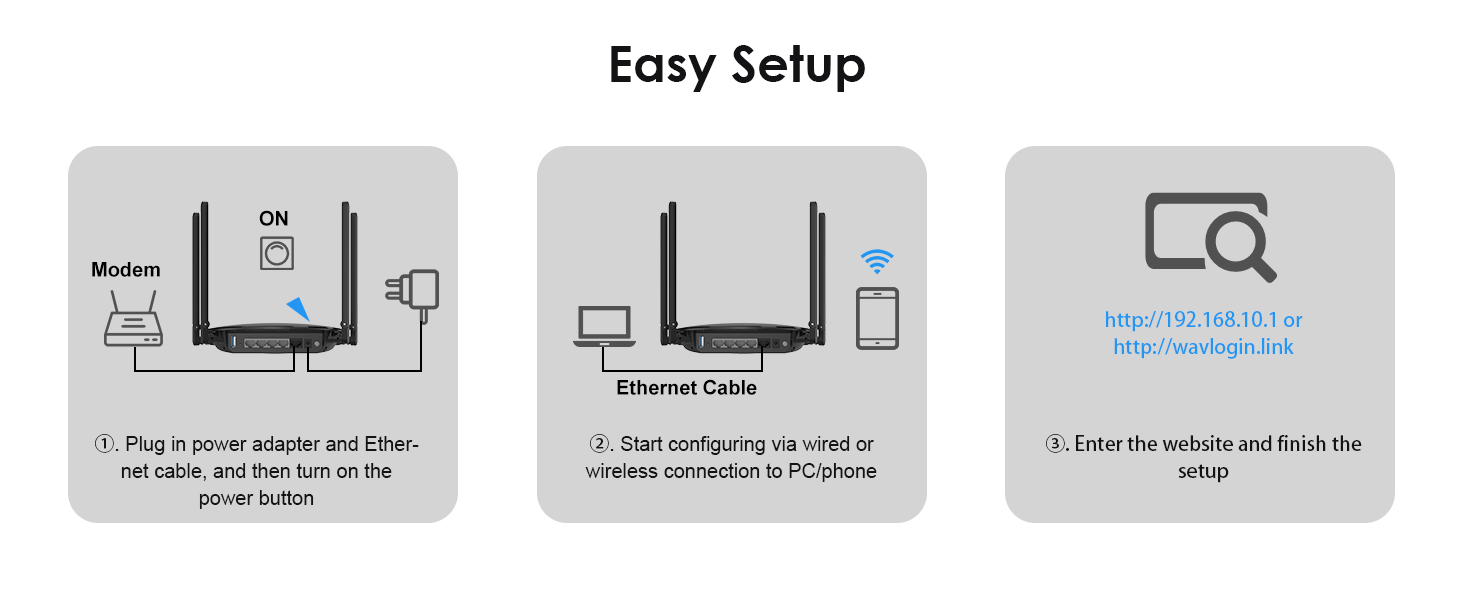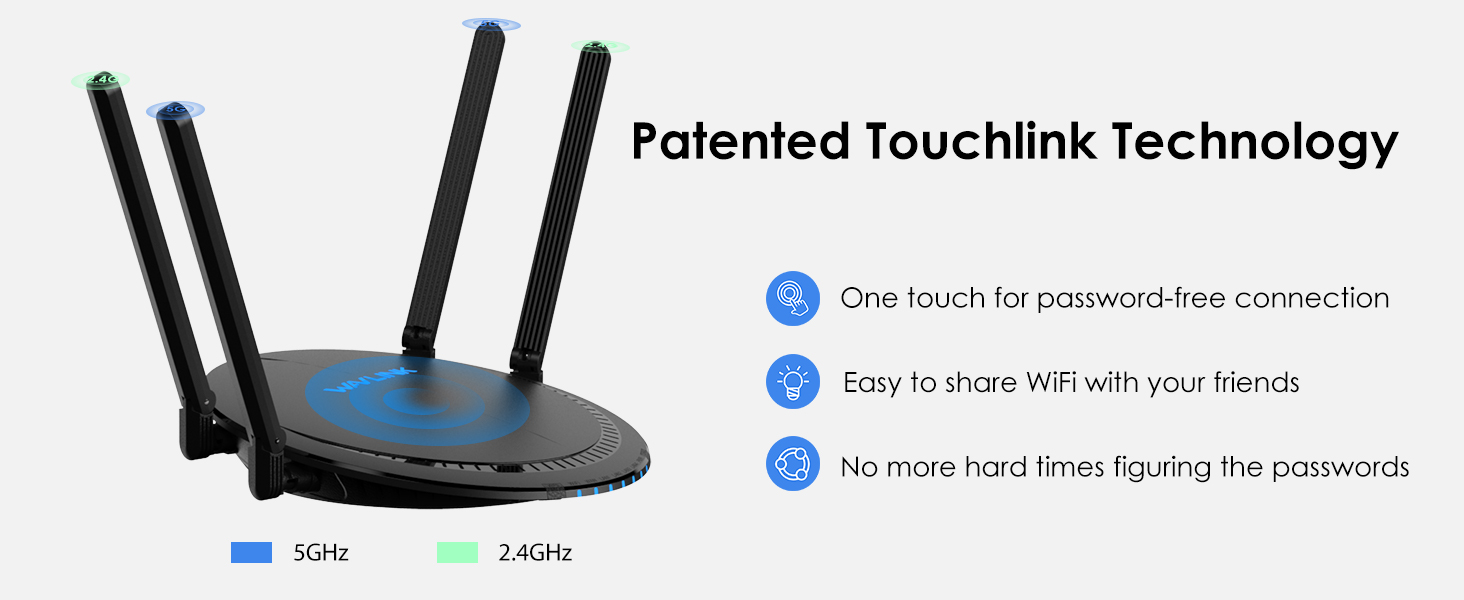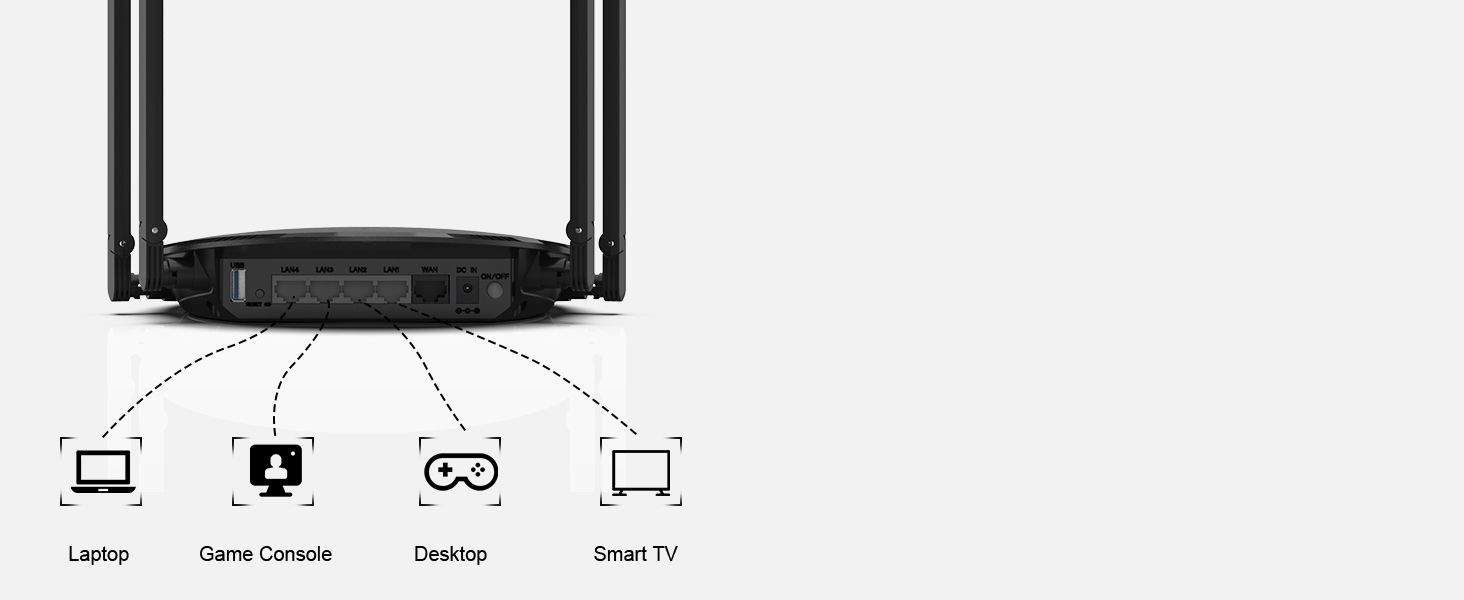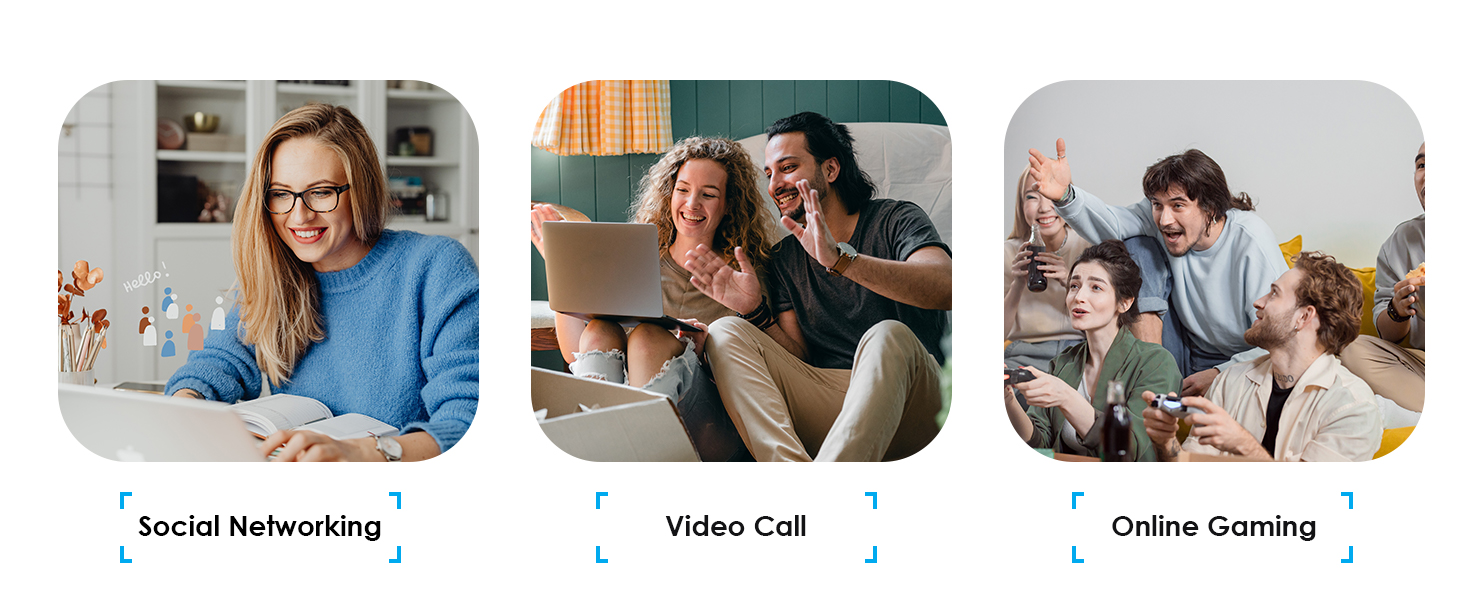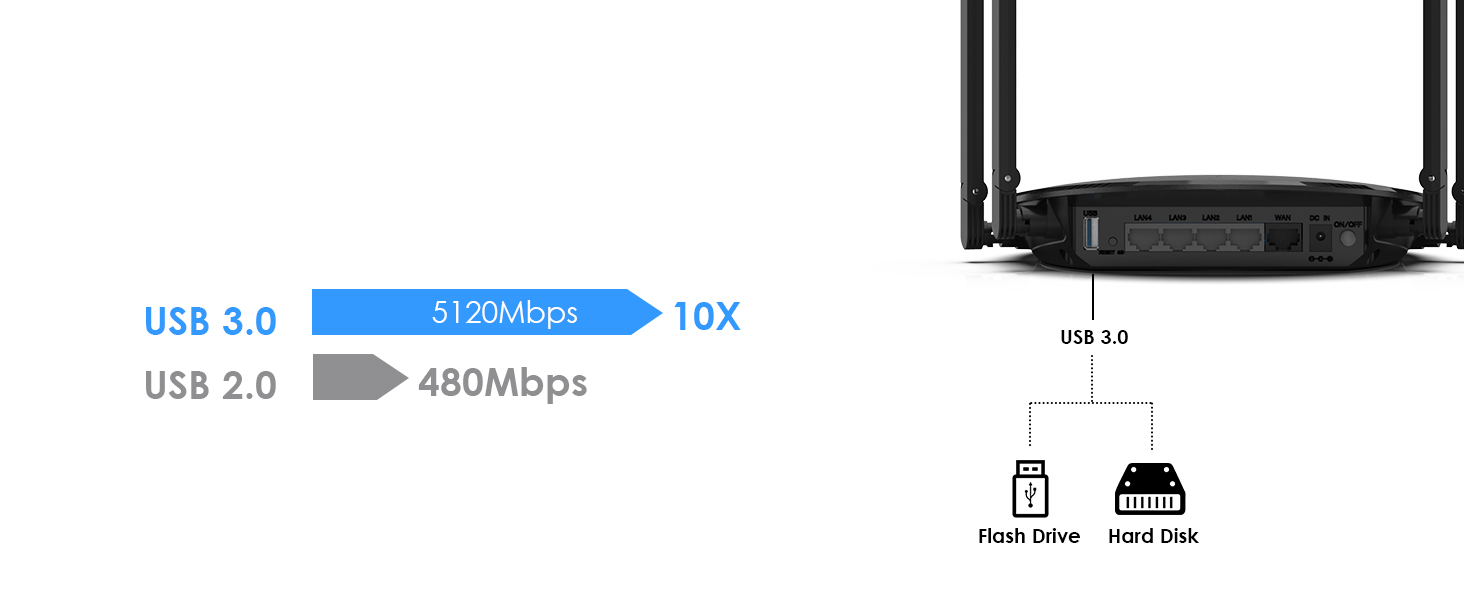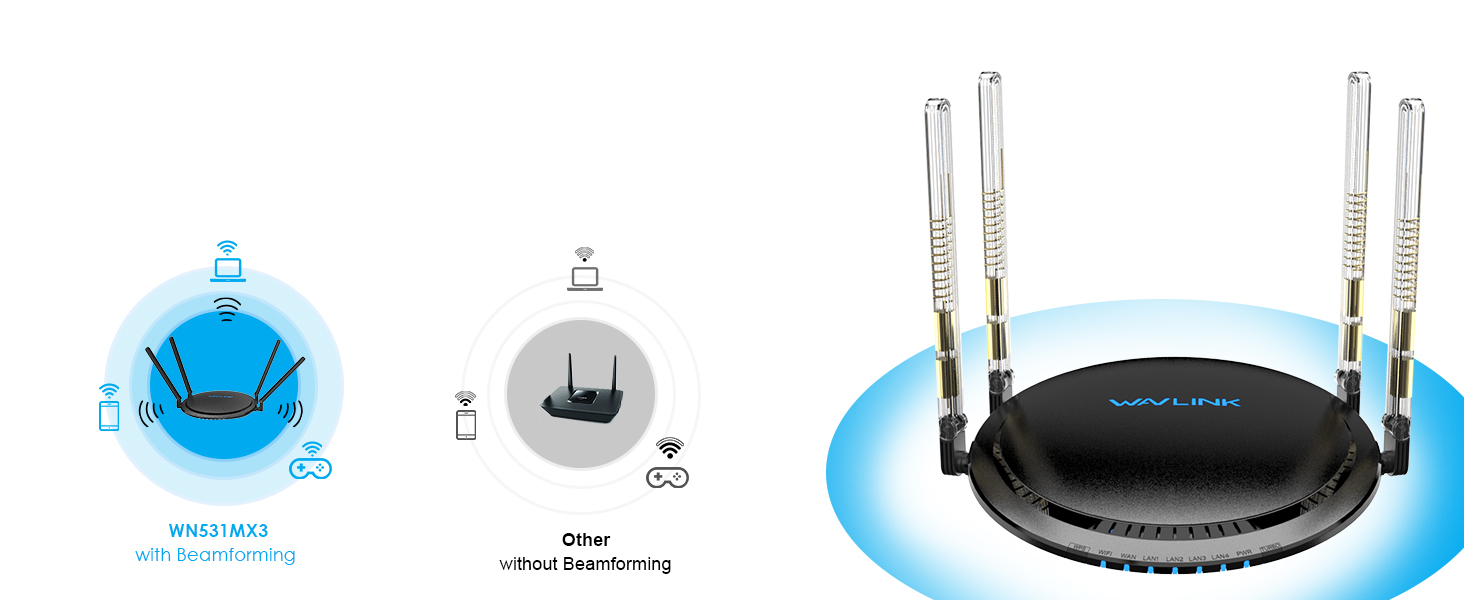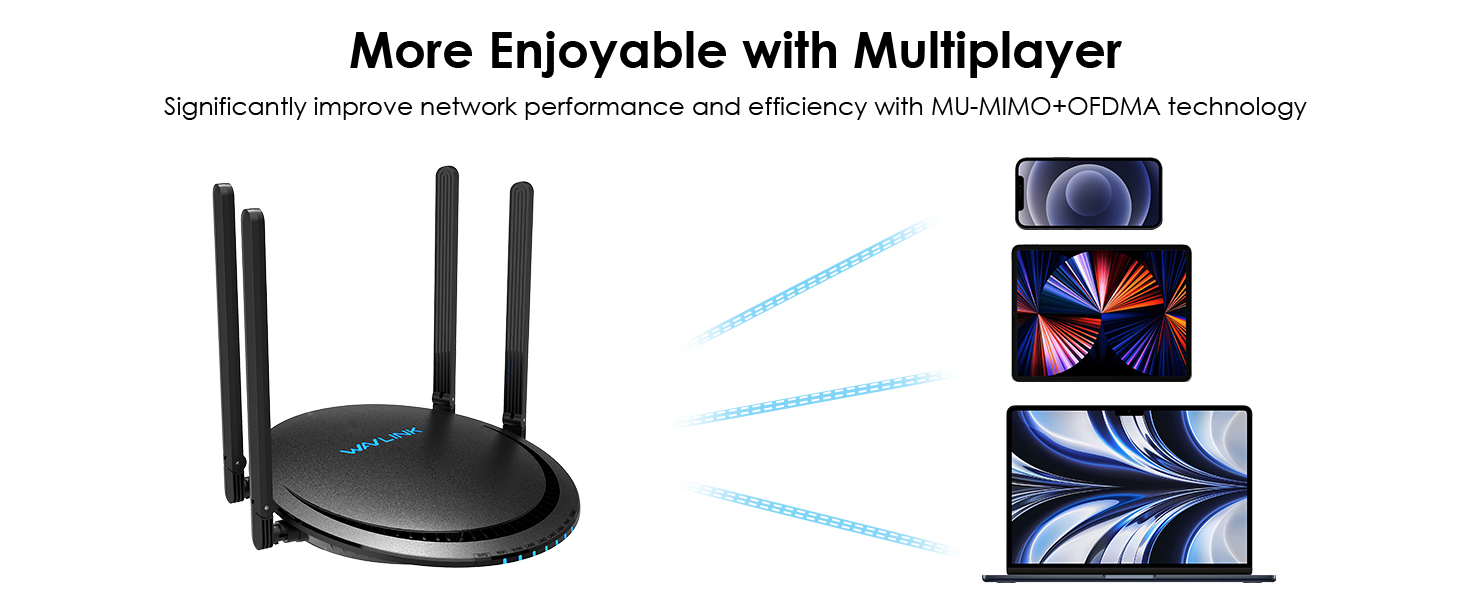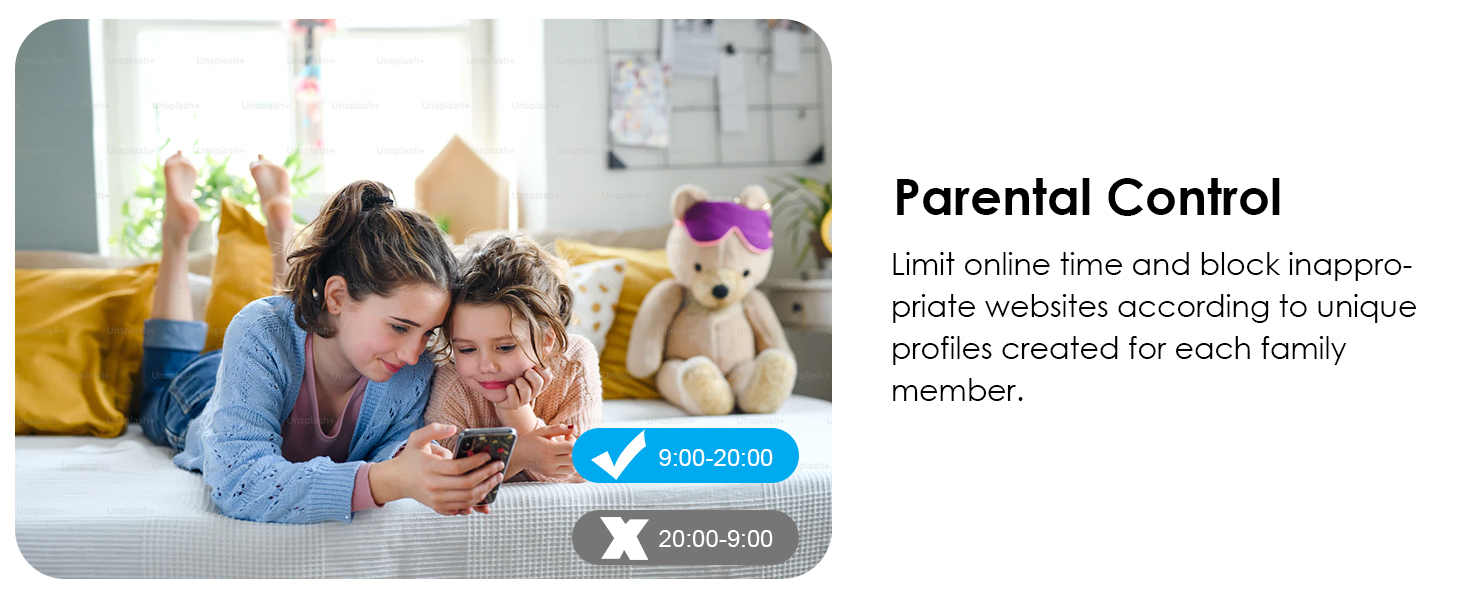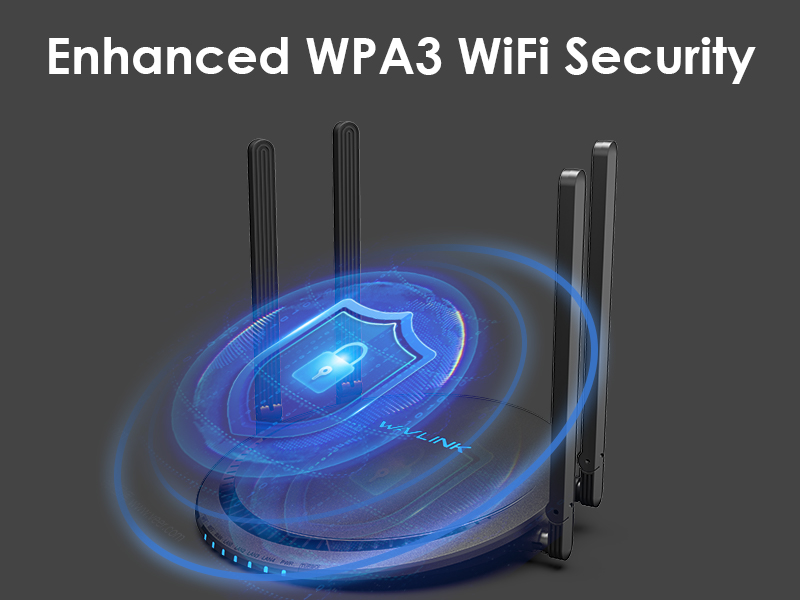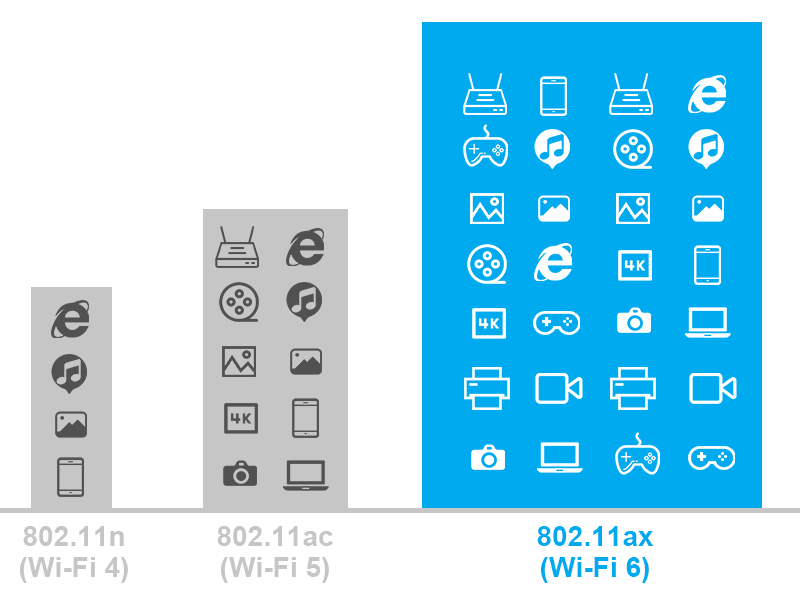 Ask Question About Product
Note:
HTML is not translated!
All(0)
Good(0)
Fair(0)
Poor(0)
Image(0)
Take note
---
Wavlinkstore is the official online sales platform directly operated by Wavlink. All products are shipped by Wavlink and we take full responsibility for after-sales support. Please feel free to make your purchase with confidence.
How is the shipment arranged?
By default, we use DHL, UPS, and 4PX as our courier companies. If there are areas that cannot be reached by these couriers, we will utilize local postal services for delivery.
How to track the shipment?
We highly recommend making purchases as registered users. By accessing the registered member portal, you can track the shipping progress of your order. If you checked out as a guest user, it is advisable to save a screenshot of your order or note down the order number for easier reference when contacting our customer support staff for inquiries.
How are after-sales issues handled?
After-sales support follows the after-sales service policy, which is strictly adhered to. If there is an established after-sales service guarantee policy through email communication, it will be implemented accordingly. For technical support during working days, you can call +18889730883(Free call charges). Additionally, you can also reach out for support by contacting contact@wavlink.com. Japanese users can send their inquiries to supportjp@wavlink.com for assistance. More info vist https://www.wavlink.com/en_us/contact.html
Do you support small batch purchases?
Our website supports small batch purchases. If you are interested in making a small batch purchase, please send an email to kevin@wavlink.com to obtain the best quotation. Additionally, we recommend registering as a website member to accumulate points and enjoy upgrades, which will provide you with greater support.
Under what circumstances are orders considered high-risk or subject to delayed shipping?
Not providing an email address or providing a randomly filled email address, such as

abcdefghello@abc.com

.

The phone number appears to be abnormal or consists of consecutive digits, such as 123456789 or 987654321.

Incorrect postal code, incorrect city name, or unclear shipping address. We will send an email confirmation to the email address provided in the order. If we do not receive a response, we may delay or cancel the shipment.
What should I do if I forget the order number or neglect to take a screenshot while using the guest checkout mode?
Firstly, you need to remember the email address you provided during the checkout process. We can use the email address to deduce your order number.
Secondly, if you provided a phone number, we can also use it to search for your order.
If you don't remember anything, please submit a support ticket, and our customer support staff will communicate the detailed progress with you.