Convenient payment

Trusted-Delivery


Fast Delivery
Multi-warehouse direct hair fast delivery

Exquisite service
Exquisite service after-sale guarantee

Hassle-free return
Shop with confidence, worry-free refund
WAVLINK 4K HDMI Video Capture Card: Complete Streaming Solution
The HG900U video capture card is a versatile and reliable streaming solution that empowers you to capture, record, and broadcast stunningly detailed videos. Supports a maximum input resolution of up to 4K@60Hz and captures at 4K@30Hz. It does not require driver installation and is compatible with any streaming software, allowing you to unleash your creativity by using third-party software to capture or stream HD games or other HD video sources. Power your workflow with ultra-low latency technology.
Almost Lag-Free HDMI Passthrough: Project the video in real-time with an impressive 4K resolution and a smooth 60Hz refresh rate when you're monitoring your content or sharing it with an external display or TV.
4K@30Hz Video Capture: Capture outstanding video footage with a resolution of up to 4K at 30 frames per second. Allows you to record stunning visuals with precise clarity, a high level of detail and lifelike motion.
Excels at Capturing Audio: Whether you're recording interviews, commentary, or gaming sound effects, you can count on the capture card to deliver clear and immersive audio to enhance the overall value of the content.
Hassle-free Setup: Simply connect the capture card to your computer or streaming setup, and it will be recognized and ready for use instantly, saving your time and ensuring a smooth user experience.
5V Computer Powered: Allows the device to be powered directly through your computer's USB port; it eliminates the need for an external power supply, ensures hassle-free operation and reduces cable clutter.
Sturdy & Modern Design: The capture card's visually appealing look seamlessly integrates into your existing studio or gaming environment, enhancing the overall ambiance while ensuring long-lasting performance.
Hardware Connection
Step 1: Connect the video source device to the HDMI IN port via the HDMI cable.
Step 2: Connect your laptop to the USB-C port via Type-C cable.
Step 3: Connect the monitor to the HDMI OUT port.
OBS Installation and Configuration
1)Connect your devices to this Video Capture Card following the "Hardware Connection" and then download the software from https://obsproject.com and complete the OBS installation.
2)You can change the software language in " Settings->General" from the bottom-right list on the screen.
Ultra-Clear Resolution
1)Input/Loop Out: 4K@60Hz/ 2K@144Hz/ 1080P@240Hz
2)Recording/Live Stream Capture: 4K@30Hz/ 2K@60Hz/ 1080P@120Hz
Specification
1.Model: WL-HG900U
2.Ports: 1 x HDMI IN(4K@60Hz);1 x HDMI OUT(4K@60Hz);1 x Type-C(4K@30Hz);1 x 3.5mm Line in;1 x 3.5mm Line out;1 x 3.5mm Mic in
3.Power Supply: Type-C 5V
4.Unit Size: 11 x 7.3 x 2cm/4.3 x 2.9 x 0.8in (L x W x H)
5.Weight: 120g/4.2oz
6.Cable Length: HDMI(F) to HDMI(F) Cable:100cm/39.4in; USB-A to USB-C Cable:100cm/39.4in
7.Housing: ABS + Aluminum Alloy
8.Status LED: Blue
Features
-Support Max 4K@60Hz Video Input with 1 x HDMI 2.0 IN Port.
-Support Video Passthrough with 1 x HDMI 2.0 OUT Port.
-Support Max 4K@30Hz Capture.
-Support third-party softwares like OBS to capture and stream your videos from various input sources like game consoles, cameras and so on.
-Support USB 3.0 Type-C port for UVC/UAC and compatible with USB 2.0 Interface.
-Support UVC Output Format : YUY2/NV12.
-Support 3.5 mm Line In and 3.5mm MIC for External Audio Input.
-Support 3.5 mm Line Out for External Audio Output.
-Compatible with Multiple Operating Systems such as Mac, Windows, Linux, Android and so on.
-Support UVC1.0/1.1/ 1.5. UAC 1.0.
-Support HDR10 to SDR conversion.
System Requirement
-CPU: Intel Core i5 or higher
-RAM: 8G or higher
-Windows 7/8/10/11 or later
-Mac OS 10.12 or later
-Android 9 or later
-Linux
In the Box
1x 4K@60Hz HDMI Grabber G1 PRO
1x HDMI(F) to HDMI(F) Cable
1x USB-A to USB-C Cable
1x USB-A to USB-C Converter
1x Quick Start Guide
Warm Tips
1. The video capture card is plug-and-play. No drivers are needed.
2. Check if your video source supports 4K resolution. If not, change the resolution to 1920x1080 in settings.
3. Please ensure that your tablet or phone supports video output if you are using it as an input device.
4. This video capture card does not support HDCP.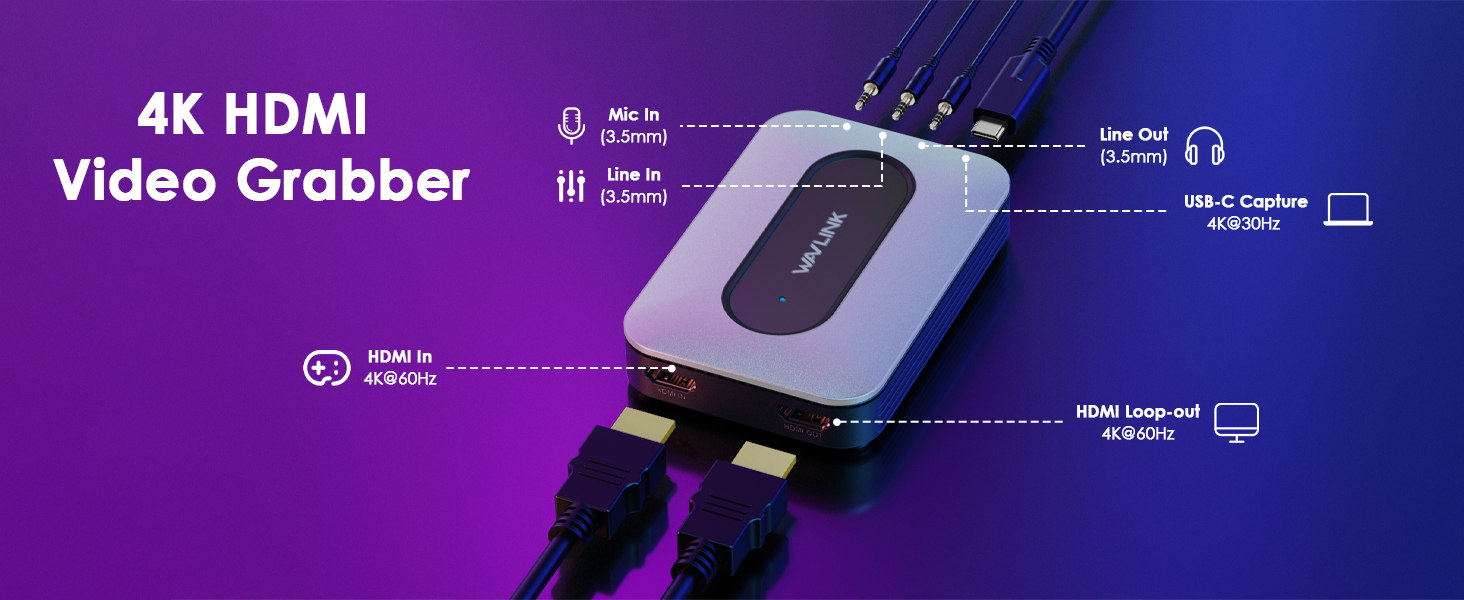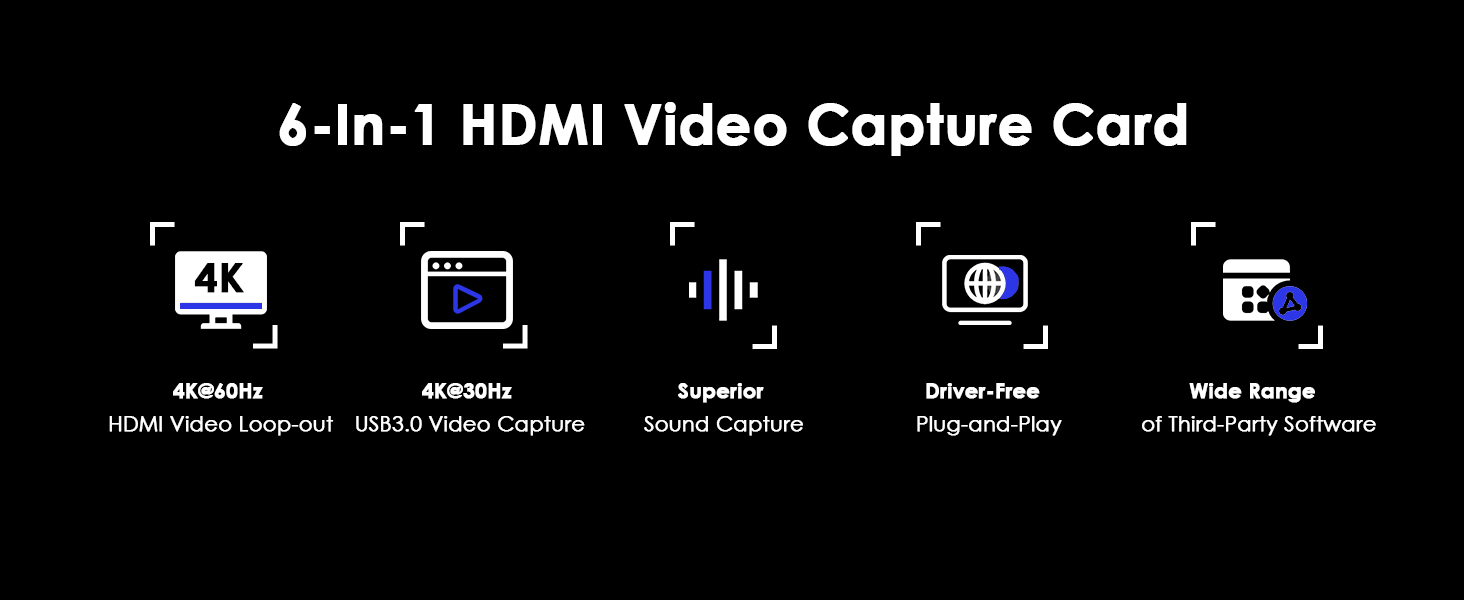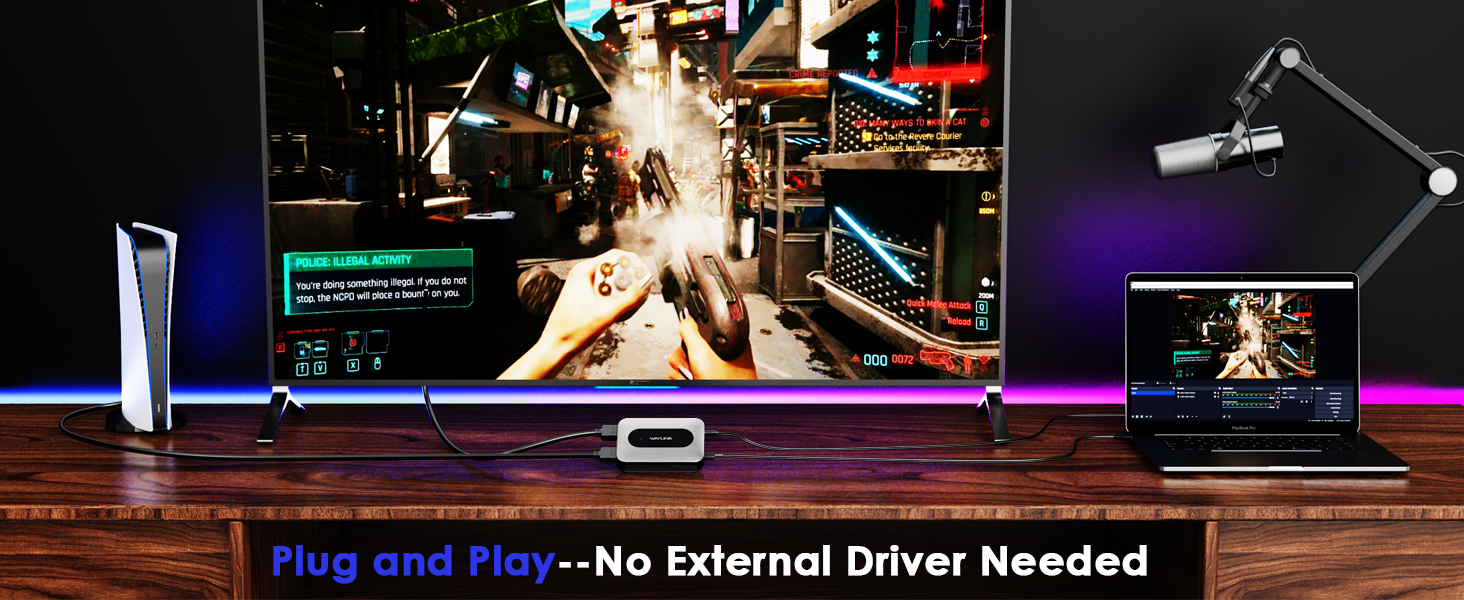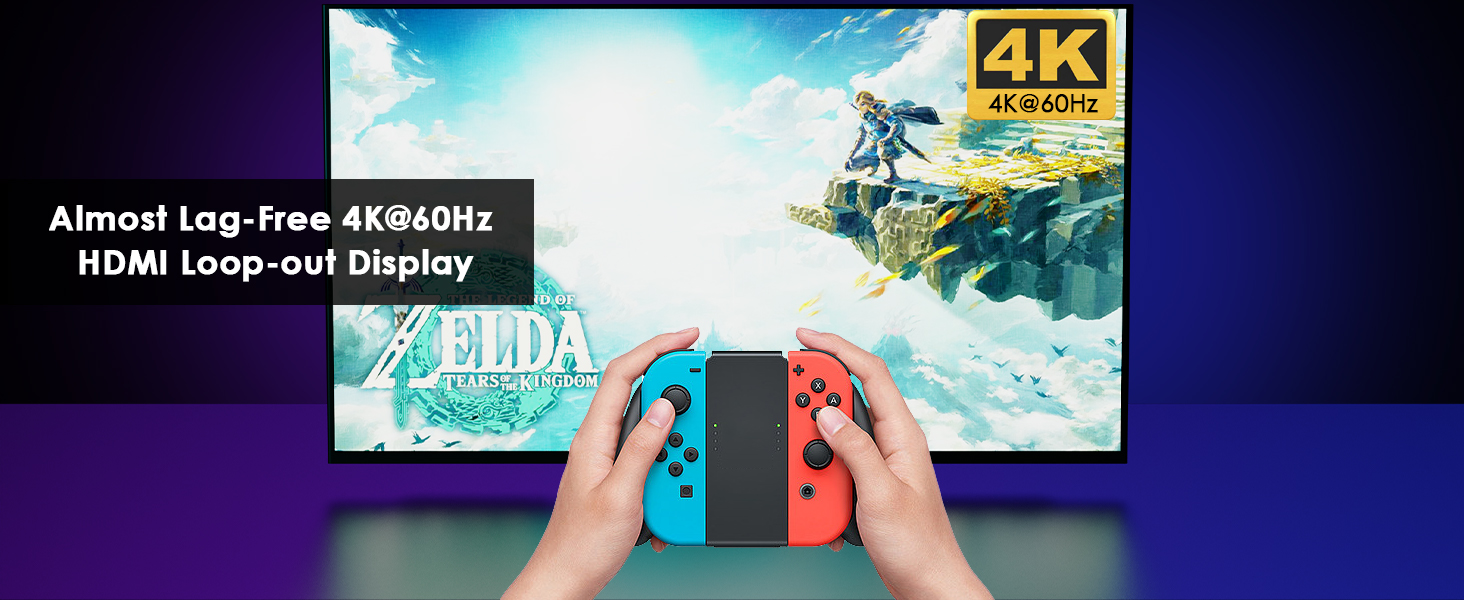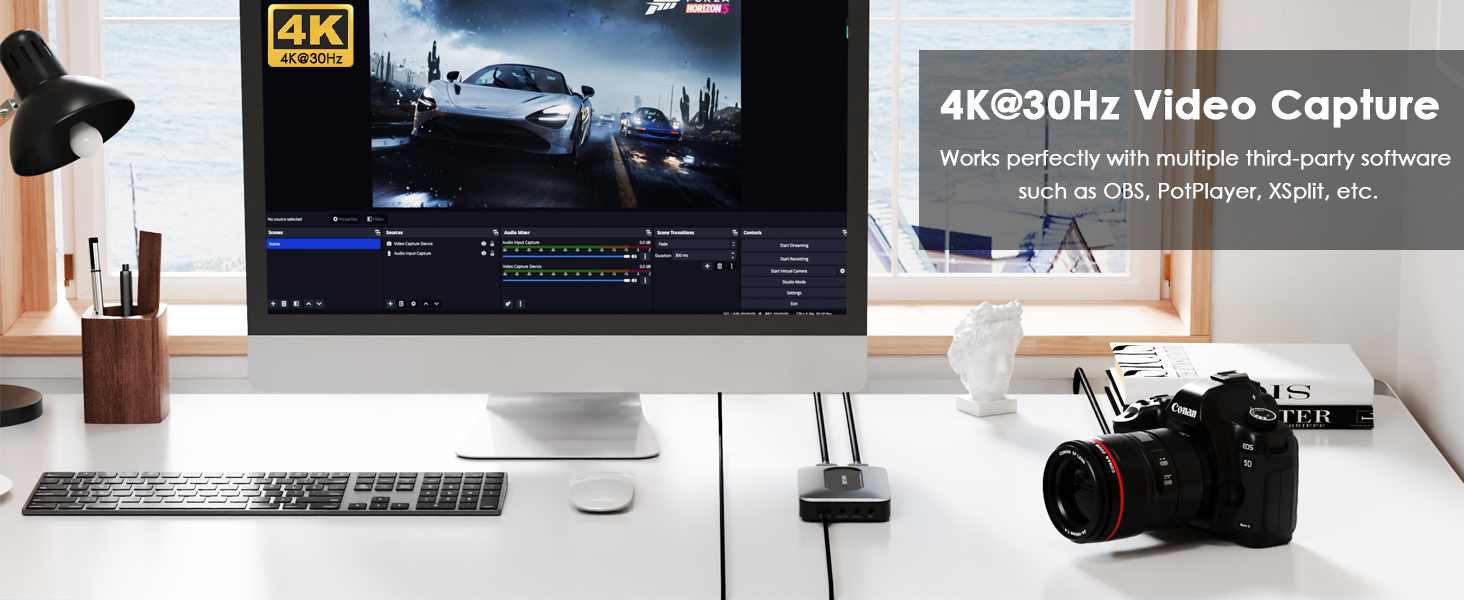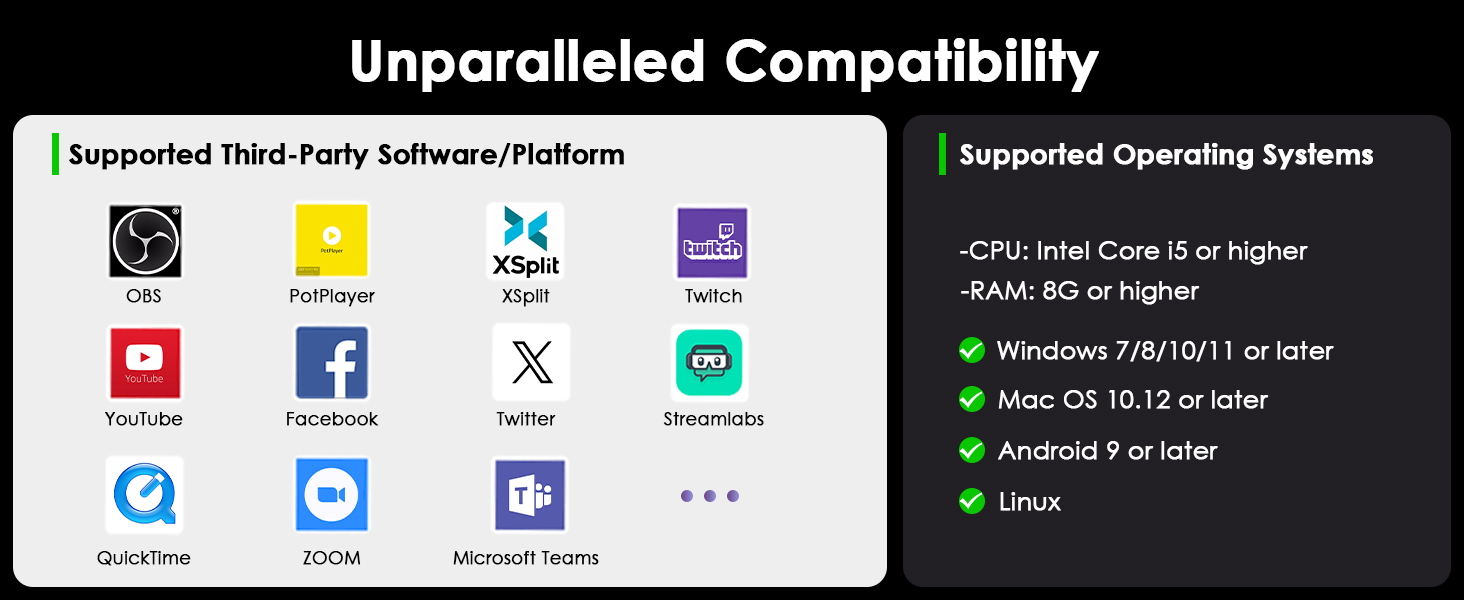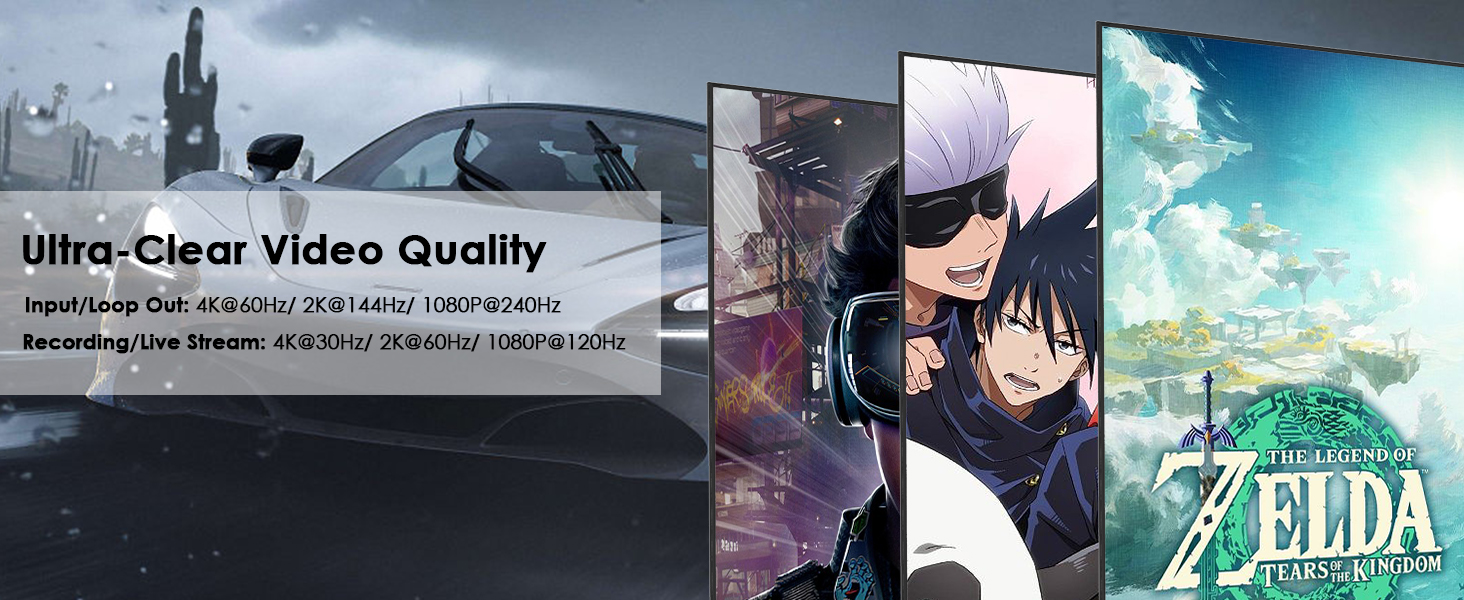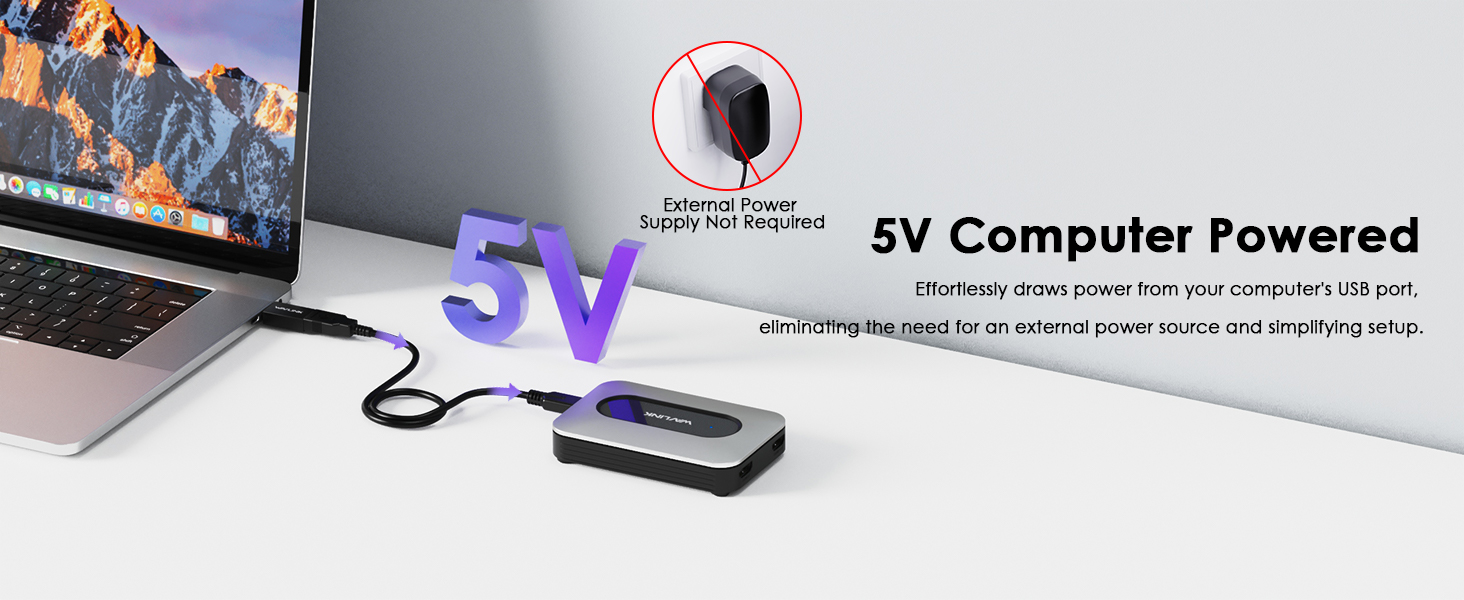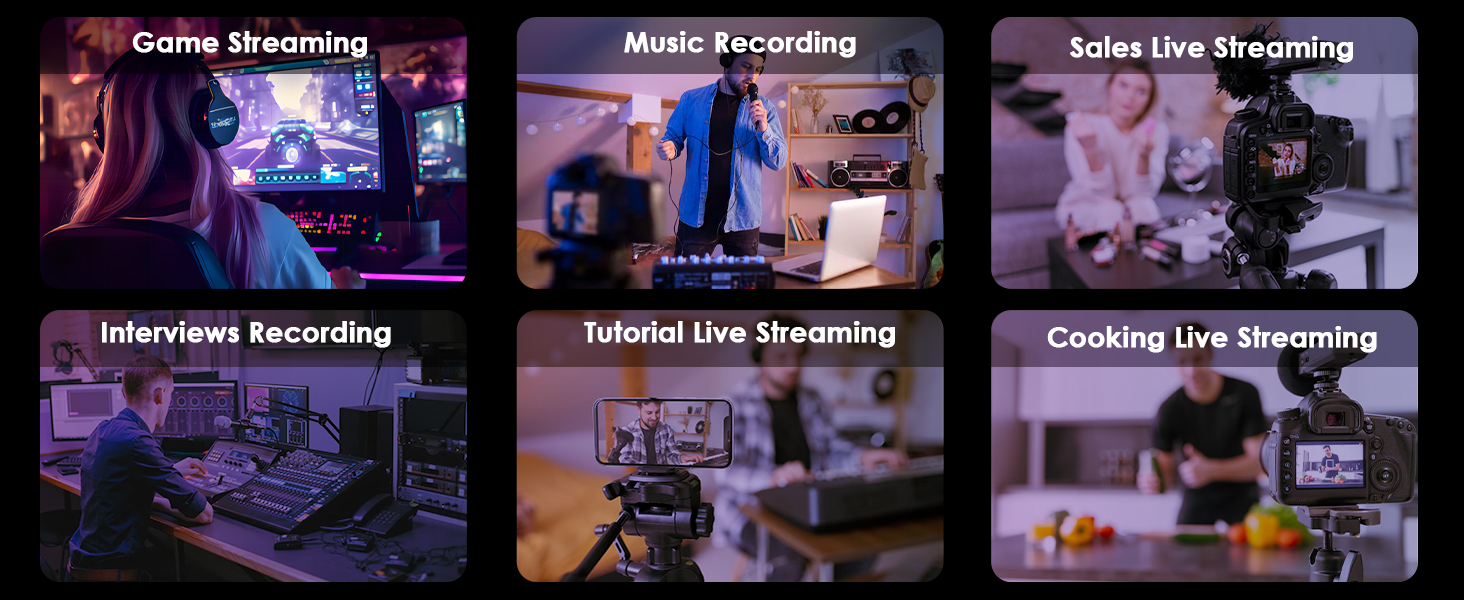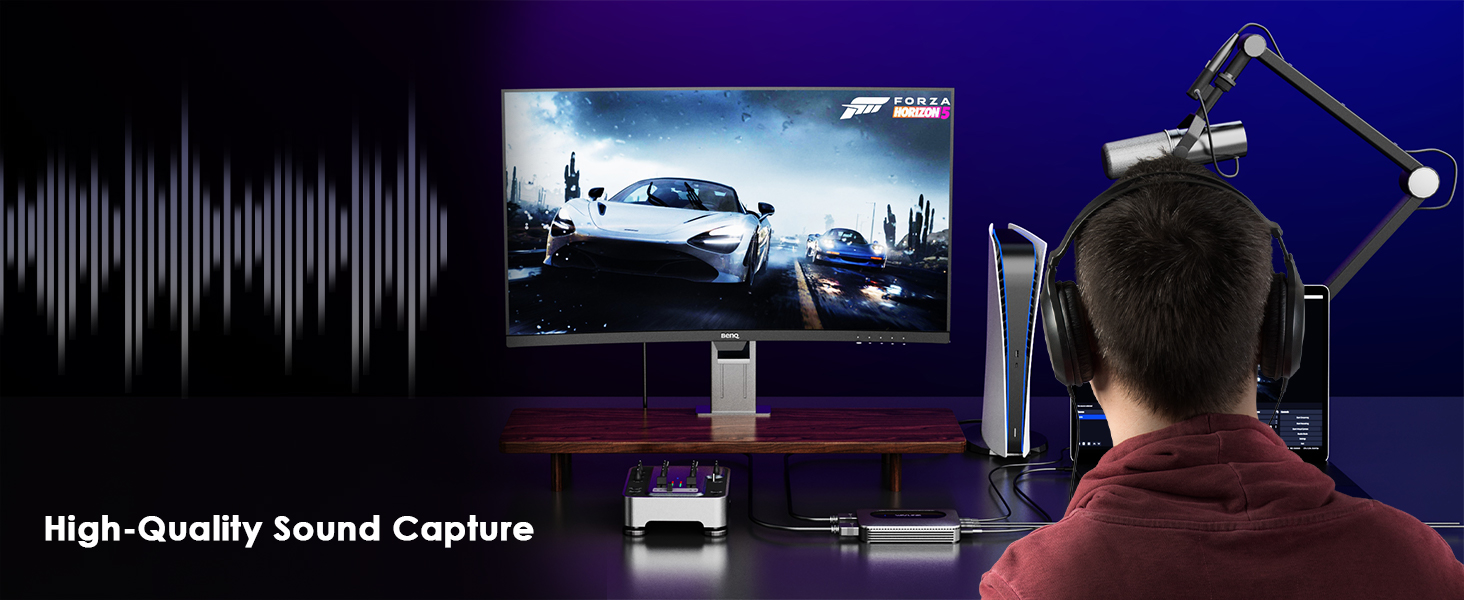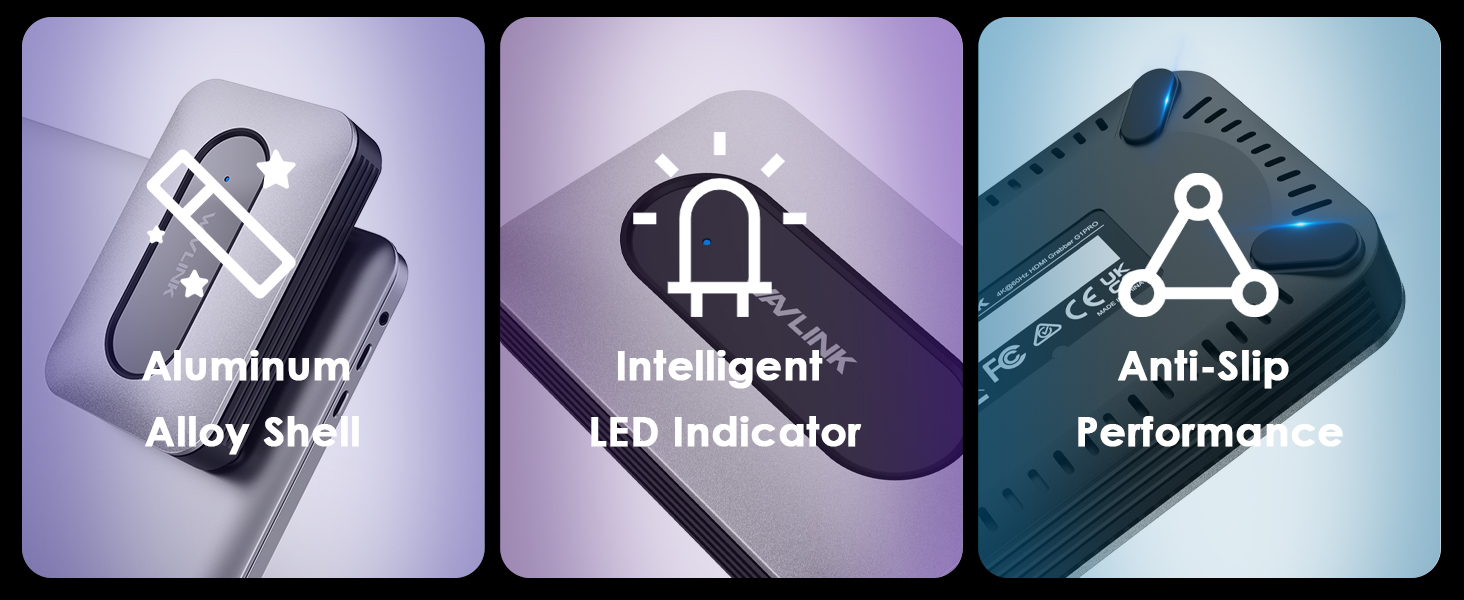 Ask Question About Product
Note:
HTML is not translated!
All(0)
Good(0)
Fair(0)
Poor(0)
Image(0)
【4K UHD Video Capture】 The HG900U allows you to capture stunningly detailed high-resolution video sources up to 4K at a smooth 30Hz. Whether it's from cameras, mobile phones, game consoles, or other sources, you can record and stream crystal-clear videos with exceptional clarity and precision. *Please ensure that your tablet or phone supports video output if you are using it as an input device.
【Plug-and-Play Convenience】 Compatible with various operating systems, including Windows 7/8/10/11 or later, Mac OS 10.12 or later, Android 9 or later, and Linux. Works with multiple third-party software such as OBS, vMix, QuickTime, Zoom, VLC, Wirecast, PotPlayer, XSplit, Streamlabs and more. Enjoy the hassle-free plug-and-play setup without complex driver installation or an external power supply.
【Superior Audio Capture】 The hdmi streaming card offers optional audio capture, allowing you to create immersive live streams by capturing both video and high-quality sound simultaneously. Its standard 3.5mm audio ports enable seamless integration of headphone, microphone and mixing console, making it perfect for adding commentary, music, or interviews to your live streaming sessions, meetings, or video recordings.
【HDMI Loop-out Capability】 With the included HDMI-to-HDMI cable, you can project your captured video in real-time on a monitor or TV with an ultra-low latency of 0.034s. The HDMI loop-out feature allows for convenient monitoring of your content while recording or streaming. It supports up to 4K@60Hz input/output, ensuring that everything is visually perfect before going live.
【Wide Application】 Built-in low-latency ensures that your live streams are transmitted smoothly and efficiently. This minimizes delays and provides a seamless viewing experience for your audience across platforms like Twitch, YouTube, Facebook, Twitter, etc. You can engage with your viewers in real-time and deliver exhilarating live content without noticeable lag.
Take note
---
Wavlinkstore is the official online sales platform directly operated by Wavlink. All products are shipped by Wavlink and we take full responsibility for after-sales support. Please feel free to make your purchase with confidence.
How is the shipment arranged?
By default, we use DHL, UPS, and 4PX as our courier companies. If there are areas that cannot be reached by these couriers, we will utilize local postal services for delivery.
How to track the shipment?
We highly recommend making purchases as registered users. By accessing the registered member portal, you can track the shipping progress of your order. If you checked out as a guest user, it is advisable to save a screenshot of your order or note down the order number for easier reference when contacting our customer support staff for inquiries.
How are after-sales issues handled?
After-sales support follows the after-sales service policy, which is strictly adhered to. If there is an established after-sales service guarantee policy through email communication, it will be implemented accordingly. For technical support during working days, you can call +18889730883(Free call charges). Additionally, you can also reach out for support by contacting contact@wavlink.com. Japanese users can send their inquiries to supportjp@wavlink.com for assistance. More info vist https://www.wavlink.com/en_us/contact.html
Do you support small batch purchases?
Our website supports small batch purchases. If you are interested in making a small batch purchase, please send an email to kevin@wavlink.com to obtain the best quotation. Additionally, we recommend registering as a website member to accumulate points and enjoy upgrades, which will provide you with greater support.
Under what circumstances are orders considered high-risk or subject to delayed shipping?
Not providing an email address or providing a randomly filled email address, such as

abcdefghello@abc.com

.

The phone number appears to be abnormal or consists of consecutive digits, such as 123456789 or 987654321.

Incorrect postal code, incorrect city name, or unclear shipping address. We will send an email confirmation to the email address provided in the order. If we do not receive a response, we may delay or cancel the shipment.
What should I do if I forget the order number or neglect to take a screenshot while using the guest checkout mode?
Firstly, you need to remember the email address you provided during the checkout process. We can use the email address to deduce your order number.
Secondly, if you provided a phone number, we can also use it to search for your order.
If you don't remember anything, please submit a support ticket, and our customer support staff will communicate the detailed progress with you.