Convenient payment

Trusted-Delivery


Fast Delivery
Multi-warehouse direct hair fast delivery

Exquisite service
Exquisite service after-sale guarantee

Hassle-free return
Shop with confidence, worry-free refund
Wavlink Brings Technology to Life
WL-UG3501D works as an external video card, instantly allowing users to attach additional displays via an DVI connection without the hassle of a lengthy setup or having to install additional internal hardware, which enables you to connect TV, laptop, desktop with DVI Display Port. Leveraging the high-bandwidth(5 Gbps) super speed USB 3.0 interface, the adapter delivers smooth, high-definition content to your DVI display/projector. The adapter can be used to mirror your primary desktop, showing the same images on each display, or to extend your desktop to double your workspace and increase your productivity.
An External Multi-monitor Solution, Connecting a DVI Display Through USB
Add extra DVI monitors to your desktop computer without having to open the computer case, which is the only way to quickly expand your desktop over several monitors for laptop users. It is also a cost-effective solution to expand your computers display capabilities.
Four Kinds of Display Modes:
Extend Mode- Extend your working desktop with split-screen presentation to enhance work efficiency.
Mirror Mode - Sync images with two displays to gives you a convenient visual enjoyment. With the UG3501D, you can conveniently share and enjoy videos or slideshows on the big and high definition screen.
Primary and Secondary Screen Switching Mode - Easily switch your screens as you like, especially used when there is much information to display for a variety of people such as in a classroom and conference room or libraries.
Screen Rotation Mode - Turn left, right, up, down as you like. Largely used when your spreadsheets are two long to read or videos too big to watch.
Application Scenario:
Supporting 2048 × 1152/ 1920 × 1200 resolution, you can share PPT or Spreadsheet on bigger monitor or projector in office and business, and watch movies from your laptop on bigger monitor or TV for your entertainment.
System Support
Compatible with Windows 10 / 8.1 / 8 / 7 / Vista/XP (32-bit)/Intel-Base Mac OS X 10.6 or later.
Please download the latest drive form displaylink: http://www.displaylink.com/downloads
Specification:
1.Operating Temperature: 0°C~40°C
2.Storage Temperature: -10~70°C
3.Housing Material: ABS
4.Processor: 2.0Ghz Core2Duo or better
RAM: 1GB
Recommended Requirements(Full-Screen Video Playback)
Processor: Core i3 i5 or i7 2 + GHz
RAM: 4GB
what's in the package?
1 × USB Display Adapter
1 × User Manual
1 × Driver CD
1 × Warranty Card
Note:
-The connection of graphic segments is not supported.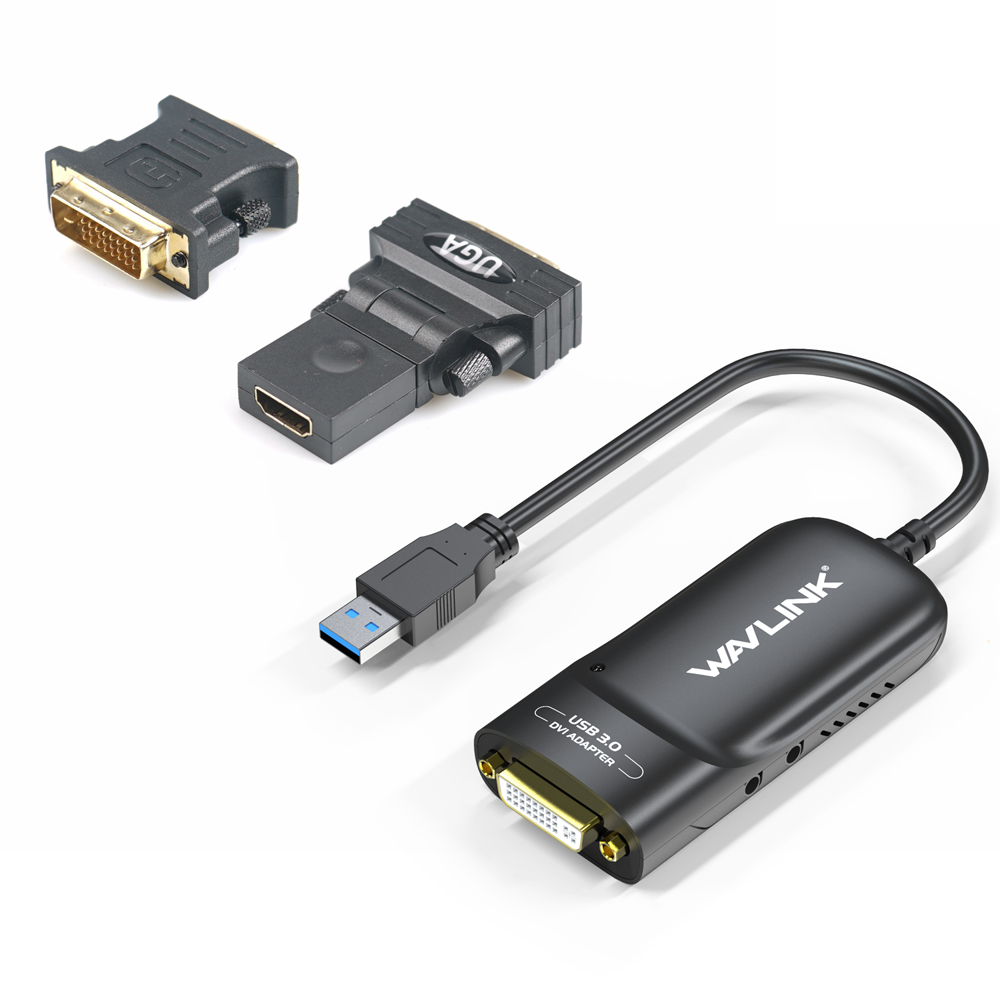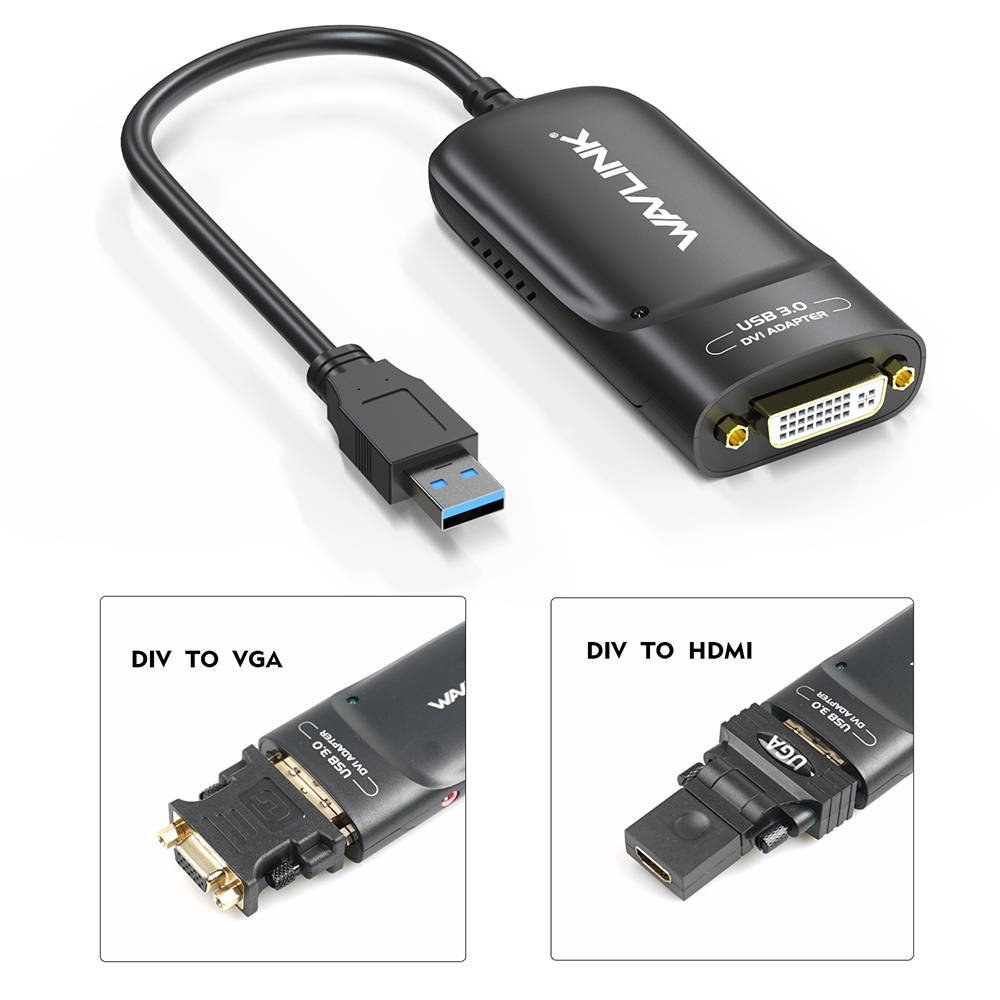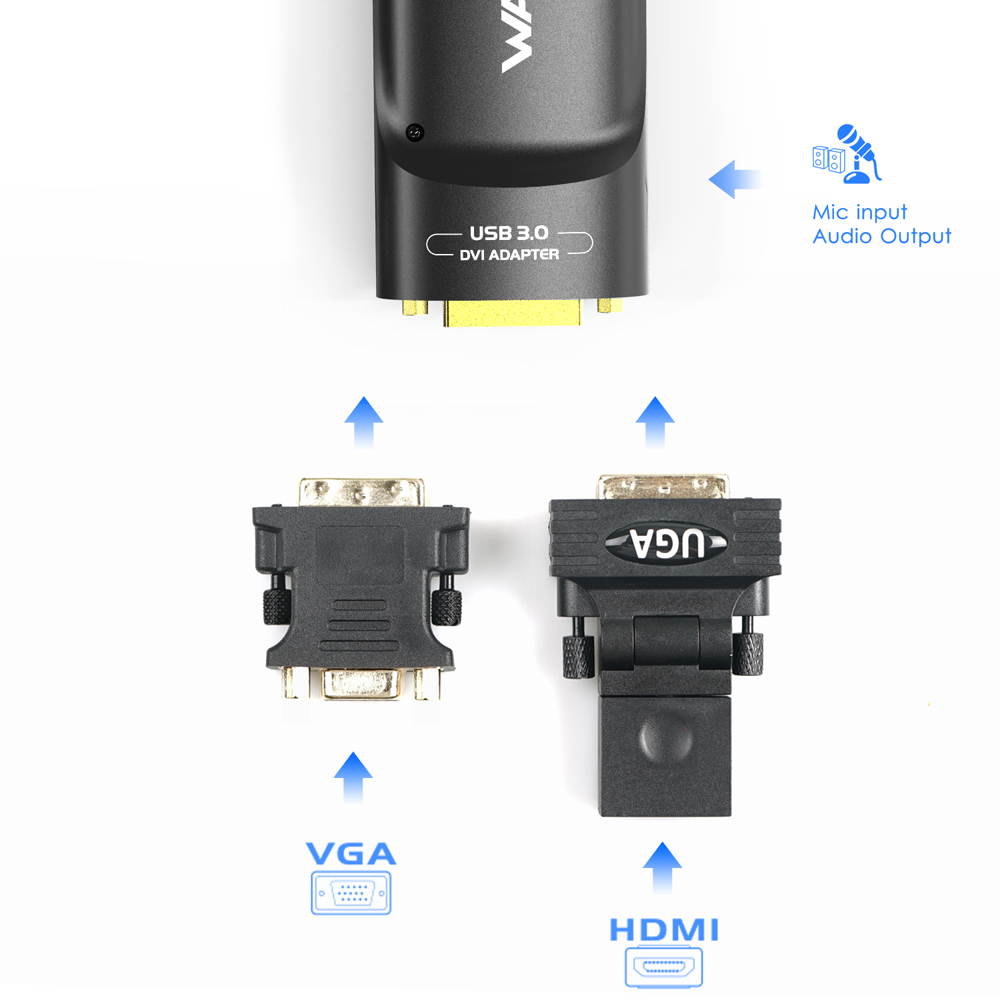 Ask Question About Product
Note:
HTML is not translated!
All(0)
Good(0)
Fair(0)
Poor(0)
Image(0)
Take note
---
Wavlinkstore is the official online sales platform directly operated by Wavlink. All products are shipped by Wavlink and we take full responsibility for after-sales support. Please feel free to make your purchase with confidence.
How is the shipment arranged?
By default, we use DHL, UPS, and 4PX as our courier companies. If there are areas that cannot be reached by these couriers, we will utilize local postal services for delivery.
How to track the shipment?
We highly recommend making purchases as registered users. By accessing the registered member portal, you can track the shipping progress of your order. If you checked out as a guest user, it is advisable to save a screenshot of your order or note down the order number for easier reference when contacting our customer support staff for inquiries.
How are after-sales issues handled?
After-sales support follows the after-sales service policy, which is strictly adhered to. If there is an established after-sales service guarantee policy through email communication, it will be implemented accordingly. For technical support during working days, you can call +18889730883(Free call charges). Additionally, you can also reach out for support by contacting contact@wavlink.com. Japanese users can send their inquiries to supportjp@wavlink.com for assistance. More info vist https://www.wavlink.com/en_us/contact.html
Do you support small batch purchases?
Our website supports small batch purchases. If you are interested in making a small batch purchase, please send an email to kevin@wavlink.com to obtain the best quotation. Additionally, we recommend registering as a website member to accumulate points and enjoy upgrades, which will provide you with greater support.
Under what circumstances are orders considered high-risk or subject to delayed shipping?
Not providing an email address or providing a randomly filled email address, such as

abcdefghello@abc.com

.

The phone number appears to be abnormal or consists of consecutive digits, such as 123456789 or 987654321.

Incorrect postal code, incorrect city name, or unclear shipping address. We will send an email confirmation to the email address provided in the order. If we do not receive a response, we may delay or cancel the shipment.
What should I do if I forget the order number or neglect to take a screenshot while using the guest checkout mode?
Firstly, you need to remember the email address you provided during the checkout process. We can use the email address to deduce your order number.
Secondly, if you provided a phone number, we can also use it to search for your order.
If you don't remember anything, please submit a support ticket, and our customer support staff will communicate the detailed progress with you.