Convenient payment

Trusted-Delivery


Fast Delivery
Multi-warehouse direct hair fast delivery

Exquisite service
Exquisite service after-sale guarantee

Hassle-free return
Shop with confidence, worry-free refund
Overview
Multi-Screen Display: the USB to HDMI adapter with additional DVI converter, Windows system support up to 8 screens expansion, Mac supports 6 monitors, multi-task operation to avoid screen switching back and forth, improve work efficiency. Ideal for games entertainment, home theater, video conference, corporate training, etc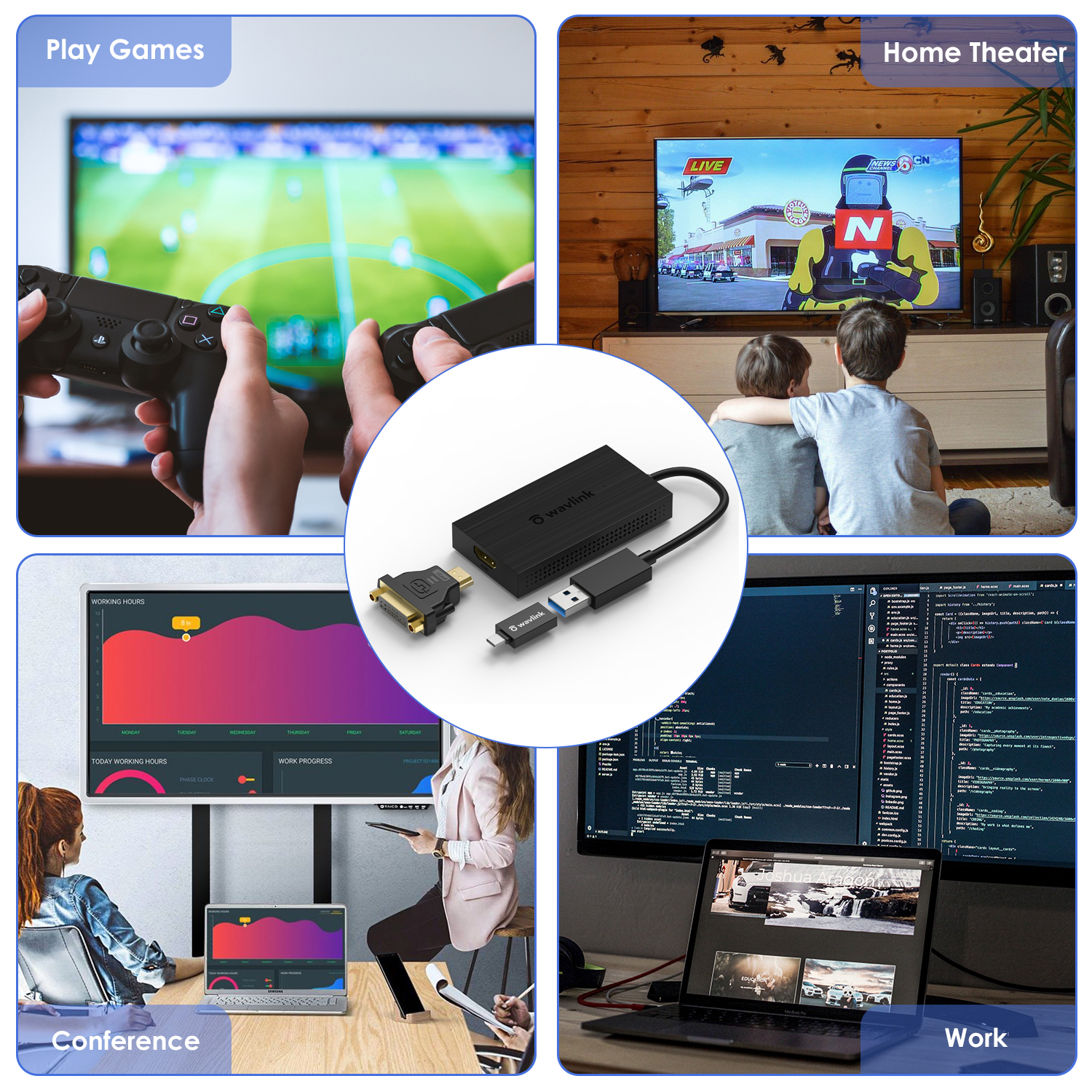 Features
High-Definition Video: the USB to HDMI adapter transmit video or image from your USB3.0/ Type-c PC to your HDTV, monitor, or projector with HDMI or DVI port. Allows for video resolutions from 640x480@60Hz up to 3840x2160@30Hz, show every detail. USB 3.0 Port ensures the stable transmission, high speed up to 5Gbps. (For USB 2.0 port, it also can achieve UHD 3840×2160. The DVI converter supports resolutions up to 1920 x 1080.)
Mirror mode & Extend mode: the USB to HDMI converter can not only share the same content on both screens to give you a visual enjoyment(mirror mode), but also support to extend the computer with split screen display(extend mode) to enhance your work efficiency. Also has two other display modes: rotation mode and collage mode. Ideal for games entertainment, home theater, video conference, corporate training, etc.
Considerate Design: four anti-skid PVC mats can protect your device.Its ventilation holes will help maintain a cooler operating environment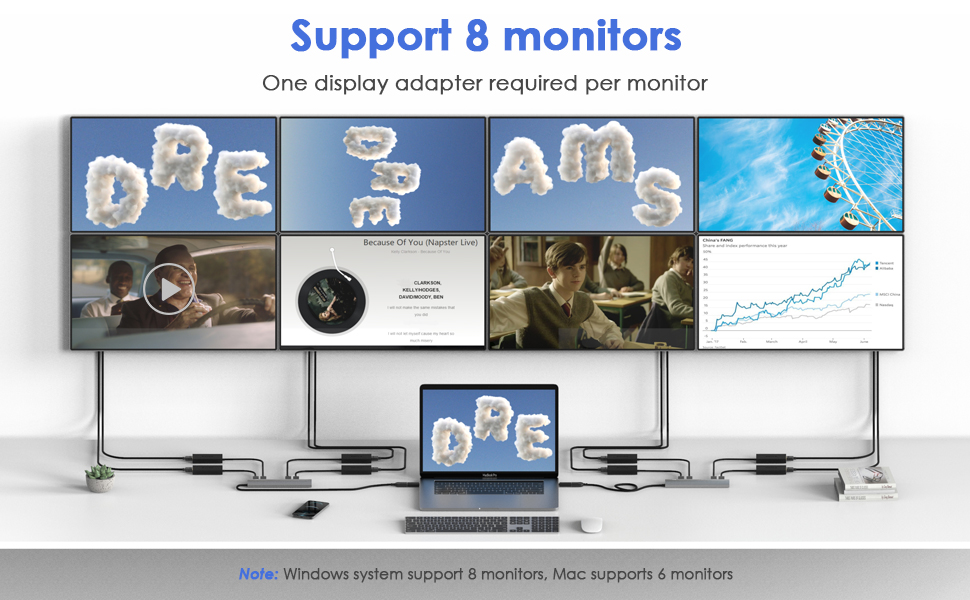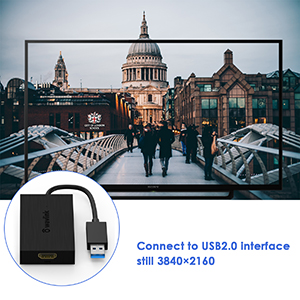 The USB to HDMI adapter with additional DVI converter, Windows system support up to 8 screens expansion, Mac supports 6 monitors, multi-task operation to avoid screen switching back and forth, improve work efficiency. Ideal for games entertainment, home theater, video conference, corporate training, etc
High resolution
This usb to HDMI adapter is backward compatible with USB 2.0. If connected to USB2.0 devices, resolution still be up to 3840?2160(4K).
Super-speed transmission
leveraging the high-bandwidth (5Gbps) super speed USB 3.0, 10 times faster than USB 2.0, which offers flawless high definition video transmission to your monitor or projector.
Compact and portable: size
3.5 x 1.8 x 0.6 inches. Easily stows in any backpack or laptop bag, taking up roughly the same space as a pack of playing cards, no external power adapter needed.
Rotation mode & collage mode
Rotation mode allows you to rotate the interface according to your needs, for collage mode, you can match two screens together into a single one. It also aims to extend your screen to improve your productivity.
Package
1 x USB 3.0 to HDMI 4K Display Adapter, 1 x CD-shaped card for driver download links, 1 x USB 3.0 Type-A to Type-C Converter, 1 x HDMI to DVI Converter, 1 x Quick Start Guide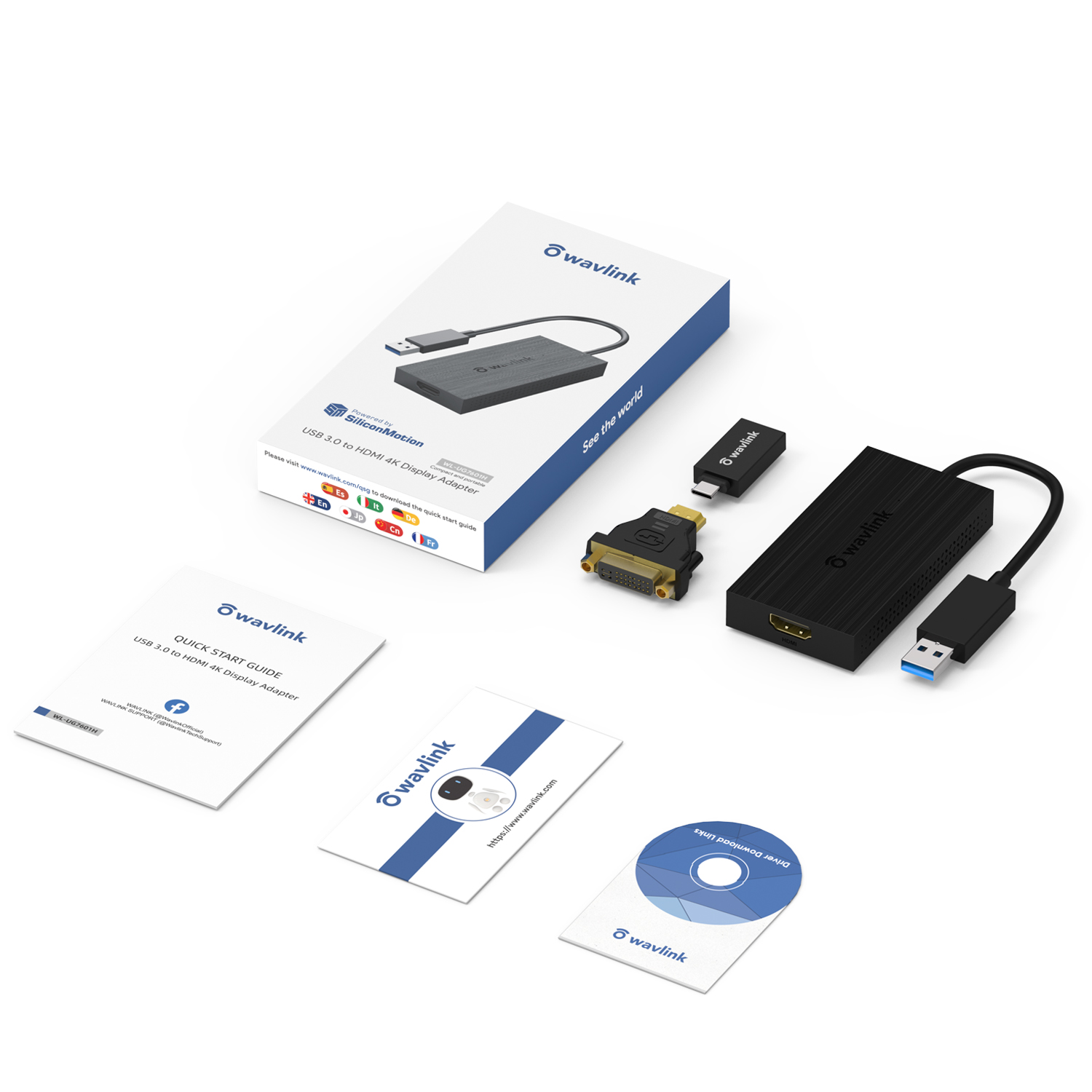 Note
Not suitable for Linux system

No external power adapter needed and driver free on Windows 10 OS only.

Support Windows 7 / 8 / 10; Max OSX 10.10 to latest; Chrome
Ask Question About Product
Note:
HTML is not translated!
All(0)
Good(0)
Fair(0)
Poor(0)
Image(0)