Overview
85W Power Delivery to charge your Thunderbolt™ 3 PC systems. DisplayPort 1.2 supports for HBR (2.7GHz), HBR2 (5.4GHz) and HBR3 (8.1GHz). DisplayPort maximum resolutions up to 4K@60Hz. Downstream USB 3.0 Type-A port in front supports 5Gbps data transfer. Downstream three USB-A 3.0 ports provide USB 3.0 5Gbps data transfer rates. Expand a Gigabit Ethernet network, providing secure, reliable high-speed wired networks. Expand a combo audio 4-pole jack, providing audio headset and microphone. Security lock to protect docking safety. Windows and Mac OS compatible.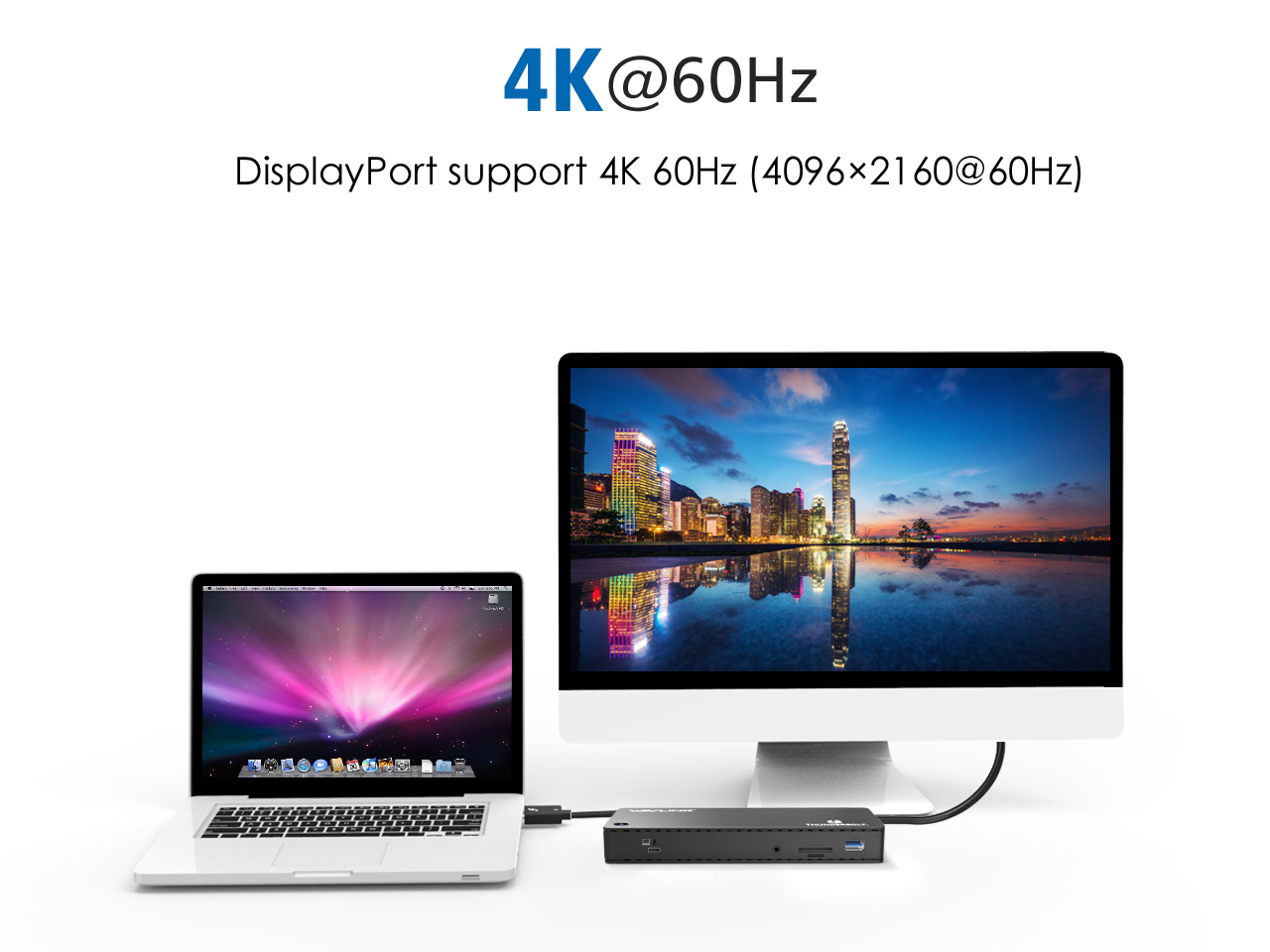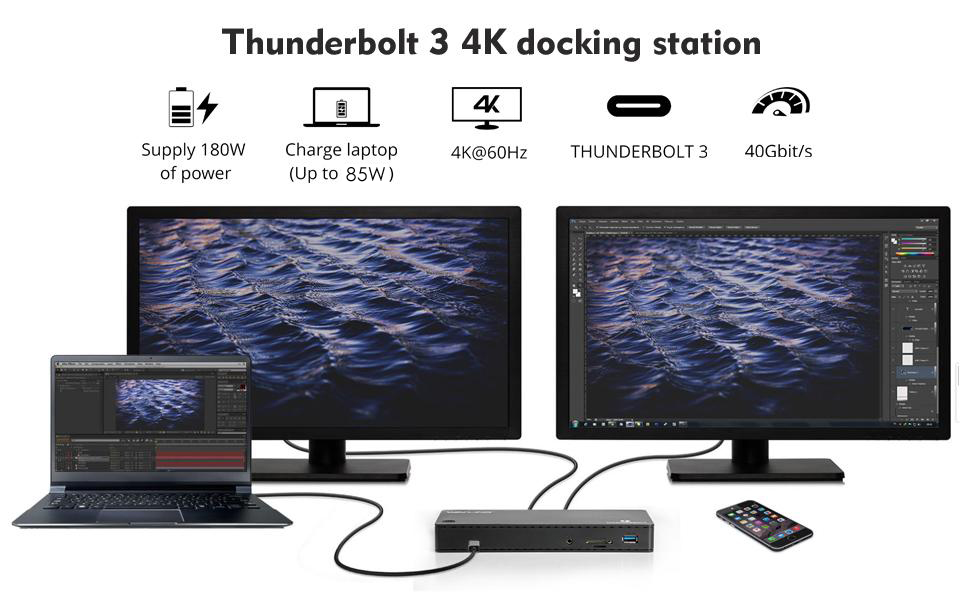 Feature
Provides 180 Watt DC Power Supply delivers 85W power to charge your laptop and power all of your USB peripherals. The secondary Thunderbolt 3 port provides 15W of power for downstream devices.
Integrated SD/Micro SD Card Reader easy for copy any photos or movies from your media memory card backup to your laptop directly. Gigabit Ethernet RJ-45 port 10/100 / 1000Mbps Ethernet, provides you with fast wired network connection. 4x USB 3.0 ports super transfer speed up 5Gbps
Dual 4K@60Hz (4096 x 2160@60Hz) monitors via DisplayPort and Thunderbolt 3 port, 5K (5120 x 2880@60Hz) single monitor display when using thunderbolt 3 port. (DisplayPort to HDMI/DVI/VGA adapter / cable must be an ACTIVE type. Passive dongle/cable would not work.)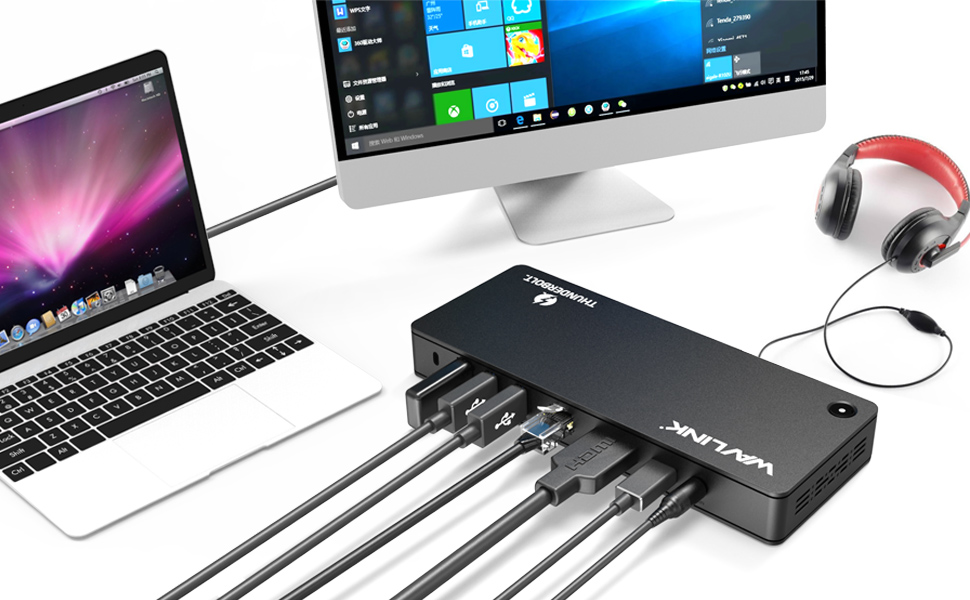 Ports
4 x USB-A 3.0, 2 x Thunderbolt™ 3, 1 x DisplayPort(DP1.2), 1 x SD Card Reader Slot, 1 x Micro SD Card Reader Slot, 1 x 4-Pole Audio Jack, 1 x RJ45 Gigabit Ethernet, 1 x DC Power Jack Port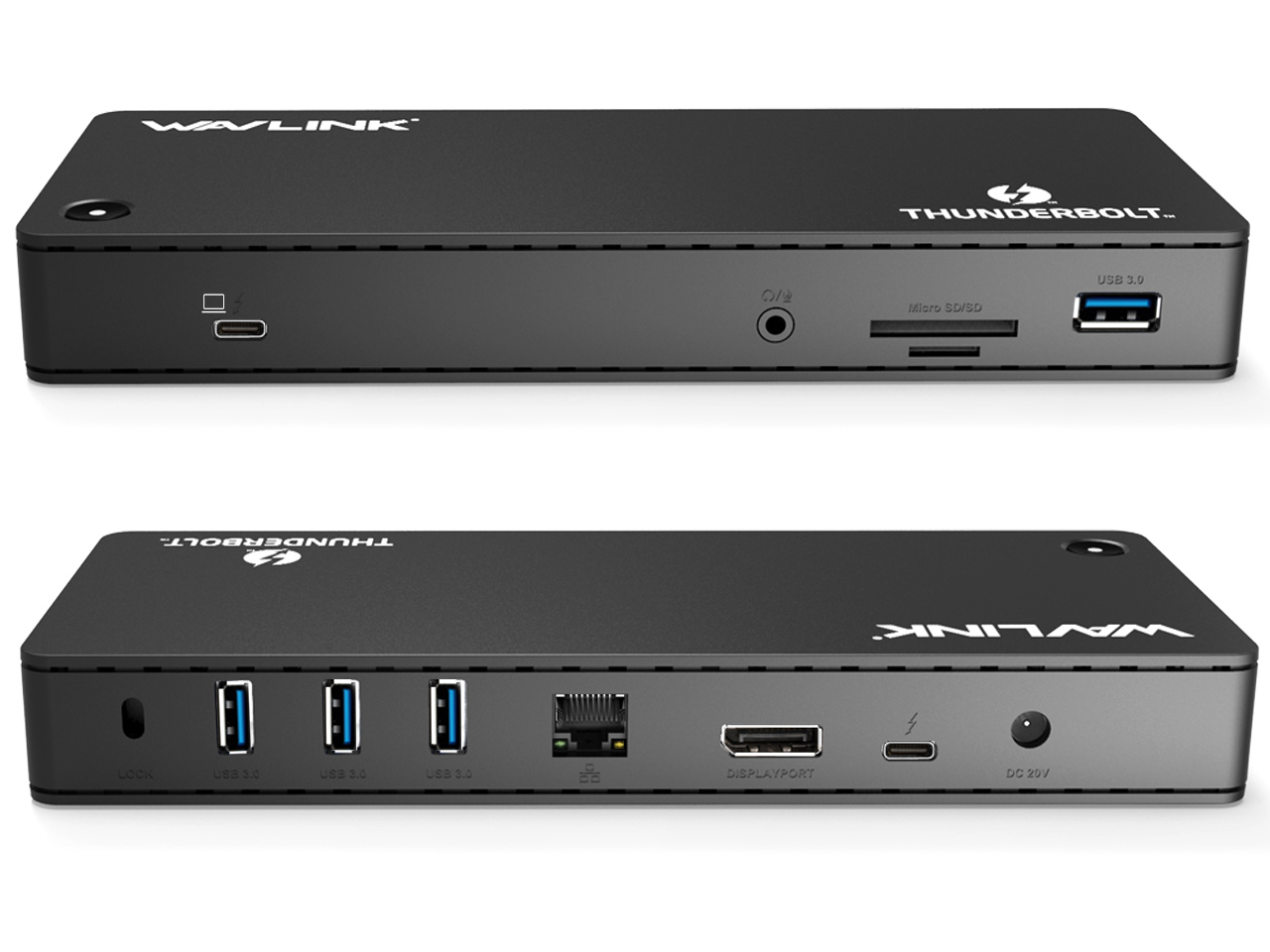 Package
1 x Thunderbolt 3 Docking station
1 x Thunderbolt 3 40 Gbps cable 0.7 meter
1 x DC20V/9A 180W Power Adapter
1 x User Manual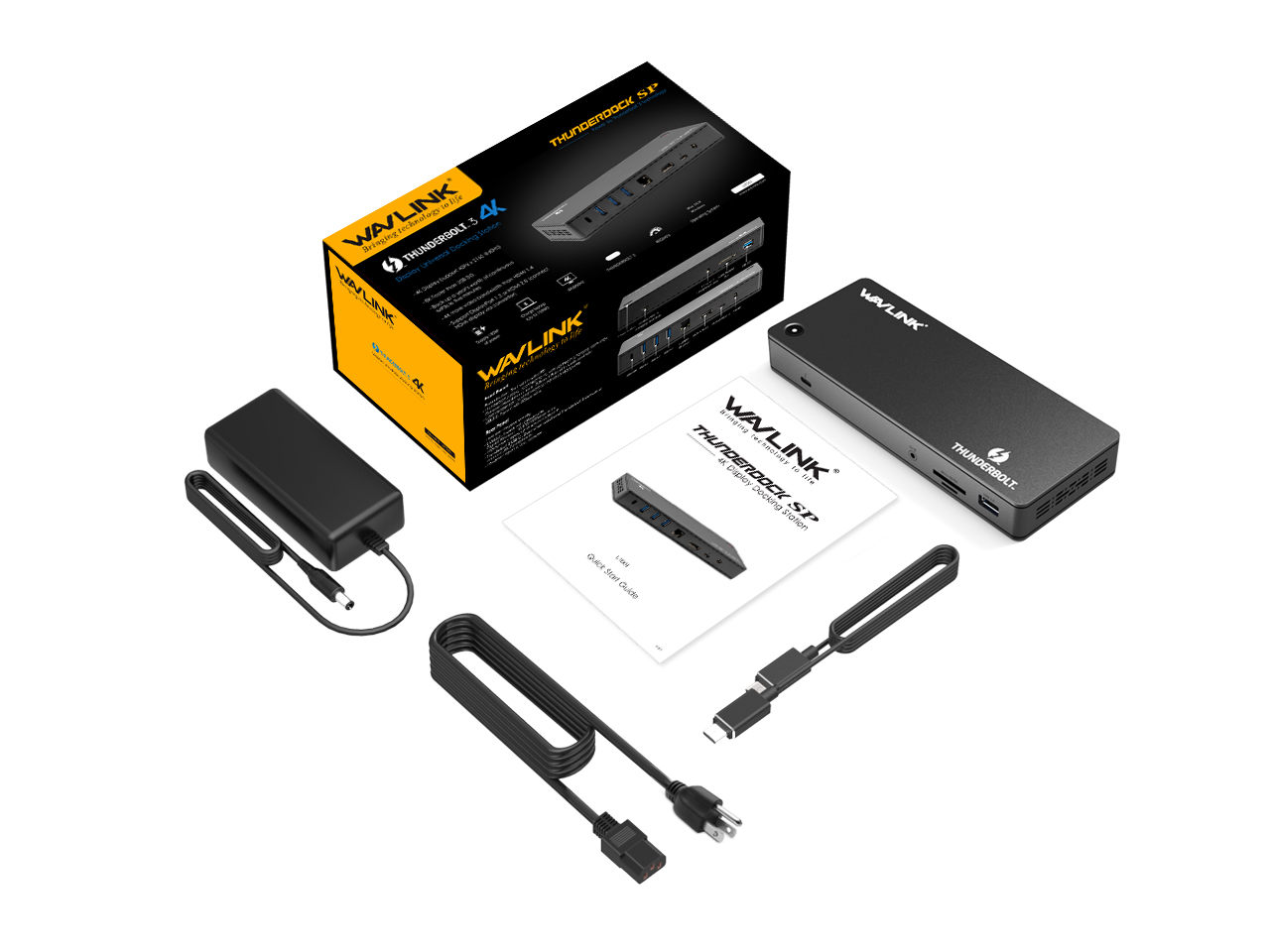 System Requirements
Some systems support a second display using a USB-C video adapter or cable, sold separately. To support a second display via the dock, the system manufacturer must have routed two DisplayPort lines to the Thunderbolt 3 port. Currently all Thunderbolt 3 systems from Apple and Dell meet this requirement, and implementation from other manufacturers varies.
Compatible Systems
Apple 2016/2017/2018/2019/2020 MacBook Pro and iMac 2017 models with Thunderbolt 3 (13'' &15?, with and without Touch Bar), Apple 21.5? and 27? iMac Mid 2017 with Thunderbolt 3
Dell XPS 12 9250, Dell XPS 13 9350, 9360, 9365, 9370, Dell XPS 15 9550, 9560, Dell Latitude 7275, 7370, Dell Precision 15 3510, 3520, 5510, 5520, 7510, 7520, Dell Precision 17 7710, 7720
Note
2020 Mac equipped with M1 chip only supports single extension when connected to Thunderbolt docking stations, even if that docking station has multiple video connectors.
Ask Question About Product
Note:
HTML is not translated!
All(0)
Good(0)
Fair(0)
Poor(0)
Image(0)
An independent website for brand direct sales
New customers can enjoy a 25 discount on their first order, which includes 20 reward points and a 5.5 credit balance.