Convenient payment

Trusted-Delivery


Fast Delivery
Multi-warehouse direct hair fast delivery

Exquisite service
Exquisite service after-sale guarantee

Hassle-free return
Shop with confidence, worry-free refund
Faster and Smoother, Next-Gen AX1800M WiFi6 Speed —— WAVLINK USB 3.0 Wireless Adapter
Experience unparalleled speed with our WAVLINK AX1800M dual-band WiFi 6 adapter. Designed to enhance your network performance, this adapter utilizes cutting-edge WiFi 6 technologies such as OFDMA, MU-MIMO, and Beamforming. Whether you're into online gaming, downloading large files, or streaming 4K HD videos, our WiFi 6 USB 3.0 adapter guarantees an unprecedented high-speed and seamless experience. Don't hesitate, try it now and unlock the full potential of your network!
More Possibilities with Dual Band
This USB adapter delivers exceptional speeds of up to 1201Mbps on 5GHz or 574Mbps on the 2.4GHz band. The 5G band provides faster network speed, suitable for online games, 4K streaming, video conferences, etc., while the 2.4G channel provides a broader signal range, eliminating every signal deadzone at home.
The Latest WiFi6 Technologies
MU-MIMO: Allows the adapter to connect multiple devices at the same time without interfering with each other, effectively reducing data delays and improving network quality.
OFDMA: Allows the adapter to receive or send multiple data of multiple users at the same time, greatly improving the network speed and optimizing the Internet experience.
Beamforming: Allows the adapter to integrate signals and send them directionally to connected devices, improving data transmission efficiency and expanding signal coverage.
Data Transfer in Seconds
The included USB3.0 cable supports data transfer speeds up to 5Gbps, which is 10 times faster than USB2.0, making it possible to play online games, watch 4K videos, upload or download big files quickly and smoothly. It is also backward compatible with USB2.0 port.
Operated by High-Quality Chip
The built-in Realtek chip ensures the adapter's excellent data processing capability and wireless performance, allowing the adapter to achieve a fast and stable network speed up to AX1800M.
Designed for Windows 10/11
Only supports Windows 10/11(32/64bit)-operated personal computers, does not suitable for other USB devices. Please check the system model of your computer before purchasing.
Advanced Security Protection
Secure your personal data with the newest WPA3 encryption, even if your PC is connected to a public network via the adapter. Also backward compatible with WPA2/WPA encryption.
Efficient Heat Ventilation
With cooling holes on the top, our adapter discharges heat generated during operation, ensuring longer lifespan and optimal performance. The unique hole design adds a touch of elegance to the adapter's appearance.
Ultra-Stable Base
Equipped with non-slip pads and magnets, the bottom of the adapter ensures a secure placement on any flat surface, providing stability and convenience.
Specification
Product Model: WN693X1
Chipset: RTL8832BU
Transmission Rate: 2.4GHz: 574Mbps 5GHz: 1200Mbps
Protocol Standard: support IEEE 802.11a/b/g/n/ac/ax
Frequency Band: 2.4GHz, 5GHz
Product Dimension: 8x8x10cm/3.15x3.15x3.94in
Cable Length: 1m/3.28ft
Support Systems: Win 11/10 (32/64 bit)
Wireless Security: WPA3 Encryption
Features
- Ultra-fast Wi-Fi 6 up to AX1800, better connection for High Quality HD video streaming and gaming.
- Dual Band 1201Mbps wireless speeds over the 5GHz band or 574Mbps over the 2.4GHz band.
- USB 3.0 data transferring speed up to 10X faster than USB 2.0 and is backward compatible with USB 2.0.
- Compatible with 802.11b/g/n/a/ac/ax.
- Supporting MU-MIMO technology.
In the Box
1 x AX1800 USB 3.0 Wireless Adapter
1 x USB3.0 Cable
1 x U Disc Driver
1 x Quick Start Guide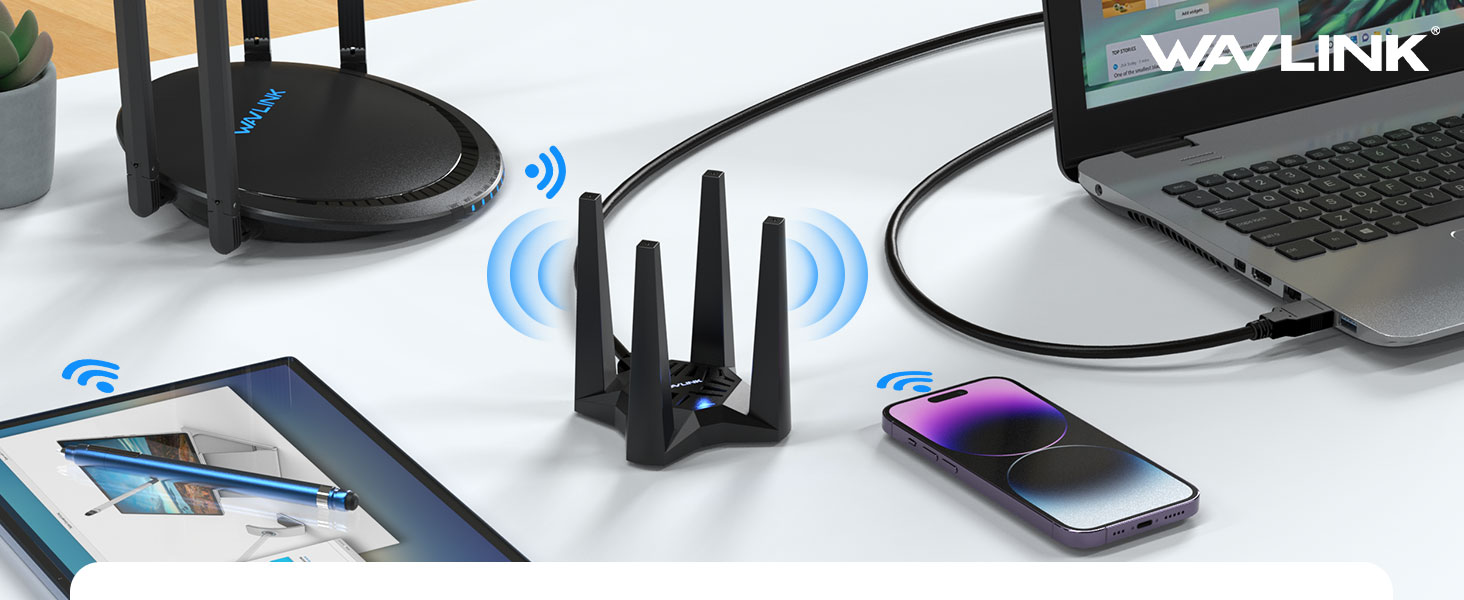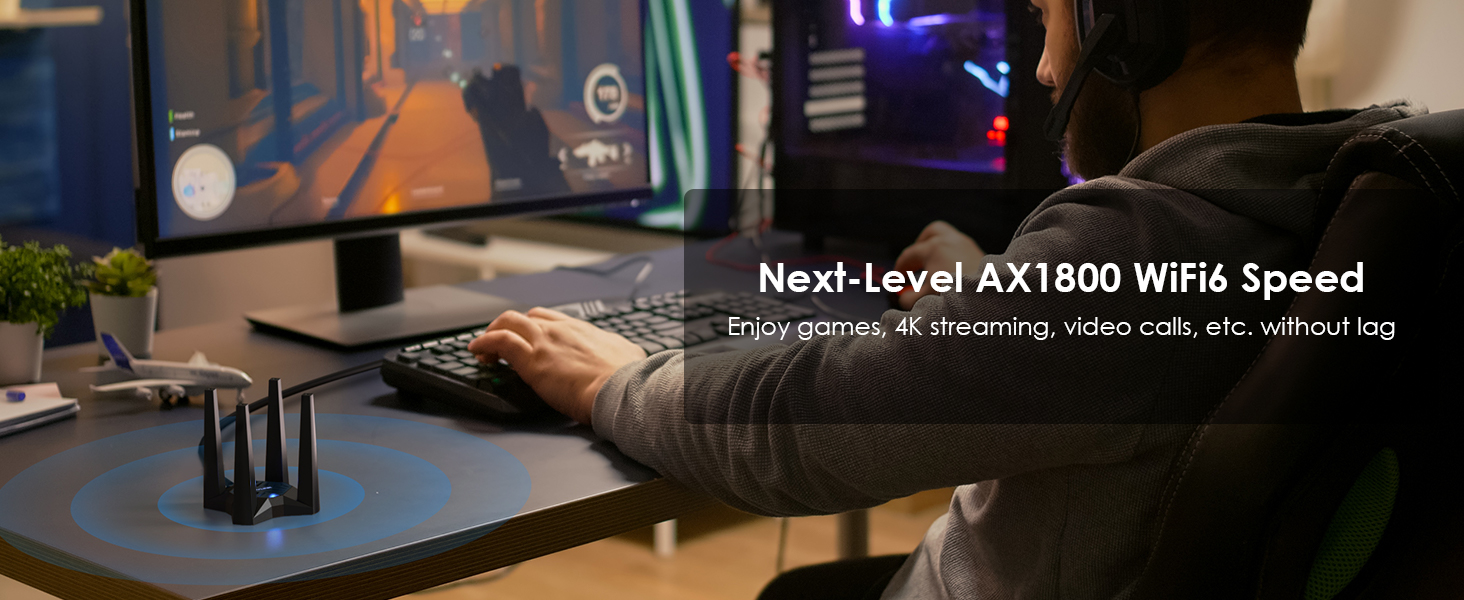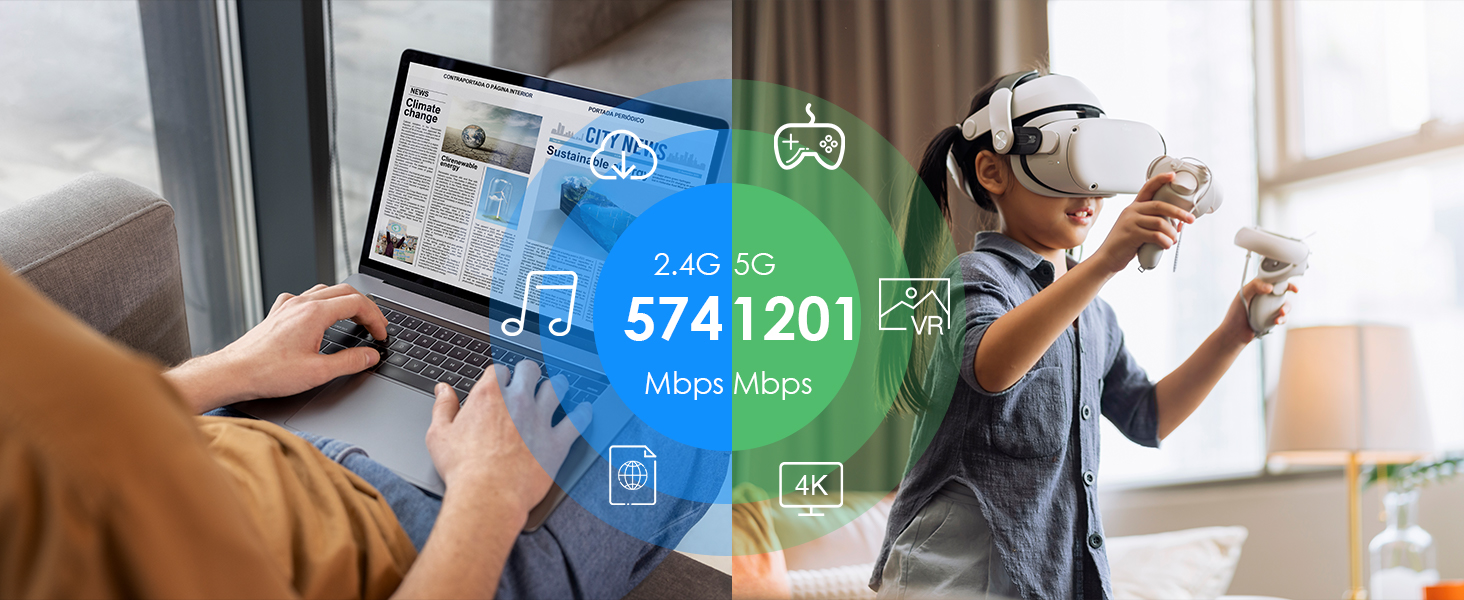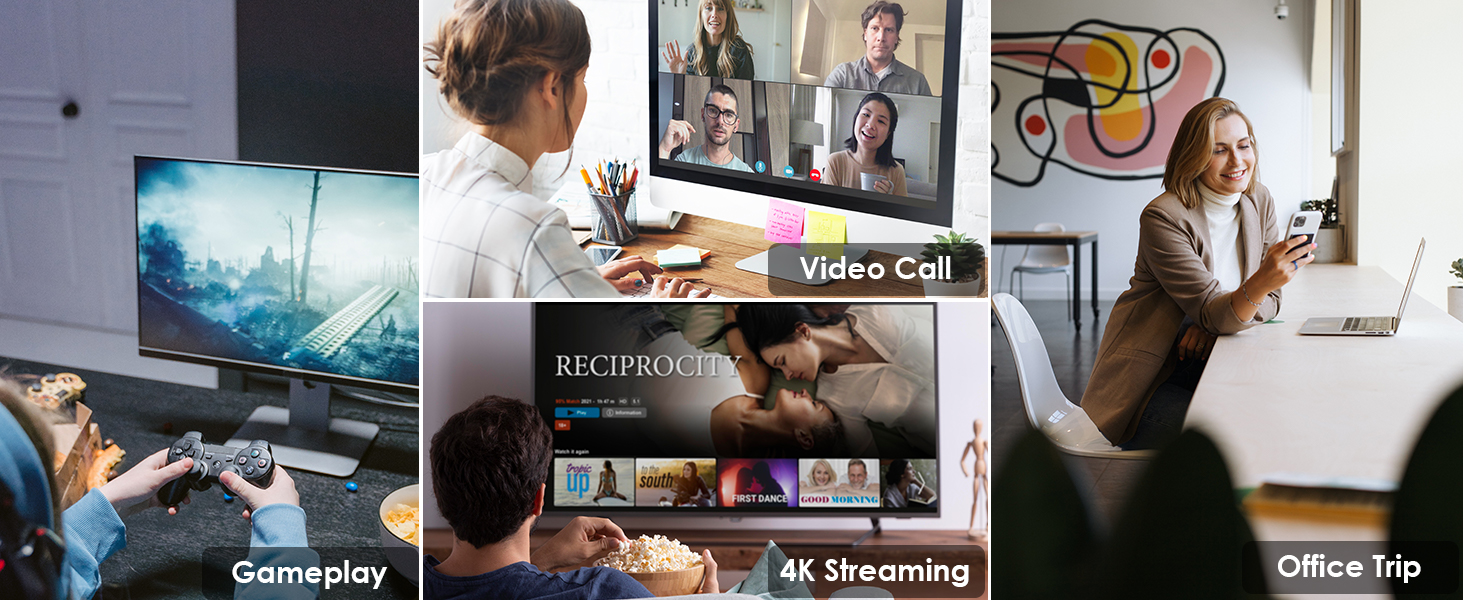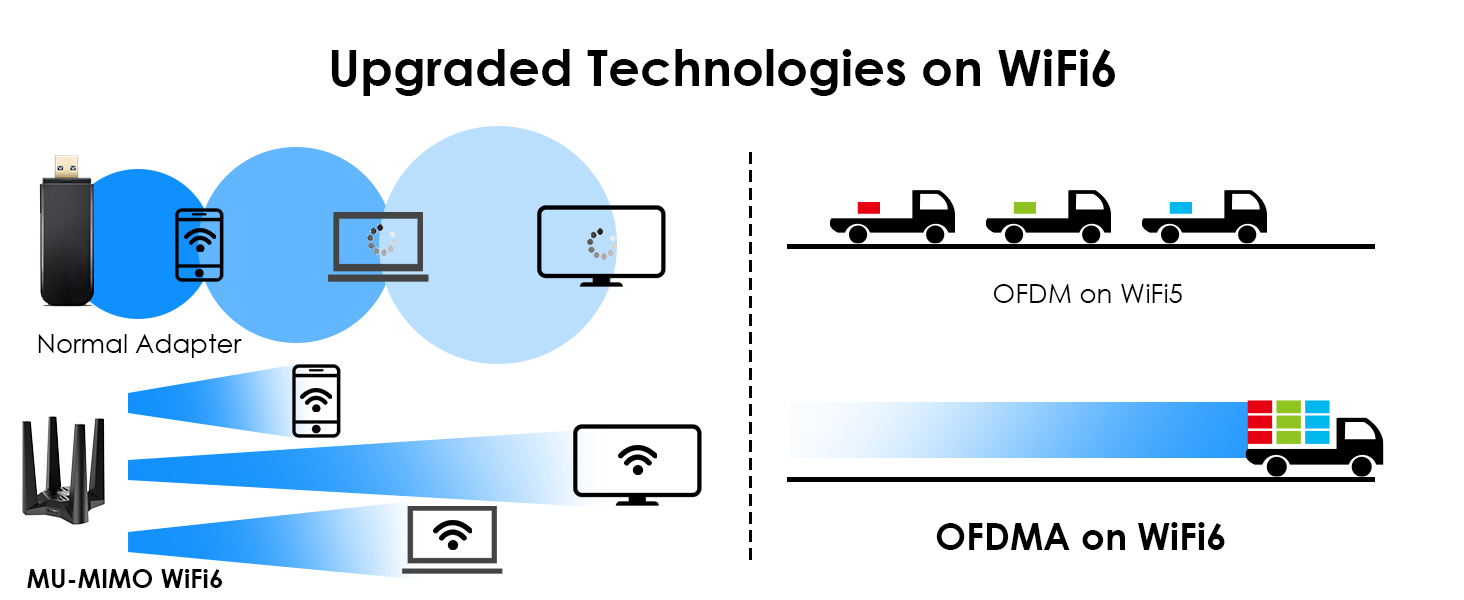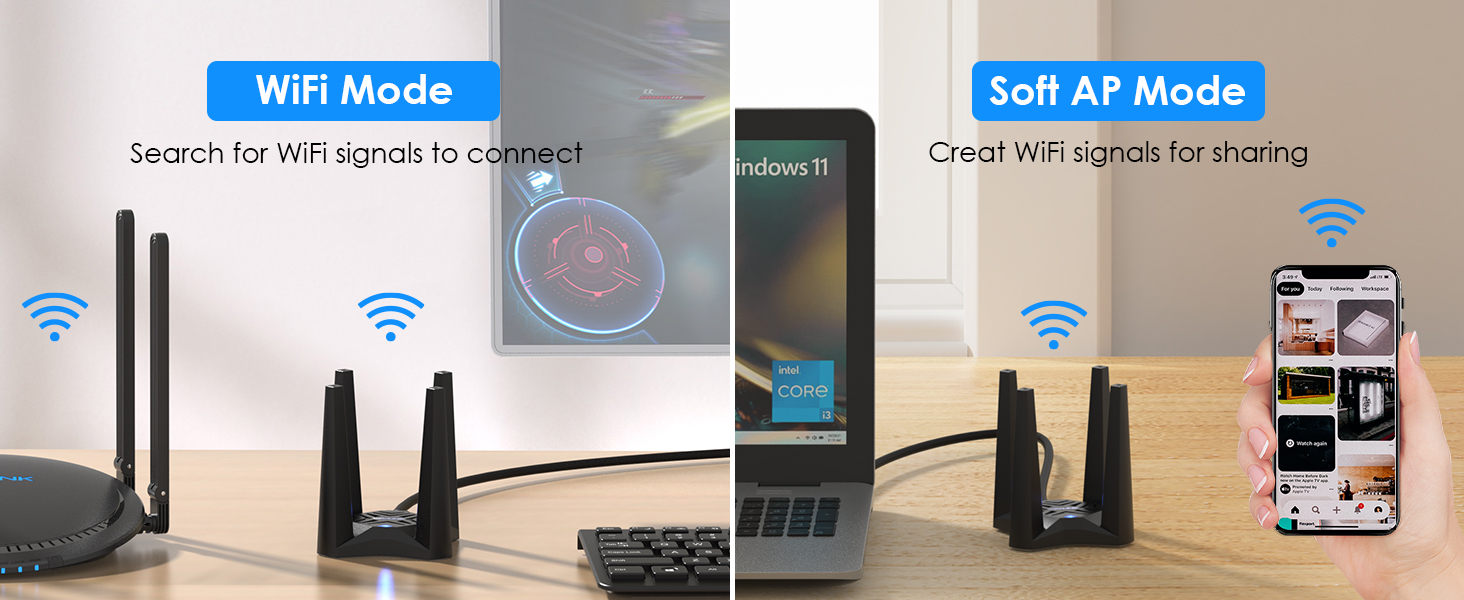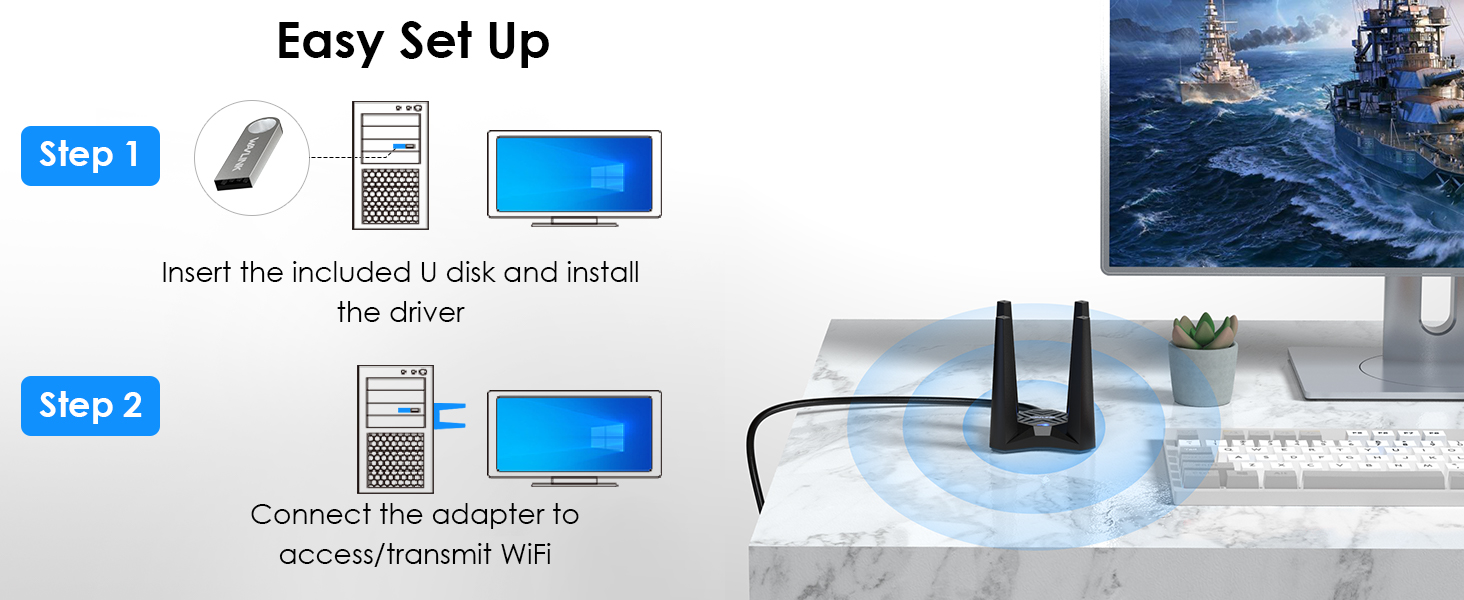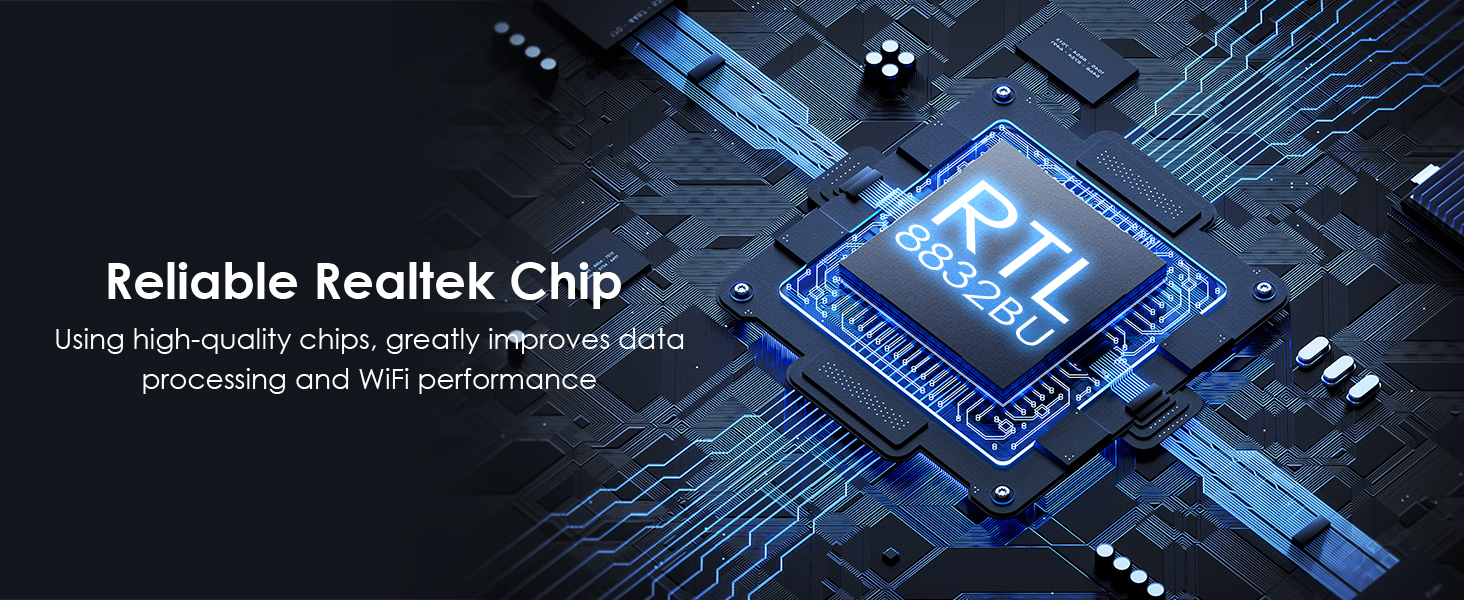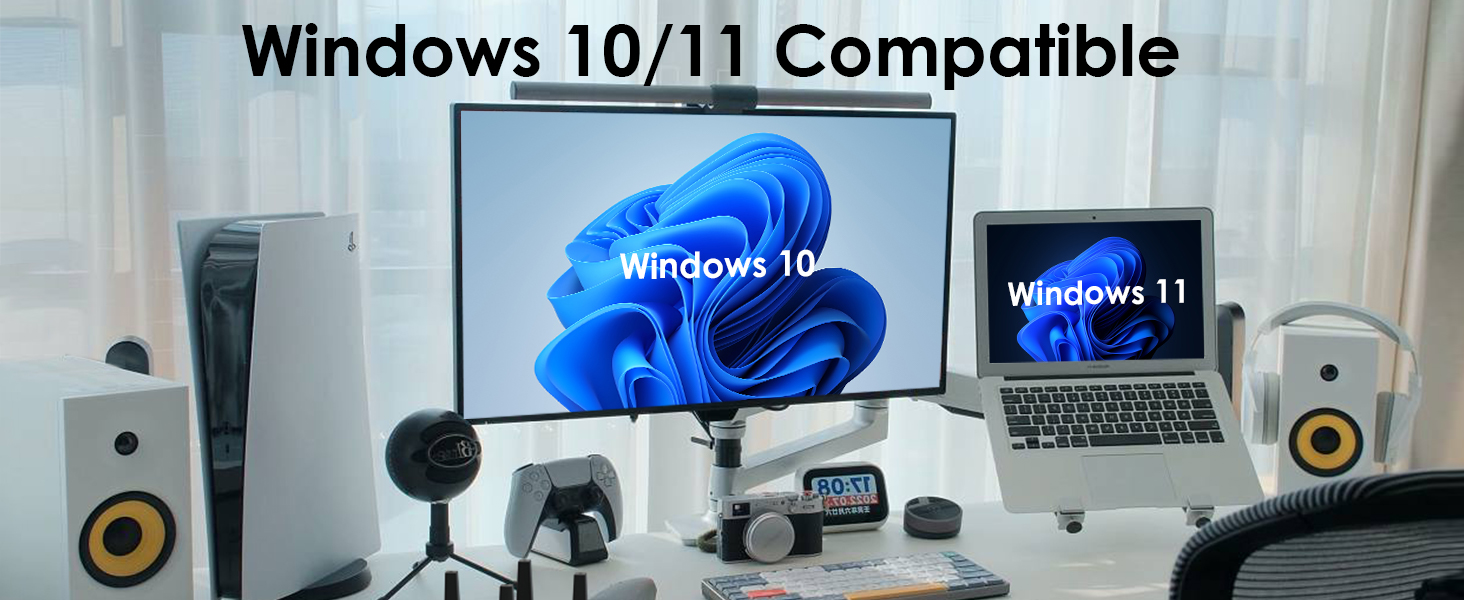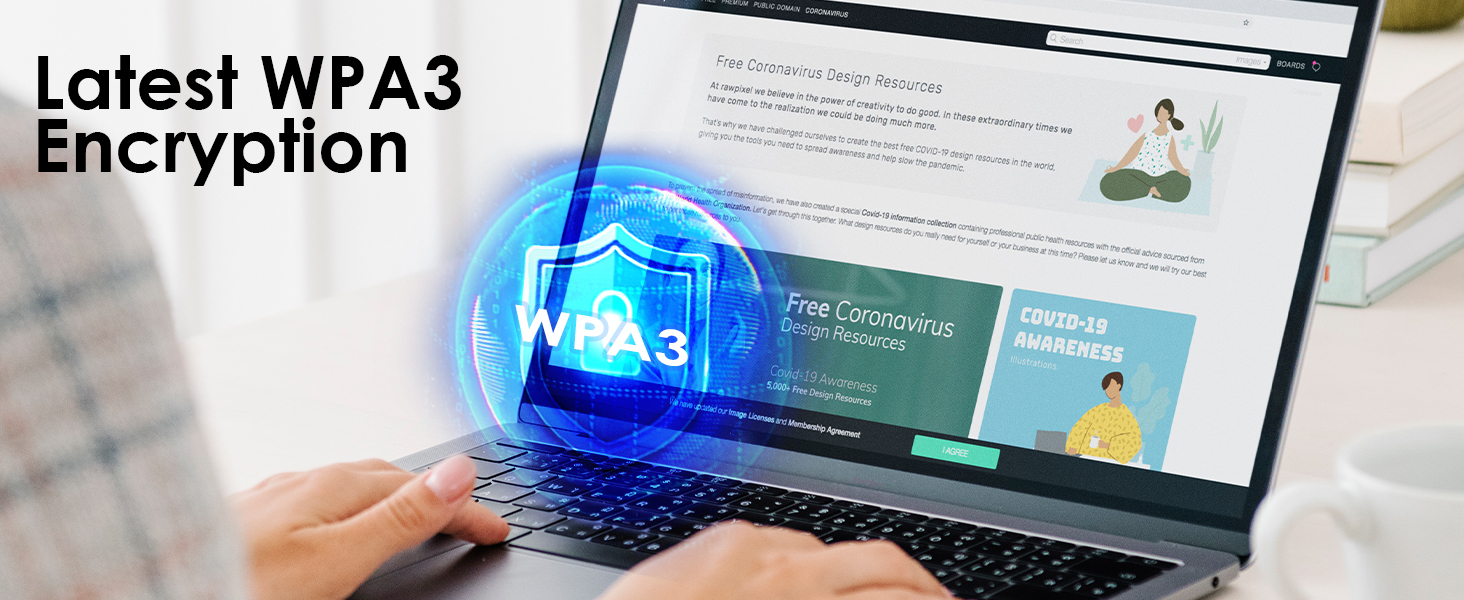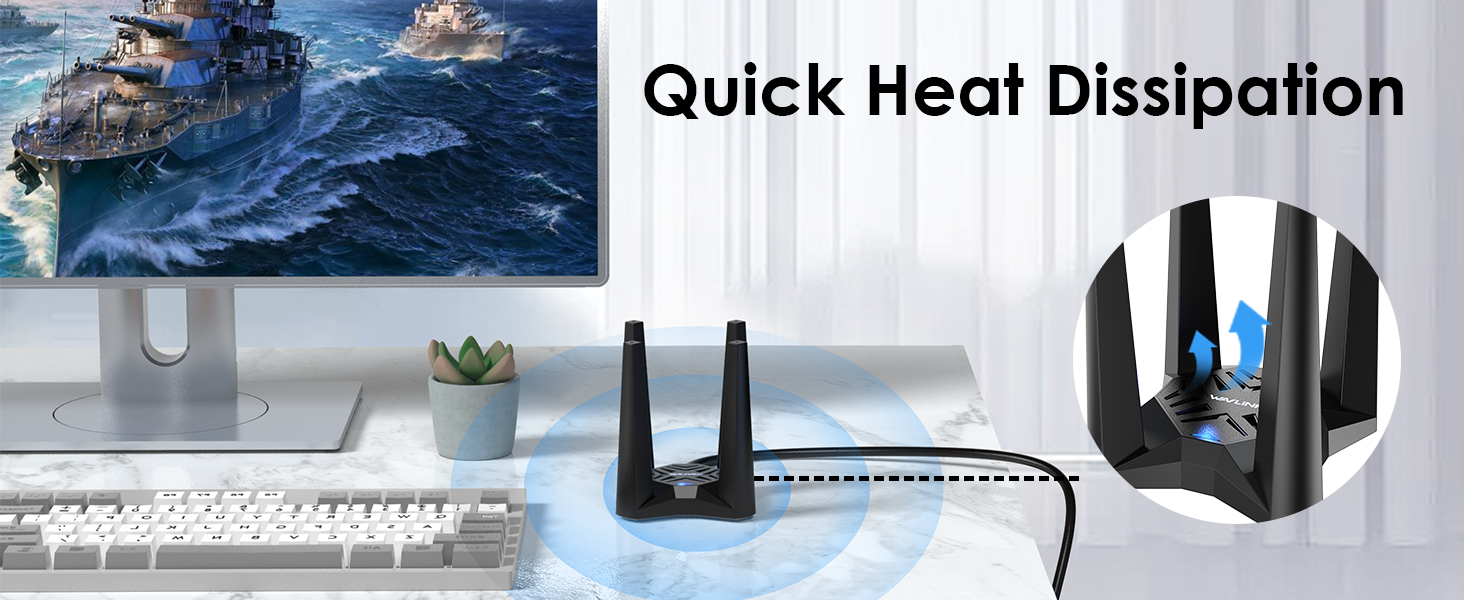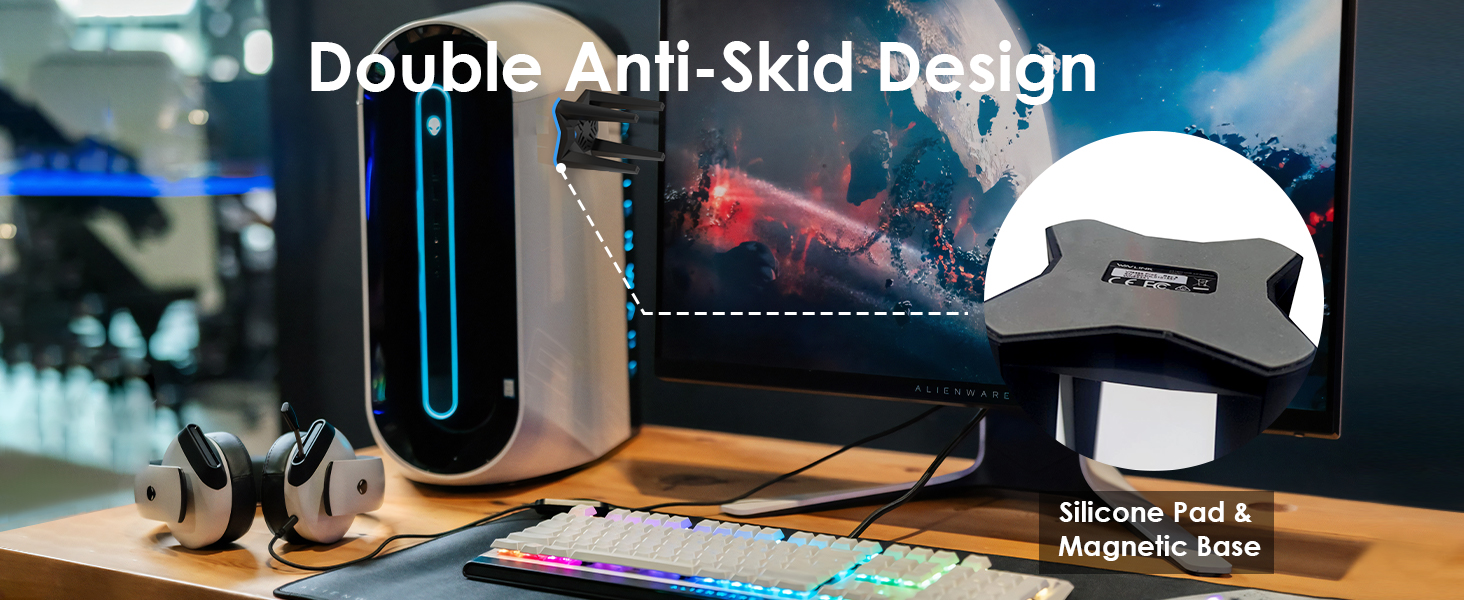 Ask Question About Product
Note:
HTML is not translated!
All(0)
Good(0)
Fair(0)
Poor(0)
Image(0)
【Lag-Free WiFi 6 Speed】Experience unparalleled AX1800M download and upload speeds (1201Mbps on the 5GHz band and 574Mbps on the 2.4GHz band) with our upgraded WiFi 6 USB adapter. Enjoy enhanced gaming, browsing, and streaming with faster speed, lower latency, and reduced power consumption compared to WiFi 5. Our fully upgraded WiFi 6 technology seamlessly maximizes the performance of your WiFi 6 router.
【Boosted WiFi Coverage and Performance】Our PC WiFi 6 adapter boasts the latest OFDMA and MU-MIMO technologies, ensuring a fast and efficient WiFi connection even when multiple users are simultaneously sending and receiving data. Our advanced Beamforming technology intelligently directs WiFi signals towards connected devices, while the 4x3dBi external antennas ensure strong signal reception capabilities, expanding the effective coverage area of the adapter.
【Soft AP Mode & WiFi Mode】In Soft AP Mode, our WiFi 6 dual-band adapter can transform a wired network connection into a WiFi hotspot, transmitting wireless signals from your networked PC to your mobile, laptop, tablet, or other devices. Alternatively, in WiFi Mode, you can directly connect your PC to the WiFi signal, providing an AX1800M network without the need for an Ethernet cable.
【Exclusive Compatibility with Windows & Driver Required】Please note that this WiFi USB dongle is only compatible with Windows 10/11 (32/64bit) and is not suitable for PCs with other operating systems. To ensure normal use, install the driver following the instructions provided in the Quick Start Guide. A U disc drive is included in the package for your convenience, or you can find the driver on our official website: www.wavlink.com.
【Flexible USB 3.0 Cable & Stable Magnetic Base】Our WiFi 6 adapter comes with a 1m USB 3.0 extension cable, allowing quick and easy connection to any USB ports on your desktop, laptop, or PC. Its non-slip magnetic base ensures stability when attached to metal surfaces, occupying minimal space while providing flexibility in placement and convenience in use.
Take note
---
Wavlinkstore is the official online sales platform directly operated by Wavlink. All products are shipped by Wavlink and we take full responsibility for after-sales support. Please feel free to make your purchase with confidence.
How is the shipment arranged?
By default, we use DHL, UPS, and 4PX as our courier companies. If there are areas that cannot be reached by these couriers, we will utilize local postal services for delivery.
How to track the shipment?
We highly recommend making purchases as registered users. By accessing the registered member portal, you can track the shipping progress of your order. If you checked out as a guest user, it is advisable to save a screenshot of your order or note down the order number for easier reference when contacting our customer support staff for inquiries.
How are after-sales issues handled?
After-sales support follows the after-sales service policy, which is strictly adhered to. If there is an established after-sales service guarantee policy through email communication, it will be implemented accordingly. For technical support during working days, you can call +18889730883(Free call charges). Additionally, you can also reach out for support by contacting contact@wavlink.com. Japanese users can send their inquiries to supportjp@wavlink.com for assistance. More info vist https://www.wavlink.com/en_us/contact.html
Do you support small batch purchases?
Our website supports small batch purchases. If you are interested in making a small batch purchase, please send an email to kevin@wavlink.com to obtain the best quotation. Additionally, we recommend registering as a website member to accumulate points and enjoy upgrades, which will provide you with greater support.
Under what circumstances are orders considered high-risk or subject to delayed shipping?
Not providing an email address or providing a randomly filled email address, such as

abcdefghello@abc.com

.

The phone number appears to be abnormal or consists of consecutive digits, such as 123456789 or 987654321.

Incorrect postal code, incorrect city name, or unclear shipping address. We will send an email confirmation to the email address provided in the order. If we do not receive a response, we may delay or cancel the shipment.
What should I do if I forget the order number or neglect to take a screenshot while using the guest checkout mode?
Firstly, you need to remember the email address you provided during the checkout process. We can use the email address to deduce your order number.
Secondly, if you provided a phone number, we can also use it to search for your order.
If you don't remember anything, please submit a support ticket, and our customer support staff will communicate the detailed progress with you.