Convenient payment

Trusted-Delivery


Fast Delivery
Multi-warehouse direct hair fast delivery

Exquisite service
Exquisite service after-sale guarantee

Hassle-free return
Shop with confidence, worry-free refund
WAVLINK Triple Display USB C Hub 12-In-1 with 85W Power Delivery
Features plug-and-play, the usb c hub can easily enhance your multitasking capabilities. This 12-in-1 usb c to hdmi/dp adapter supports single 4K@60Hz display and triple 1080P@60Hz displays(under DP1.4), making it perfect for expanding multiple displays for meetings, gaming, presentations, stock chart analysis, programming, designing and more! Boasts a sufficient 85W power supply, the powered hub ensures the host stays charged throughout the day. Moreover, its Gigabit RJ45, USB3.0/2.0, SD/TF card reader, audio/mic port make it an essential tool for efficiency and convenience. Also portable enough for on-the-go use with an ultra-compact aluminum design!
USB 3.0/USB 2.0 Expansion
2 USB 3.0-A ports allow you to transfer movies or large files at speed up to 5Gbps--easy to connect external hard drives and U disks. 2 USB 2.0-A ports let you quickly connect your keyboard, mouse, or printer with ease.
Transfer Files in Seconds
The SD/Micro SD card slots offer access to most memory card formats and support simultaneous reading at speed up to 104 MB/s, easy to transfer and store the videos shooting and photos in trips with your camera.
Lightning Gigabit Network
The WAVLINK triple display MST hub has a lightning-fast gigabit Ethernet port, which means you can connect to the internet and transfer data at speed up to 1000 Mbps, providing consistent and reliable performance.
2-in-1 Audio & Mic
The multiport mini dock's 2-in-1 audio/mic port provides high-quality sound and audio capture, allowing for crystal-clear communication through your headset. You won't ever need to search for two separate ports again!
Elegant & Durable Design
The sleek aluminum housing ensures a stylish look while also protecting the dock from daily wear and tear. The nylon cord design prevents tangling and adds an additional layer of protection from any external damage.
Systems/ Devices Compatibility
Plug and play on Windows 11/10/8.1/8/7, Mac OS, Chrome OS, Linux, iPad OS, Harmony OS, Android.
Works with your USB-C Desktop PCs, Laptops, Tablets/Mobile Phones(OTG function required).
How to Confirm if the Type-C Port of Your Laptop Supports Video Output and Charging?
Step 1: Please check the model of your laptop, it should be on the back of the label;
Step 2: Search "brand + the model number of the device + manual" in Google, for example: "asus ux435 manual";
Step 3: Check the manual and navigate to the view and check the type-c specification, if it states it supports power delivery which means it supports charging. If it states the type-c port supports display which means it could support video output. If the specification states bandwidth the type-c port supports only, which means the type-c port might not support video output and charging. You could also contact the manufacturer to confirm that.
Multiple Display Resolution (Max. Resolution)
Notice: Please make sure the type-C port of your host supports video output.
For Windows OS(Some laptops only support 3 monitors due to their graphic card limit)
1)Single Display:
HDMI1: 3840x2160@30Hz(DP1.4); 3840x2160@30Hz(DP1.2)
HDMI2: 3840x2160@60Hz(DP1.4); 3840x2160@30Hz(DP1.2)
DP: 3840x2160@60Hz(DP1.4); 3840x2160@30Hz(DP1.2)
2)Dual Display:
HDMI1/2+DP: 3840x2160@60Hz+1080P@60Hz or 2x2560x1440@60Hz(DP1.4); 2x1080P@60Hz(DP1.2)
HDMI1+HDMI2: 3840x2160@60Hz+1080P@60Hz or 2x2560x1440@60Hz(DP1.4); 2x1080P@60Hz(DP1.2)
3)Triple Display:
HDMI1+HDMI2+DP: 3x1080P@60Hz(DP1.4); 2x1080P@60Hz+lower than 1080P@60Hz(DP1.2)
For Mac OS(only supports extend 1 external monitor with different content)
1)Single Display:
HDMI1: 3840x2160@30Hz(DP1.4); 3840x2160@30Hz(DP1.2)
HDMI2: 3840x2160@60Hz(DP1.4); 3840x2160@30Hz(DP1.2)
DP: 3840x2160@60Hz(DP1.4); 3840x2160@30Hz(DP1.2)
2)Dual Display:
HDMI2+DP: 2x3840x2160@60Hz(DP1.4); 2x3840x2160@30Hz(DP1.2)
HDMI1+HDMI2/DP: 2x3840x2160@30Hz
3)Triple Display:
HDMI1+HDMI2+DP: 3x3840x2160@30Hz
Specification:
1.Model: WL-UMD302
2.Ports: 1x USB-C(PD IN,100W), 1x HDMI1 (4K@30Hz), 1x HDMI2 (4K@60Hz), 1x DisplayPort(4K@60Hz), 1x Gigabit RJ45, 2xUSB3.0-A(5Gbps), 2 x USB2.0-A(480Mbps), 1x SD Card Slot, 1x TF Card Slot, 1 x Audio/Mic Port
3.Unit Size: 15.8 x 4.1 x 1.6cm/ 6.2 x 1.6 x 0.6in(L x W x H)
4.Cable Length: 25cm/9.8in
5.Unit Weight: 126g/4.4oz
6.Housing Material: Aluminum
7.Shell Color: Silver
What's in the Package?
1 x USB-C Triple Display MST Docking Station
1 x Quick start guide
Warm Tips:
-The type-C port of your host should support video output and charging to enjoy the full function of this hub.
-For Windows-based computer, please make sure that your computer graphics card supports four monitors, or you might have to disable the built-in monitor.
-Your USB-C phones/tablets should support the OTG function.
-The charger and charging cable are not included.
USB-C Devices Compatibility List (Partial):
Note: Please check the compatibility list below before purchasing. If your device is not on the list, please let us know and we will be glad to help you check with it.
Apple: Mac Studio 2022, iMac(2017, 2019, 2020), MacBook Pro 16-inch (2019, 2021),MacBook Air 13-inch (2018, 2019, 2020), MacBook Pro 13-inch (2016, 2017, 2018, 2019, 2020),MacBook Pro 14-inch 2021, MacBook Pro 15-inch (2016, 2017, 2018, 2019);
Dell: XPS 13 7390 2-in-1 (Ice Lake), XPS 12 9250, XPS 13 9350, XPS 13 9360, XPS 13 9370, XPS 13 9380,XPS 15 9550 (Intel + Nvidia GPU), XPS 15 9550 (Intel GPU), XPS 15 9560 (Intel + Nvidia GPU), XPS 15 9570, XPS 17 9700,XPS 12 XPS9250,Dell LATITUDE 7480, Alienware 13 R3, Alienware 15 R3, Alienware 17 R4, Dell Precision 15 M7510, Dell Precision 17 M7710, Dell XPS 13 9365, Dell Precision 15 5000 Series (5510), Dell Precision 15 3000 Series (3510), Dell Latitude 7370 (3C7XP), Dell Latitude 12 7275, Alienware 17 R3, Dell Precision M5510 15.6";
HP: EliteBook Folio G1 (Model V1C43EA), Spectre x360 Convertible 13-w000 (SKU W9A95AV), Spectre x360 - 13-ac003la, Spectre x360 - 15-ch000, Elite X2 1012 G1, HP Spectre x360 - 13-ae011dx (Late 2017),Elite x2 1012 G2,HP Spectre x360 (2017),HP EliteBook Folio G1 12.5", HP ZBook 15 G3, HP Zbook 17 G3 Workstation, HP ZBook Studio Series, HP Elite X2 1012 G1, HP Spectre x360 2-in-1 13-W023DX 13.3";
Intel: NUC8i7HVK (Hades Canyon), NUC8i7HNK (Hades Canyon), NUC9VXQNX (Ghost Canyon), Intel NUC9V7QNX (Ghost Canyon), Intel NUC9i9QNX (Ghost Canyon), Intel NUC9i7QNX (Ghost Canyon), Intel NUC9i5QNX (Ghost Canyon);
Lenovo: Thinkpad P50, Thinkpad P51, Thinkpad P70, Lenovo Yoga C930, Lenovo X1 Carbon 7th Gen, ThinkPad P70 Series Mobile Workstation, Lenovo Legion Y720, Lenovo ThinkPad T570, Lenovo Miix 720, Lenovo ThinkPad X1 Carbon (5th Gen 2017), Lenovo ThinkPad X1 Yoga (2nd Gen 2017), Lenovo ThinkPad P50;
Others: MSI VR Ready GS43VR Phantom Pro-006; ASUS ZenBook Pro UX501VW and more.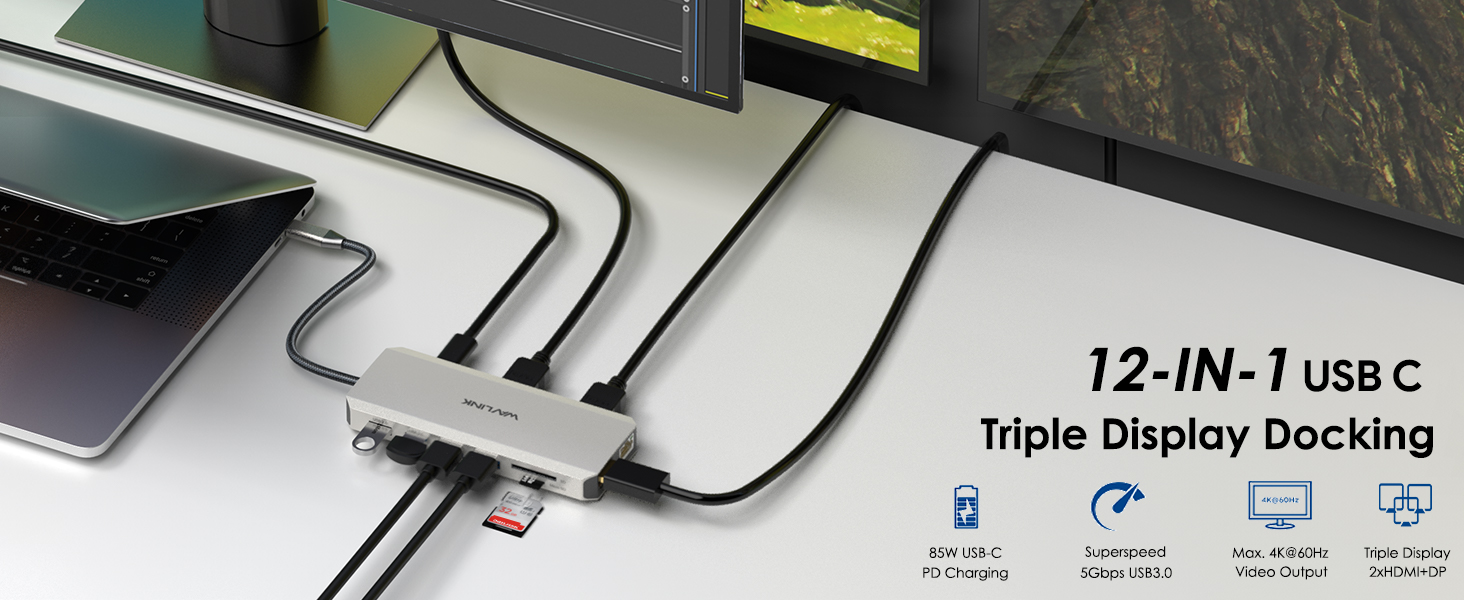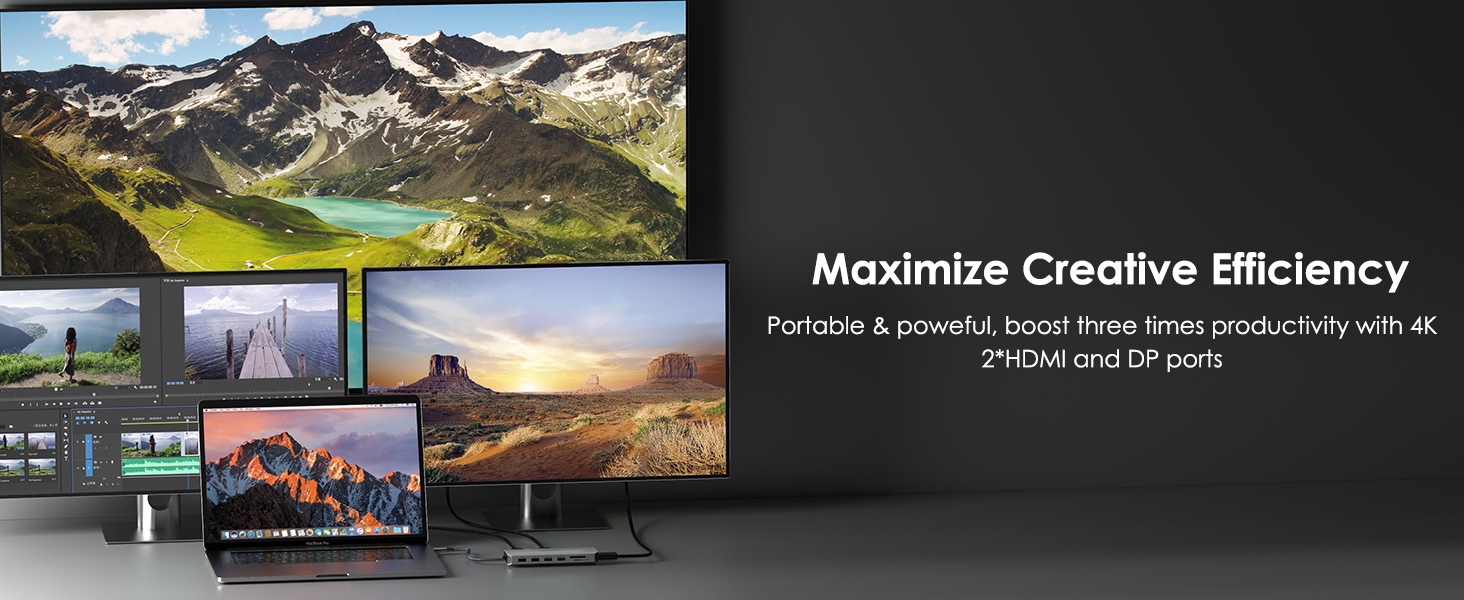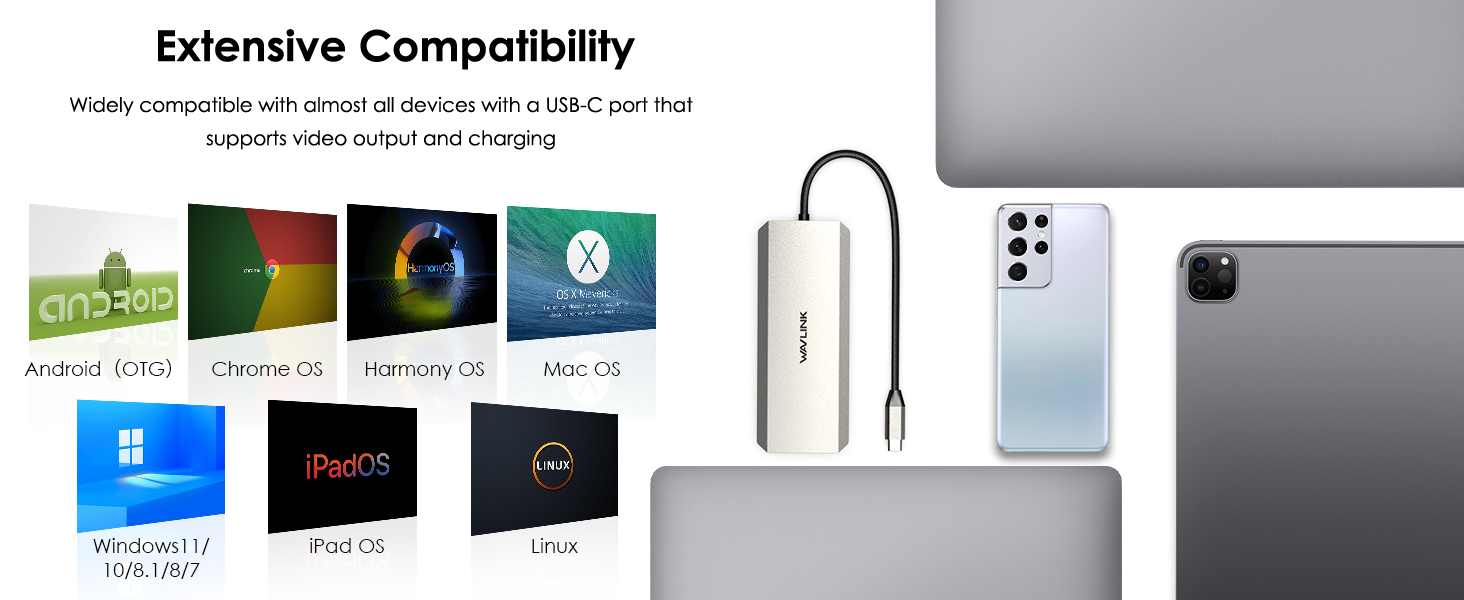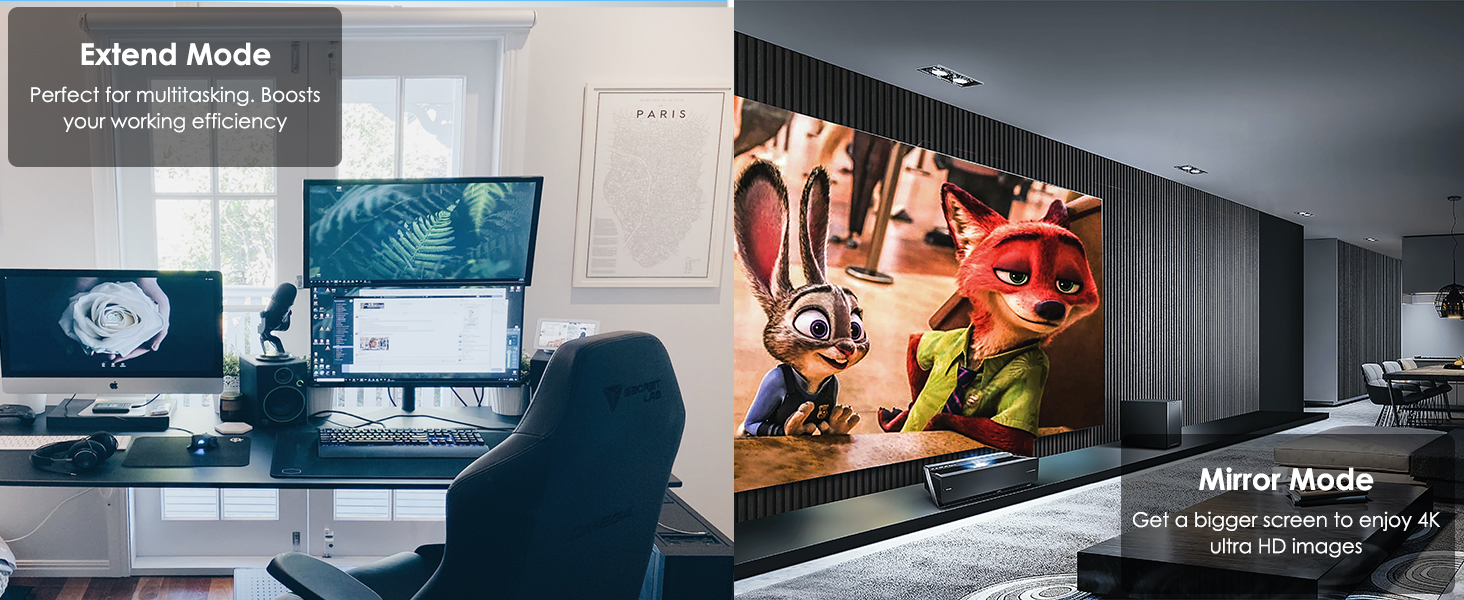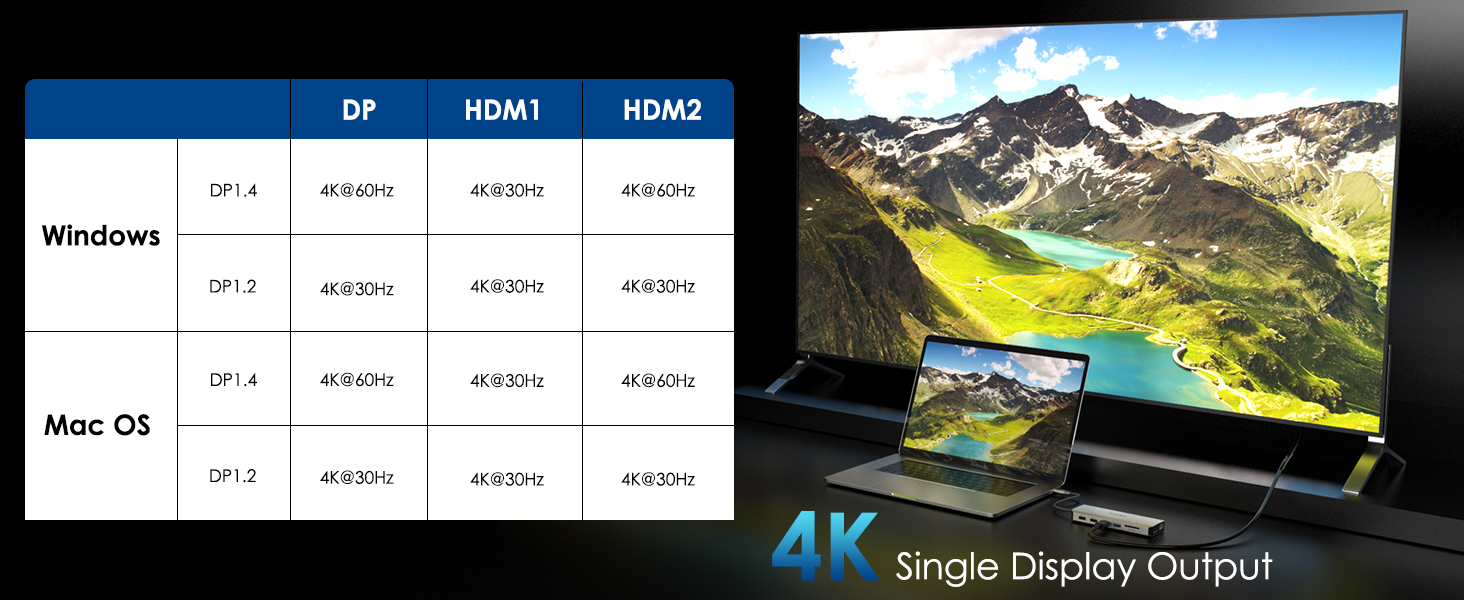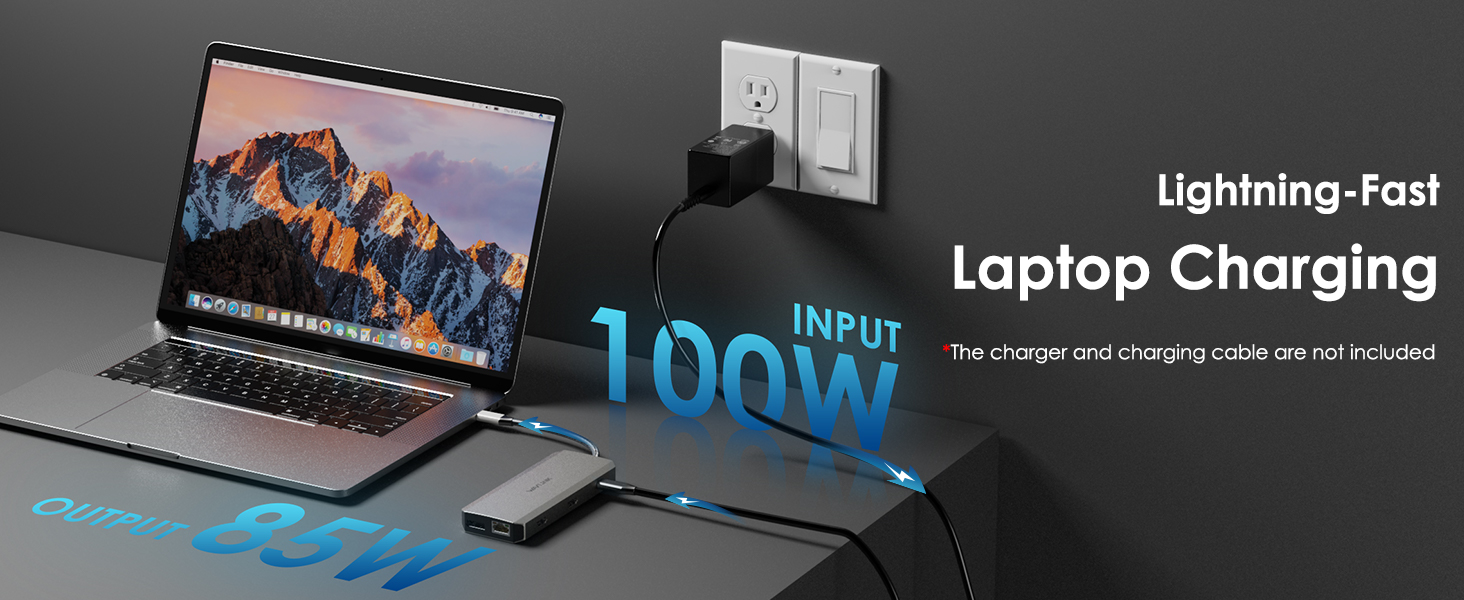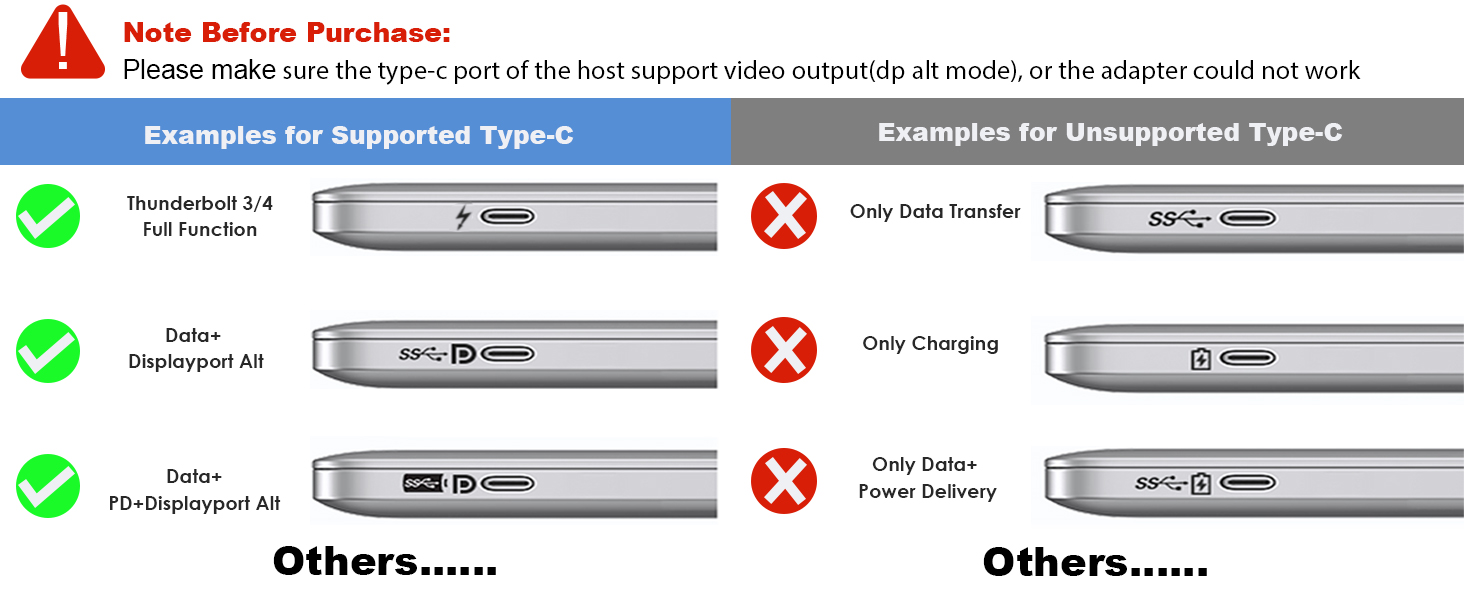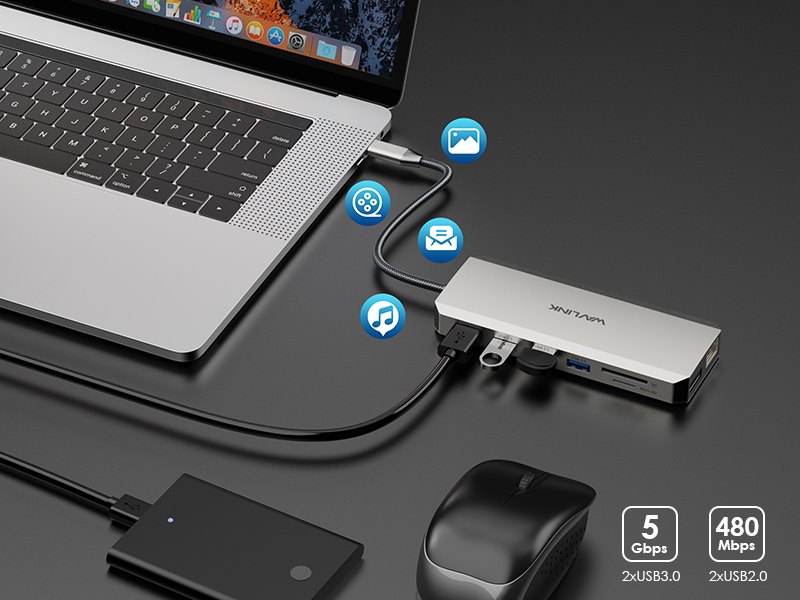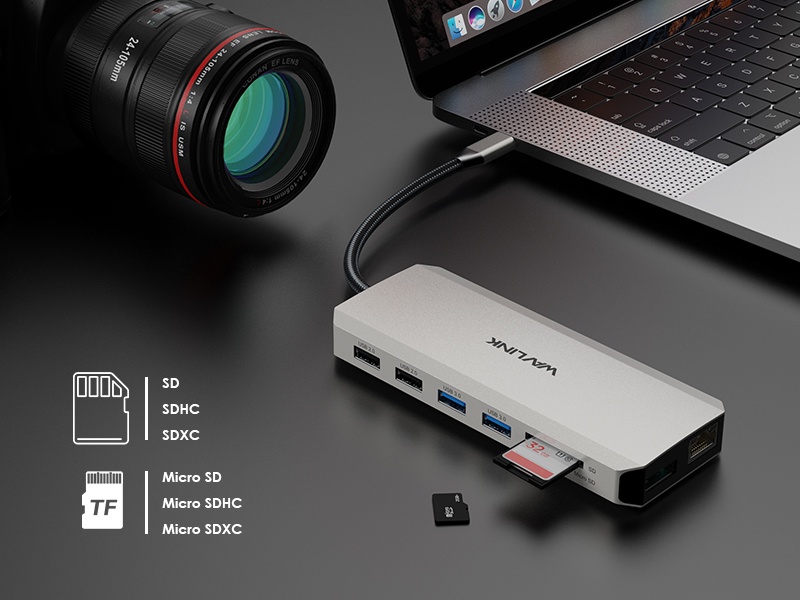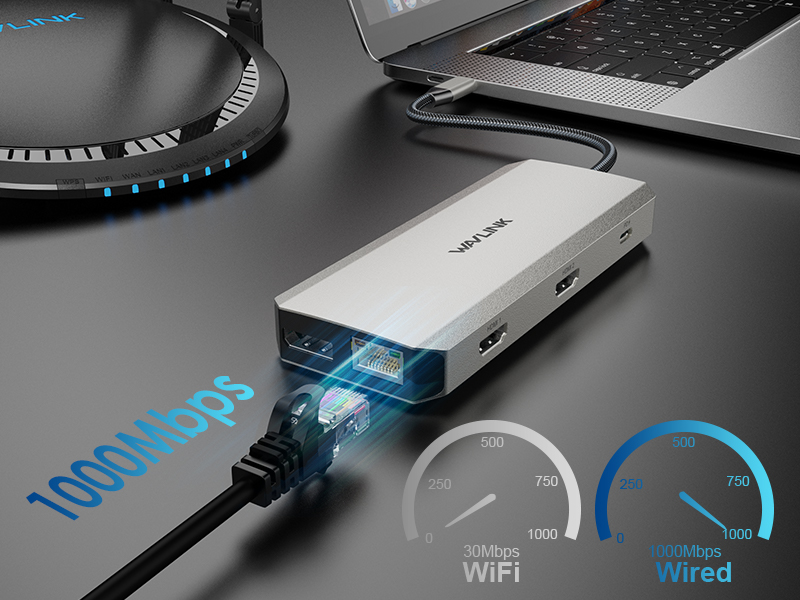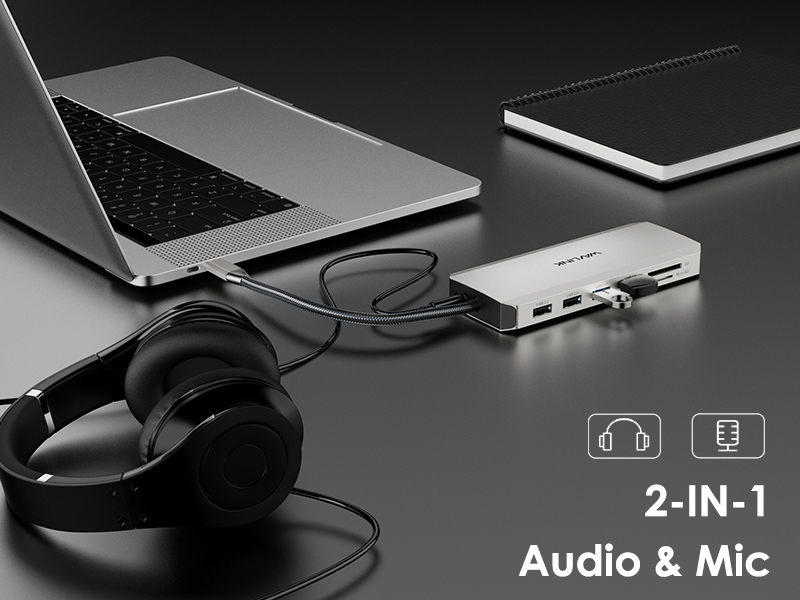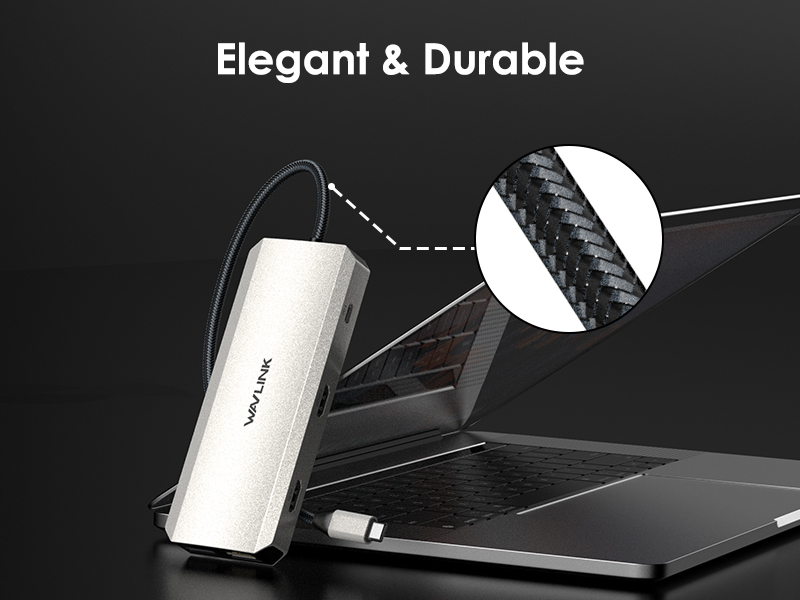 Ask Question About Product
Note:
HTML is not translated!
All(0)
Good(0)
Fair(0)
Poor(0)
Image(0)
【⭐12-IN-1 Incredible Expansion】WAVLINK powerful 12-in-1 multiport adapter is equipped with HDMI1(4k@30Hz), HDMI2(4K@60Hz under DP1.4), DP port(4K@60Hz under DP1.4), 85W USB-C PD, 2x 5Gbps USB3.0, 2x USB2.0, Gigabit Ethernet, SD/TF Slots(104MB/s), 2-in-1 Audio/Mic, offering enormous peripheral connections, upgrading your workstation through one single USB-C port, greatly improving productive efficiency.
【⭐Triple 4K Video Output Ports】Designed for visual creators and game enthusiasts, WAVLINK 4K laptop dock serves them with 3840x2160@60Hz ultra HD images via HDMI2/DP port or 4K@30Hz via HDMI1 port(Under DP1.4). Note: Please make sure that the USB-C port on the host laptop supports video output. The content of external 2/3 displays extended by Mas OS-based computers can only be the SAME.
【⭐Max 85W Pass Through Charging】With integrated USB-C PD port(ONLY for charging use), this laptop charging dock keeps your laptop powered while connecting multiple monitors and peripherals. For security, please use the certificated charger to charge your laptop(The charger is NOT included). Note: Please make sure that the USB-C port on the host laptop supports charging.
【⭐Syncing Data in Seconds】Dual USB3.0(backward compatible with USB2.0) ports ensure 5Gbps data rate and together with dual USB 2.0 ports to offer more connection possibilities at the same time. SD/TF card slots can work simultaneously, support transmission speed up to 104MB/s, perfect for owners of cameras, monitors etc. RJ45 port allows for up to 1000Mbps and stable network.
【⭐Extensive Compatibility & Driver-Free】Widely compatible with Windows 11/10/8.1/8/7, Mac OS, Chrome OS, Linux, iPad OS, Harmony OS, Android with OTG function. Suitable for your Thunderbolt 3/4 laptops or devices with USB-C port that supports charging and video output(Check the details page or contact our customer service to see more compatible devices). No driver required, get rid of hassled driver installation, just plug and play!
Take note
---
Wavlinkstore is the official online sales platform directly operated by Wavlink. All products are shipped by Wavlink and we take full responsibility for after-sales support. Please feel free to make your purchase with confidence.
How is the shipment arranged?
By default, we use DHL, UPS, and 4PX as our courier companies. If there are areas that cannot be reached by these couriers, we will utilize local postal services for delivery.
How to track the shipment?
We highly recommend making purchases as registered users. By accessing the registered member portal, you can track the shipping progress of your order. If you checked out as a guest user, it is advisable to save a screenshot of your order or note down the order number for easier reference when contacting our customer support staff for inquiries.
How are after-sales issues handled?
After-sales support follows the after-sales service policy, which is strictly adhered to. If there is an established after-sales service guarantee policy through email communication, it will be implemented accordingly. For technical support during working days, you can call +18889730883(Free call charges). Additionally, you can also reach out for support by contacting contact@wavlink.com. Japanese users can send their inquiries to supportjp@wavlink.com for assistance. More info vist https://www.wavlink.com/en_us/contact.html
Do you support small batch purchases?
Our website supports small batch purchases. If you are interested in making a small batch purchase, please send an email to kevin@wavlink.com to obtain the best quotation. Additionally, we recommend registering as a website member to accumulate points and enjoy upgrades, which will provide you with greater support.
Under what circumstances are orders considered high-risk or subject to delayed shipping?
Not providing an email address or providing a randomly filled email address, such as

abcdefghello@abc.com

.

The phone number appears to be abnormal or consists of consecutive digits, such as 123456789 or 987654321.

Incorrect postal code, incorrect city name, or unclear shipping address. We will send an email confirmation to the email address provided in the order. If we do not receive a response, we may delay or cancel the shipment.
What should I do if I forget the order number or neglect to take a screenshot while using the guest checkout mode?
Firstly, you need to remember the email address you provided during the checkout process. We can use the email address to deduce your order number.
Secondly, if you provided a phone number, we can also use it to search for your order.
If you don't remember anything, please submit a support ticket, and our customer support staff will communicate the detailed progress with you.