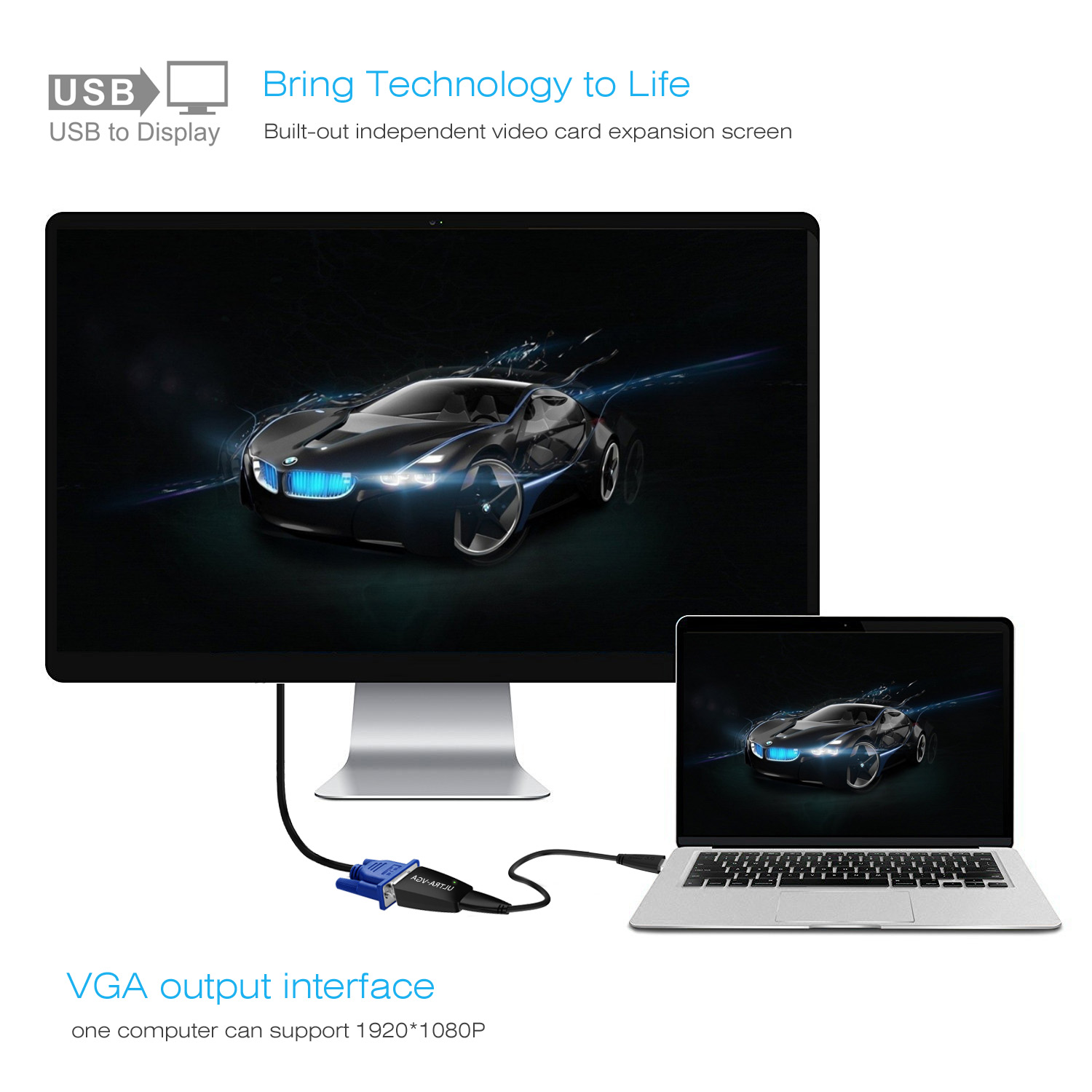 Wavlink - Bringing Technology to Life
Wavlink USB 3.0 to VGA display adapter allows you to connect an extra monitor ( CRL, LCD, Projector ) to your computer USB port, it can be configured to either clone your primary screen or extend the Windows desktop allowing visibility of more applications at the same time and expanding your view. The small form factor USB video adapter can be used with up to 6 additional video adapters, creating multiple VGA connections to add displays quickly and easily without having to open the computer case to add extra video cards.
An External Multi-monitor Solution, Connecting a VGA Display Through USB
Add an extra VGA port to your desktop or laptop computer in minutes. Our external USB-to-VGA solution allows you to enjoy multiple monitor efficiency without opening your computer case, which is ideal for a wide range of applications including web browsing, multi-media presentations and video playback.
USB 3.0 to Micro B Cable
Removing the VGA Video Adapter, it can be used as USB 3.0 to Micro B cable, which is ideal for connecting USB 3.0 enabled PC peripherals such as hard drives, printers, network hubs and more
Four Kinds of Display Modes:
Extend Mode- Extend your working desktop with split-screen presentation to enhance work efficiency.
Mirror Mode - Sync images with two displays to gives you a convenient visual enjoyment. With the UG321V, you can conveniently share and enjoy videos or slideshows on the big and high definition screen.
Primary and Secondary Screen Switching Mode - Easily switch your screens as you like, especially there are much information to display to a variety of people such as in a classroom and conference room or libraries.
Screen Rotation Mode - Turn left, right, up, down as you like. Largely used when your spreadsheets are two long to read or videos too big to watch.
Easy Plug and Play Installation With Multiple Monitors
Use it to connect your HD TV or projector to your laptop, Macbook, or Ultrabook. Built-in hardware driver without the hassle of installation, easy setup. If driver in hardware cannot be detected. Please enter the following website to make AutoPlay functions enabled.
http://windows.microsoft.com/en-us/windows/change-autoplay-settings#1TC=windows-7
Super Strong Certified GPU Performance
VGA Output - USB to 15pin VGA supports resolutions up to 1920 × 1080, compatible with 1280 × 1024, 1024 × 768, 800 × 600.
Specification:
1.Operating Temperature: 0°C~40°C
2.Storage Temperature: -10~70°C
3.Housing Material: ABS
4.System Requirements: Intel i5 2.8GHz or higher
Widows 7 / Windows 8 / 8.X/10
What's in the package?
-1×USB 3.0 to VGA Adapter
-1×Quick Installation Manual
-1×USB 3.0 A to Micro B cable
- 1×Warranty Card
Note:
-The connection of graphic segments is not supported.
-Windows XP is not supported.
Ask Question About Product
Note:
HTML is not translated!
All(0)
Good(0)
Fair(0)
Poor(0)
Image(0)
• Miniature Size Big Performance: The USB 3.0 to VGA Adapter is used to connect a laptop, tablet and desktop, or any USB enabled devices to a VGA enabled device such as monitor, projector, TV, etc. Also used as a USB 3.0 to Micro B cable.
• High Transmission: Transmission rate up to 5Gbps, 10 X faster than USB 2.0; Backward compatible with USB 2.0 computers.
• High Resolution: Supports up to 1920 × 1080 for compatibility with most displays, monitors, projectors with USB 3.0, while USB 2.0 up to 800 × 600 resolution.
• Workspace Expansion: With multi-monitor, mirror or extend mode can run multiple applications on different screens to increase your work productivity.
• Hassle-Free Installation: Built-in hardware driver will be automatically installed once plugged. Note: If fails on driver installation, AutoPlay function in OS may be disabled.
An independent website for brand direct sales
New customers can enjoy a $25 discount on their first order, which includes 20 reward points and a $5.5 credit balance.