Convenient payment

Trusted-Delivery


Fast Delivery
Multi-warehouse direct hair fast delivery

Exquisite service
Exquisite service after-sale guarantee

Hassle-free return
Shop with confidence, worry-free refund
WAVLINK USB 3.0 Full HD Travel Mini Dock ---- Come and Use It On The Go!
Come and try WAVLINK USB3.0 travel mini dock, use it to extend your port-limited laptop to two external monitors, Gigabit wired network and more peripherals --- All through one single USB3.0 port or USB-C port(A UAB-A to USB-C converter is included). Dual video outputs including a 2K HDMI port and a 1080P VGA port allow you hold a presentation or enjoy multimedia content wherever you are. Lightning-fast 2xUSB3.0 ports transfer files with speeds up to 5Gbps, also suitable for connections of wireless mouse, keyboard, etc. Combo SD/TF card reader is perfect for outdoor use owing to its detachable and compact design. The RJ45 port ensures reliable Internet connection with speeds up to 1000Mbps. WAVLINK DisplayLink mini dock, your indispensable travel accessory.
One Dock Two Use
Featuring a detachable SD/TF card reader, this dock can be used as a whole, or you can connect the main part of the dock and the card reader to two computers respectively, which gives you more flexibility and makes the dock ideal for travel use.
Multiple Display Modes
Mirror the content in your PCs to bigger displays or extend more screen spaces through the HDMI port and VGA port; the resolutions of two extended monitors could reach up to 1920x1080@60Hz. Note: Both Windows- and Mac-based computers support extending two different displays.
Please Install the Driver Before Use
Step 1: Access URL: www.displaylink.com.
Step 2: Choose the corresponding driver of your system and download it.
Step 3: Install the driver and start use after easy setting.
Suitable for Various Scenes
Thanks to its wide compatibility with most devices and portable design(pocket size, foldable cable and detachable card reader), this dock is perfect enough to meet your daily needs in different situations, like multitasking in office, HD movies enjoying at home or work processing while on a business trip.
Transfer Files as Lightning
With 104MB/s SD/TF card reader and dual 5Gbps USB3.0 ports, this dock transfers images from a SD/TF card or big files from a hard drive to your host devices in seconds. Meanwhile, the USB3.0 ports allow for more connections for hard drives, U disks, phones, etc. Note: SD and TF card slots can work simultaneously.
1000Mbps Speedy Ethernet
Use Gigabit RJ45 port to optimize the performance of your home network, get rid of slow and lag-always WiFi and gain much more speedy and stable Internet surfing experience. Also backward compatible with 100/10Mbps.
2K Quad HD HDMI
Resolution up to ultra 2560x1440@50Hz when you connect your monitor to the HDMI port, best assistant to enjoy HD videos at home or demonstrate 2K images on screens. Note: When you connect the HDMI and VGA ports to two displays simultaneously, the HDMI port supports 1920x1080@60Hz.
More Devices Supported
WAVLINK travel mini dock is designed with a USB A connector and comes with a USB A-C converter, which greatly expands the compatibility of the dock by allowing it to connect with both USB A and USB C host devices.
Specification
Model:WL-UG39DH2
Ports: 1xUSB IN, 1xUSB Power, 1xGigabit Ethernet port, 1x1080P VGA port, 1x2K HDMI port, 1xUSB 3.0, 1xUSB 3.0(Male), 1xUSB 3.0 (Female), 1xSD card reader, 1xMicro SD card reader
Status LED: Blue
Product Size: 15.7*6.8*2.0cm/6.2*2.7*0.8in(L x W x H)
Cable Length: 10cm/3.9in
Weight: 150g
Multiple Display Resolution (Max. Resolution)
Single Display
HDMI: 2560x1440@50Hz
VGA: 1920x1080@60Hz
Dual Display
HDMI+VGA: 1920x1080@60Hz+1920x1080@60Hz
Features:
- Plug and play, no external power adapter required.
- Slim 2 in 1 combo mini dock with foldable integrated USB-A cable.
- HDMI port outputs up to 2560x1440@50Hz, and VGA port outputs 1920x1080@60Hz.
- Detachable mini hub with integrated SD and micro SD card readers.
- Integrated two USB 3.0(5Gbps)Type-A ports.
- Integrated one Gigabit Ethernet port supports 10/100/1000Mbps speeds.
- Support Extended/Mirrored Video Modes.
- Support Windows xp/vista/ 7/8/8.1/10/11, MAC OS 10.14.x to 13.x or latest, Chrome OS, Android and Ubuntu.
What You Get
1 x USB 3.0 Full HD Travel Mini Dock
1 x Micro-B to Type-A Power Cable
1 x USB-A to USB-C Converter
1 x Quick Start Guide
Warm Tips
1.Please follow the instructions to download the latest DisplayLink driver from the official website before use.
2.Both Windows- and Mac-based computers support extending two different displays.
3.When you connect the dock with one display, the resolution reaches 2560x1440@50Hz(HDMI) or 1920x1080@60Hz(VGA). When you connect two displays, the resolutions are 2x1920x1080@60Hz.
4.SD and TF card slots can work simultaneously.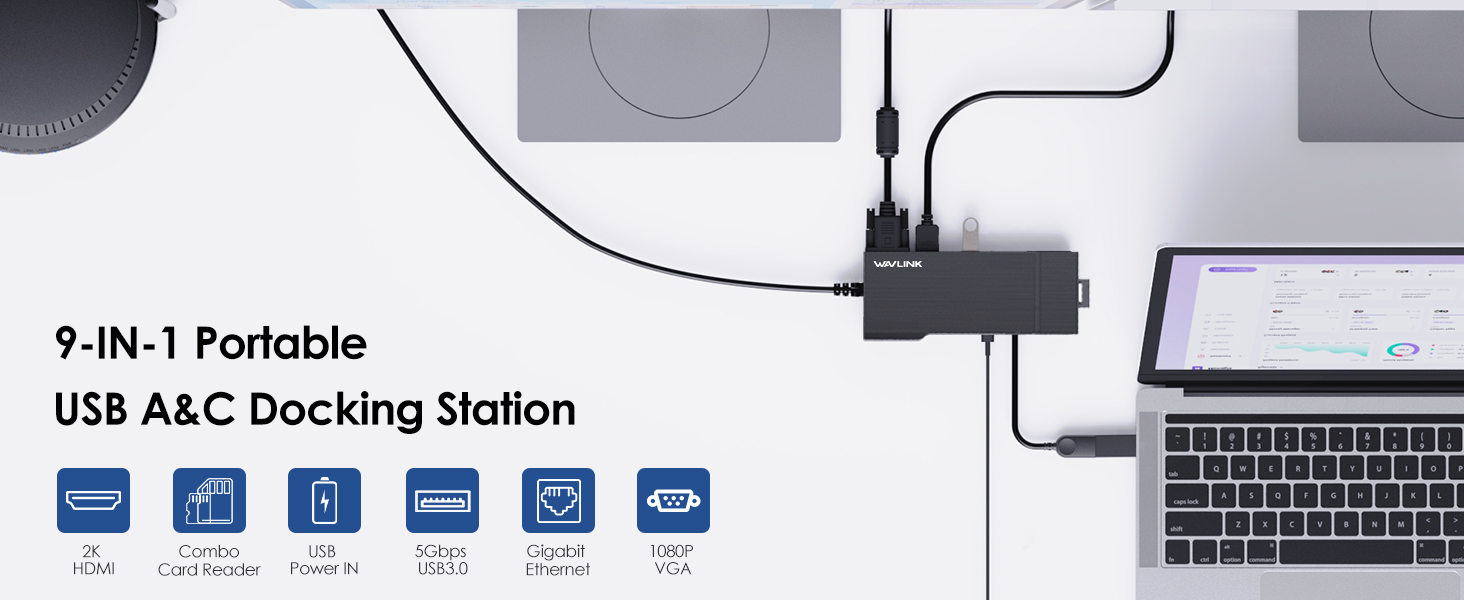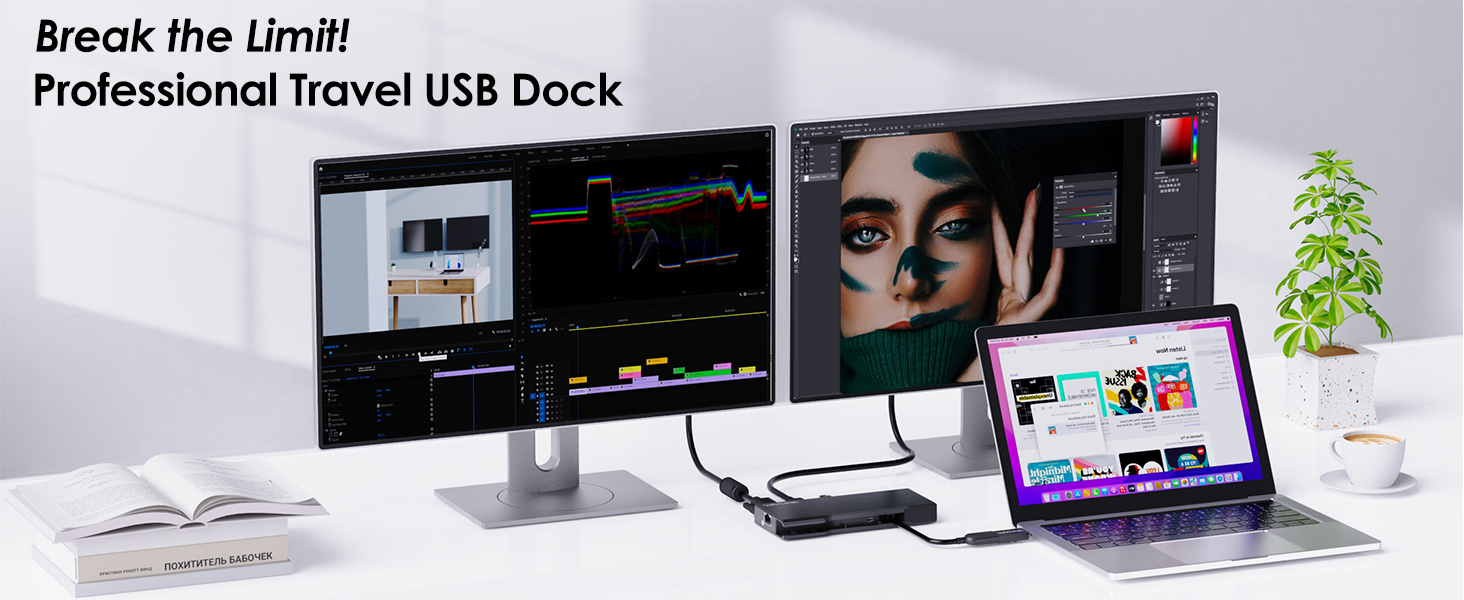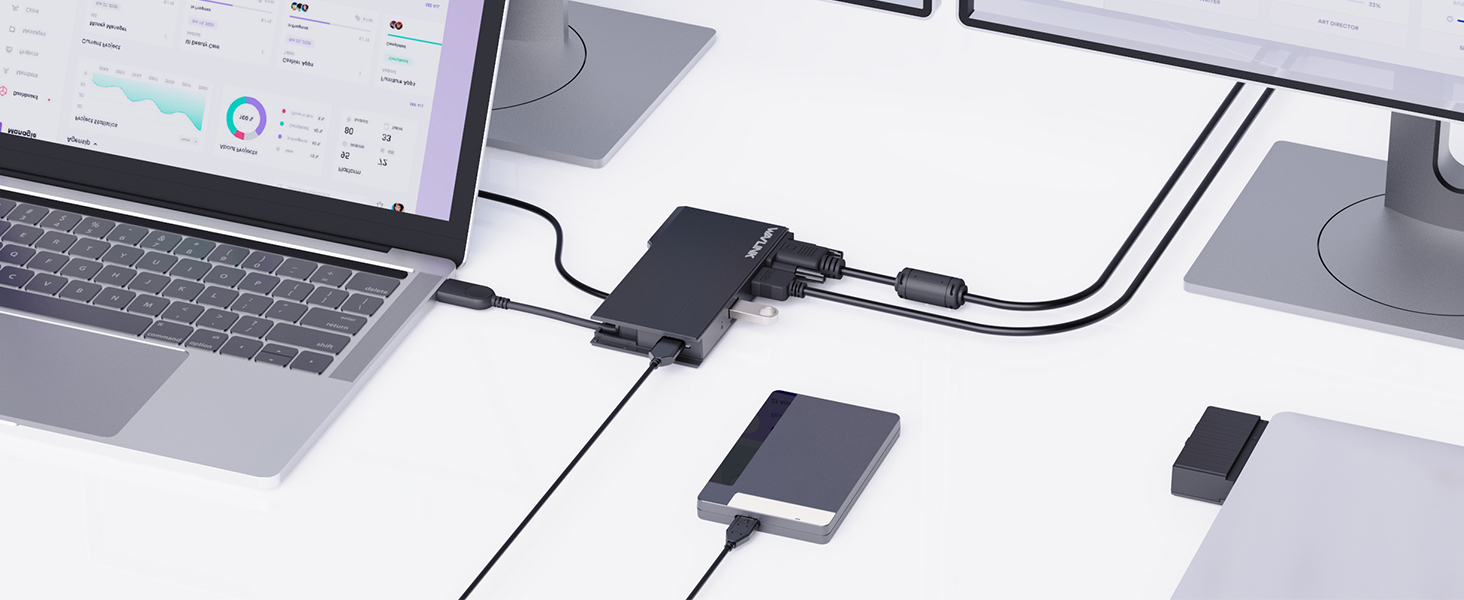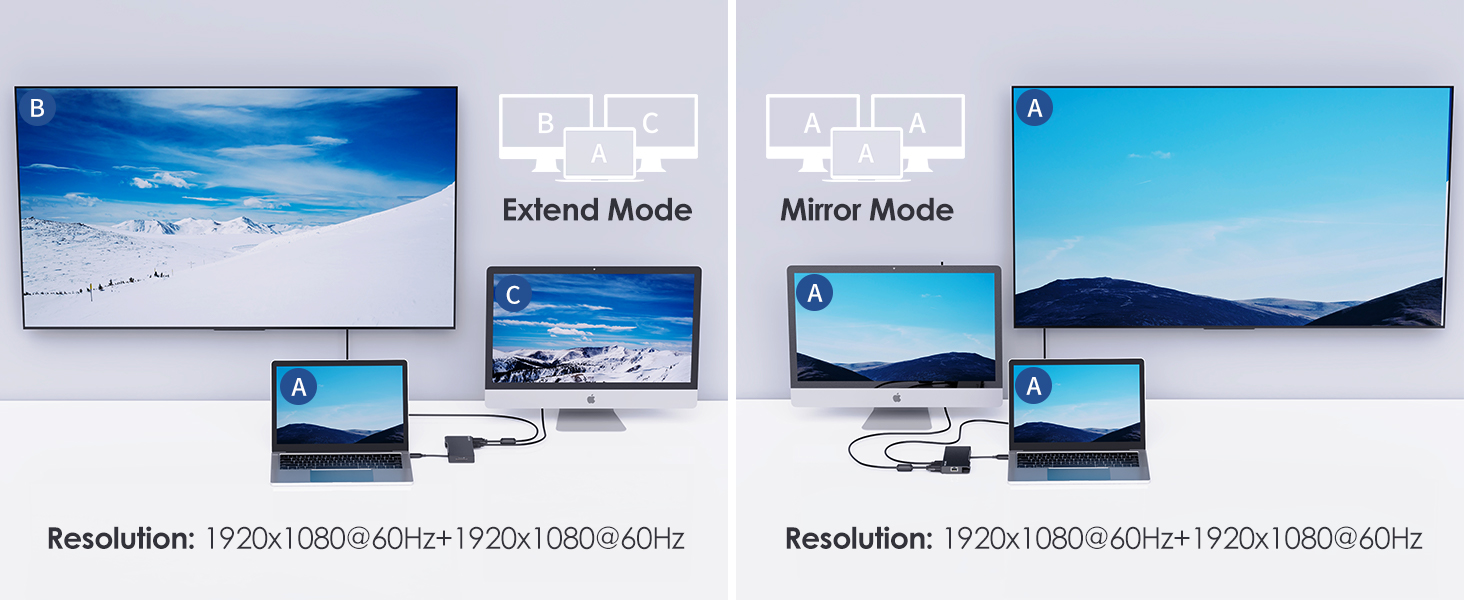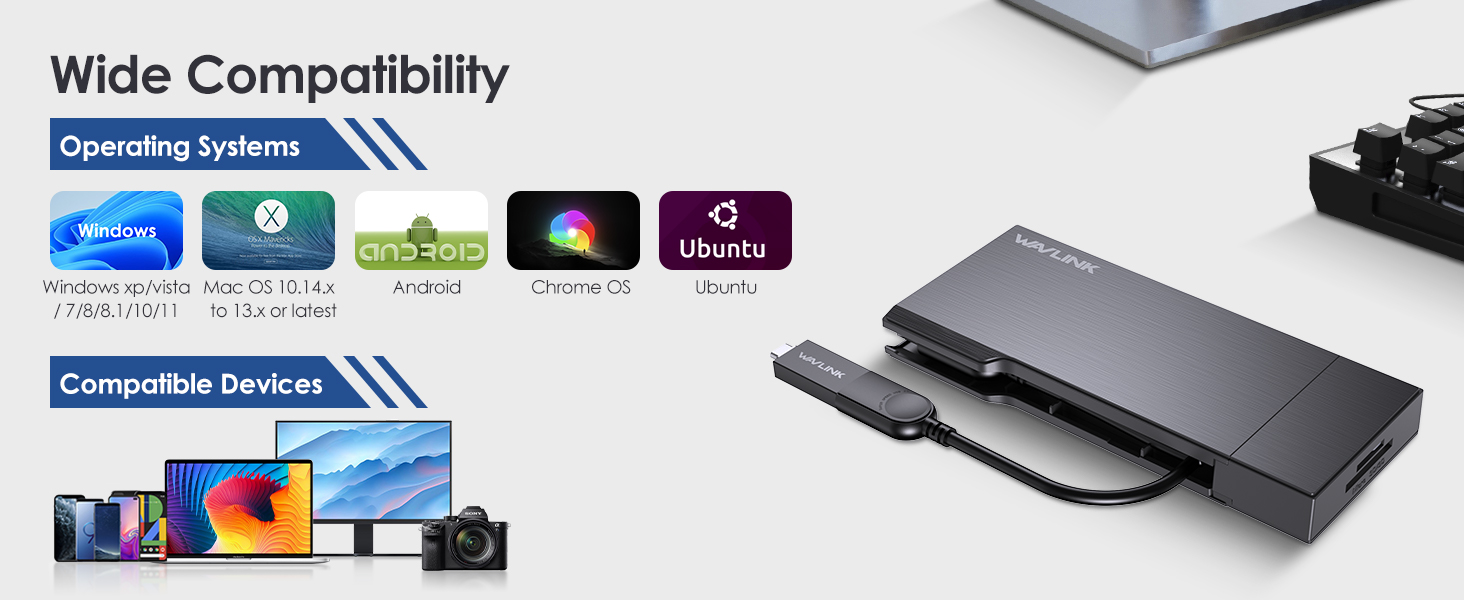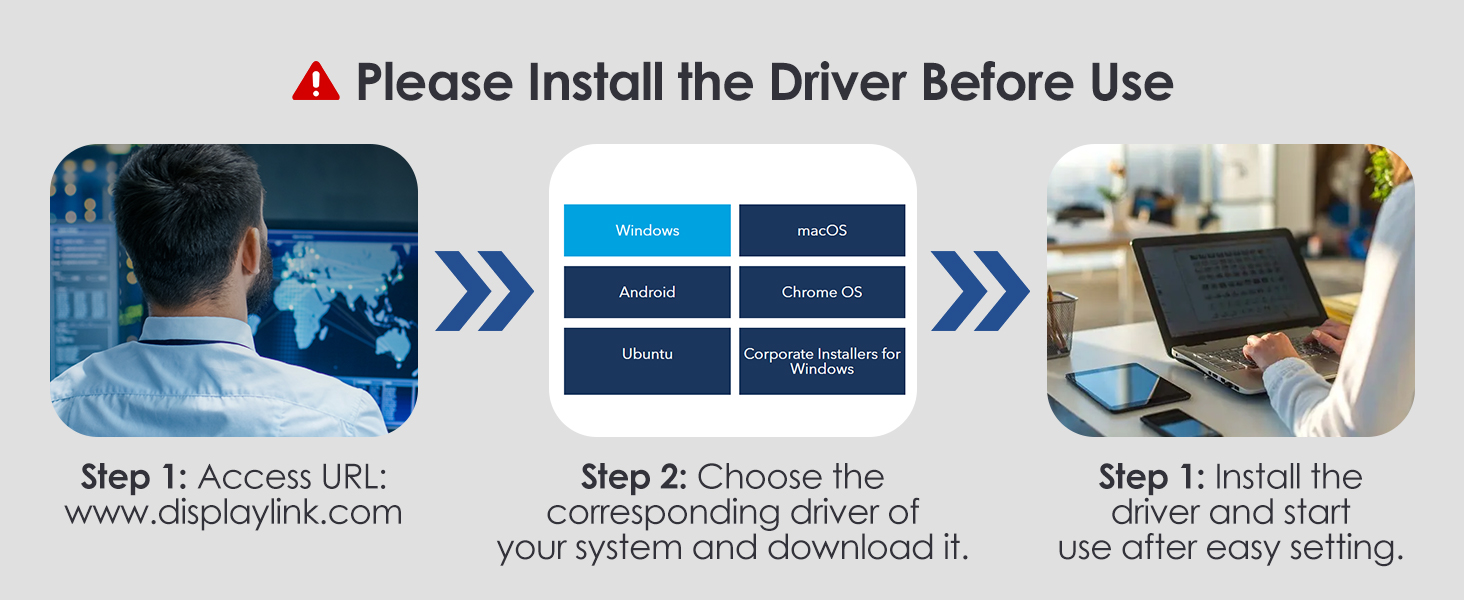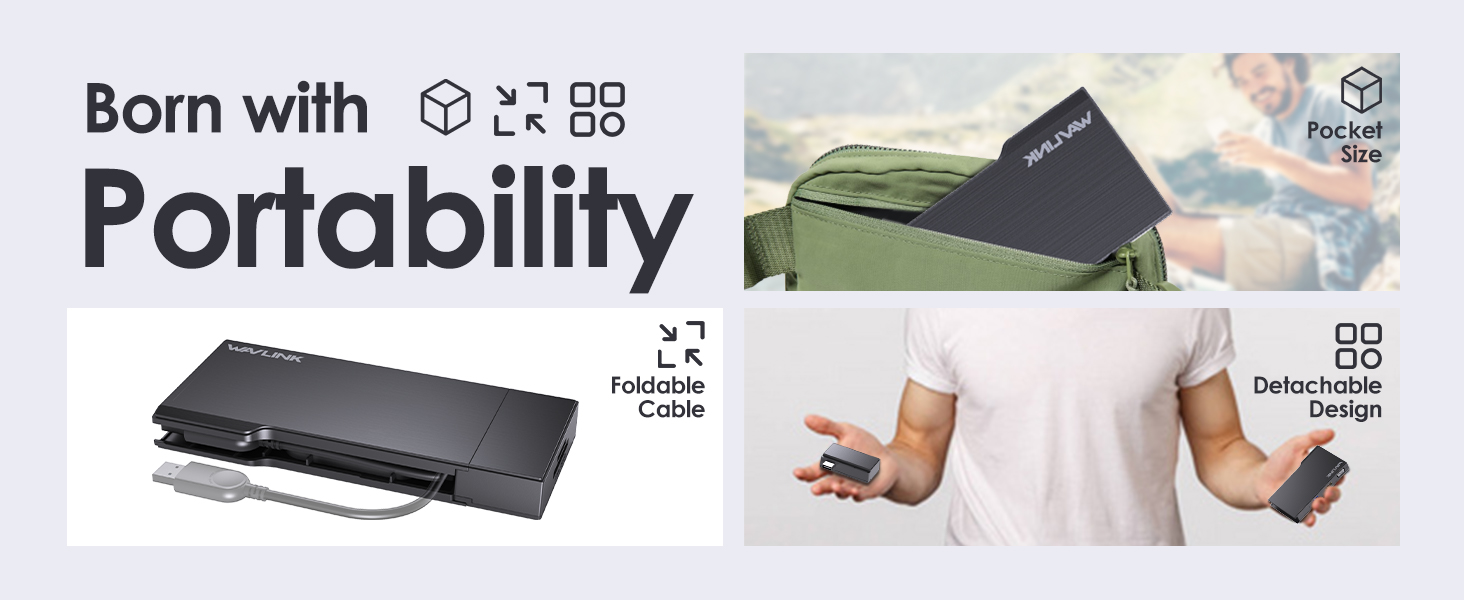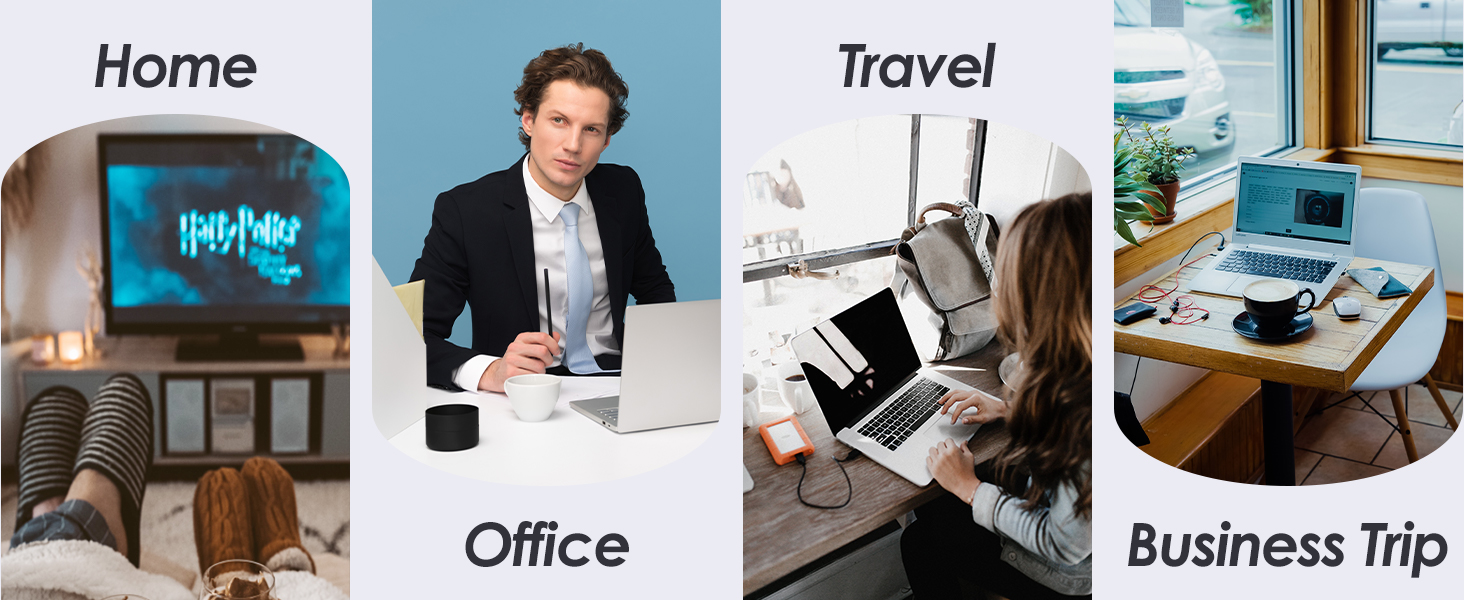 Ask Question About Product
Note:
HTML is not translated!
All(0)
Good(0)
Fair(0)
Poor(0)
Image(0)
⭐Born with Portability: The innovative detachable design allows you to buy one docking station but get an independent card reader and a travel mini dock. Two methods of use, more flexibility. In addition, the dock's size is only 15.7*6.8*2.0 cm(L x W x H), and it weighs only 150g; the dock comes with a USB-IN cable storage space - all these features make this dock more suitable for travel and business trips.
⭐Maximize Productivity with Dual Display: Equipped with HDMI port and VGA port, you can enjoy dual displays with resolutions up to 1920x1080@60Hz, easily expand your workstation, greatly boost your working efficiency. Both Windows- and Mac-based computers could extend two different displays, perfect for web browsing, file processing, multitasking, etc.
⭐Super Speed and Stable Data Transfer: Combo USB3.0 SD and Micro SD card reader can work simultaneously, and the data reading speed is up to 104MB/s. With two ultra-fast female USB3.0 ports, you can transfer files at a speed of 5Gbps; backward compatible with USB2.0, providing more possibilities for connecting peripherals. Stably access the Internet with 1000M Ethernet port, much faster than WiFi connection.
⭐Widely Applicable & Driver Required: This dock is compatible with Windows xp/vista/ 7/8/8.1/10/11, MAC OS 10.14.x to 13.x or latest, Chrome OS, Android and Ubuntu. With required systems, almost all mobile phones, tablets, and PCs can extend more displays and devices through this mini dock. Note: The latest DisplayLink driver is needed for normal use; please access the DisplayLink official website (www.displaylink.com) to download the latest DL driver.
⭐What You Get: In the box, we will offer you 1xUSB3.0 travel mini dock, 1xmicro-B to USB-A power cable, 1xUSB-A to USB-C converter and 1xquick start guide. WAVLINK is committed to providing every customer with the highest quality products and services. After purchasing the product, you can get timely help from our professional technical support. If you have any questions, please feel free to contact us for support.
Take note
---
Wavlinkstore is the official online sales platform directly operated by Wavlink. All products are shipped by Wavlink and we take full responsibility for after-sales support. Please feel free to make your purchase with confidence.
How is the shipment arranged?
By default, we use DHL, UPS, and 4PX as our courier companies. If there are areas that cannot be reached by these couriers, we will utilize local postal services for delivery.
How to track the shipment?
We highly recommend making purchases as registered users. By accessing the registered member portal, you can track the shipping progress of your order. If you checked out as a guest user, it is advisable to save a screenshot of your order or note down the order number for easier reference when contacting our customer support staff for inquiries.
How are after-sales issues handled?
After-sales support follows the after-sales service policy, which is strictly adhered to. If there is an established after-sales service guarantee policy through email communication, it will be implemented accordingly. For technical support during working days, you can call +18889730883(Free call charges). Additionally, you can also reach out for support by contacting contact@wavlink.com. Japanese users can send their inquiries to supportjp@wavlink.com for assistance. More info vist https://www.wavlink.com/en_us/contact.html
Do you support small batch purchases?
Our website supports small batch purchases. If you are interested in making a small batch purchase, please send an email to kevin@wavlink.com to obtain the best quotation. Additionally, we recommend registering as a website member to accumulate points and enjoy upgrades, which will provide you with greater support.
Under what circumstances are orders considered high-risk or subject to delayed shipping?
Not providing an email address or providing a randomly filled email address, such as

abcdefghello@abc.com

.

The phone number appears to be abnormal or consists of consecutive digits, such as 123456789 or 987654321.

Incorrect postal code, incorrect city name, or unclear shipping address. We will send an email confirmation to the email address provided in the order. If we do not receive a response, we may delay or cancel the shipment.
What should I do if I forget the order number or neglect to take a screenshot while using the guest checkout mode?
Firstly, you need to remember the email address you provided during the checkout process. We can use the email address to deduce your order number.
Secondly, if you provided a phone number, we can also use it to search for your order.
If you don't remember anything, please submit a support ticket, and our customer support staff will communicate the detailed progress with you.