Convenient payment

Trusted-Delivery


Fast Delivery
Multi-warehouse direct hair fast delivery

Exquisite service
Exquisite service after-sale guarantee

Hassle-free return
Shop with confidence, worry-free refund
Features
USB3.1 Gen1 Type-C and Standard-A connectors compatible both Type-C and Type-A Laptop. Build in USB 3.0 GPU, Plug and Display Certified by DisplayLink. 2 x DisplayPort++ (Dual Mode DisplayPort 1.2) and 2 x HDMI (Version 2.0) support resolution up to (4K)4096 x 2160@60Hz. Support resolution 5K (5120 x 2880@60Hz) when only using one DisplayPort++ port
Support Extend and Mirror Video Mode. 5.1 Channel surround-sound through Display Port interface
Gigabit Ethernet network RJ-45 backward 10/100 Ethernet
Audio Line-out for Earphone and Line-In Microphone Audio Jack (TRRS)
3 x Type-A + 2 x Type-C ports compatible all USB 3.0 and USB 2.0 devices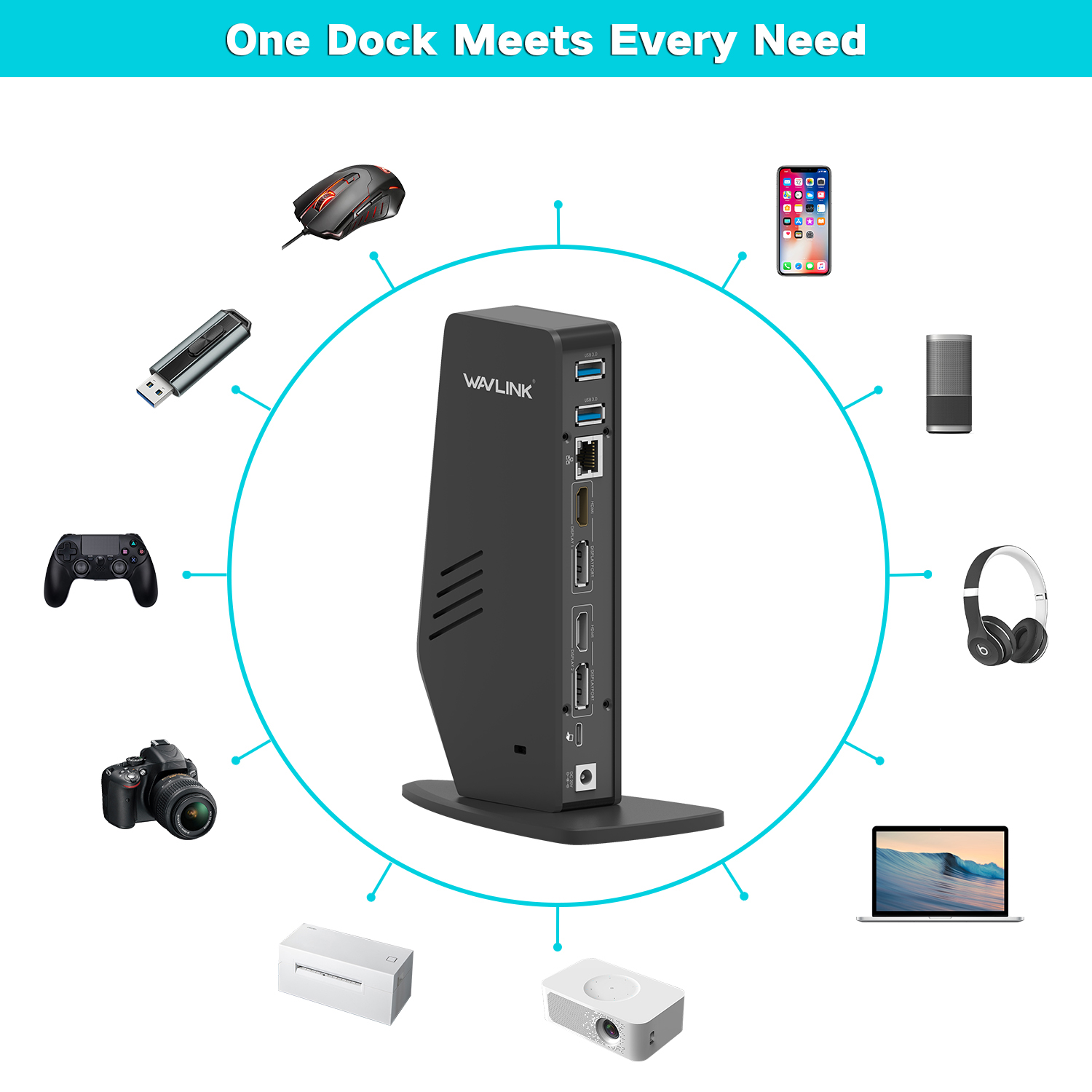 THIS DOCK do not support charging PC!

Supports resolutions up to 5K (5120 x 2880@60Hz) single display when using dual DisplayPort ports/ Dual 4K HDMI / HDMI +DisplayPort resolution up to 3840x2160@60Hz.

Gigabit Ethernet port gives access to super fast network speeds, provide a rapid guest networking for you. 2 USB 3.0 Type C port on the front of the docking station for USB-C peripheral connectivity, super transfer speed up to 5Gbps and 5V/3A of power,4xUSB 3.0 ports for super transfer speed up to 5Gbps and 900mA of power, you can connect your usb peripherals or usb stick to solve external USB devices and high-speed file transfer for home office workers.

5 USB 3.0 Ports: In contrast with traditional USB standards, USB3.0 and USB-C both transfer data at 5Gbps, which is blazing-faster than USB2.0, thus, you can transfer files, share images or employ any other relevant process fast as lightning.
Ports
1 x Type-C (Connect to laptop)
2 x HDMI
2 x USB-C
2 x DisplayPort
3 x USB-A 3.0
1 x 4-Pole Phone Jack
1 x RJ45 Gigabit Ethernet
1 x DC Power Jack Port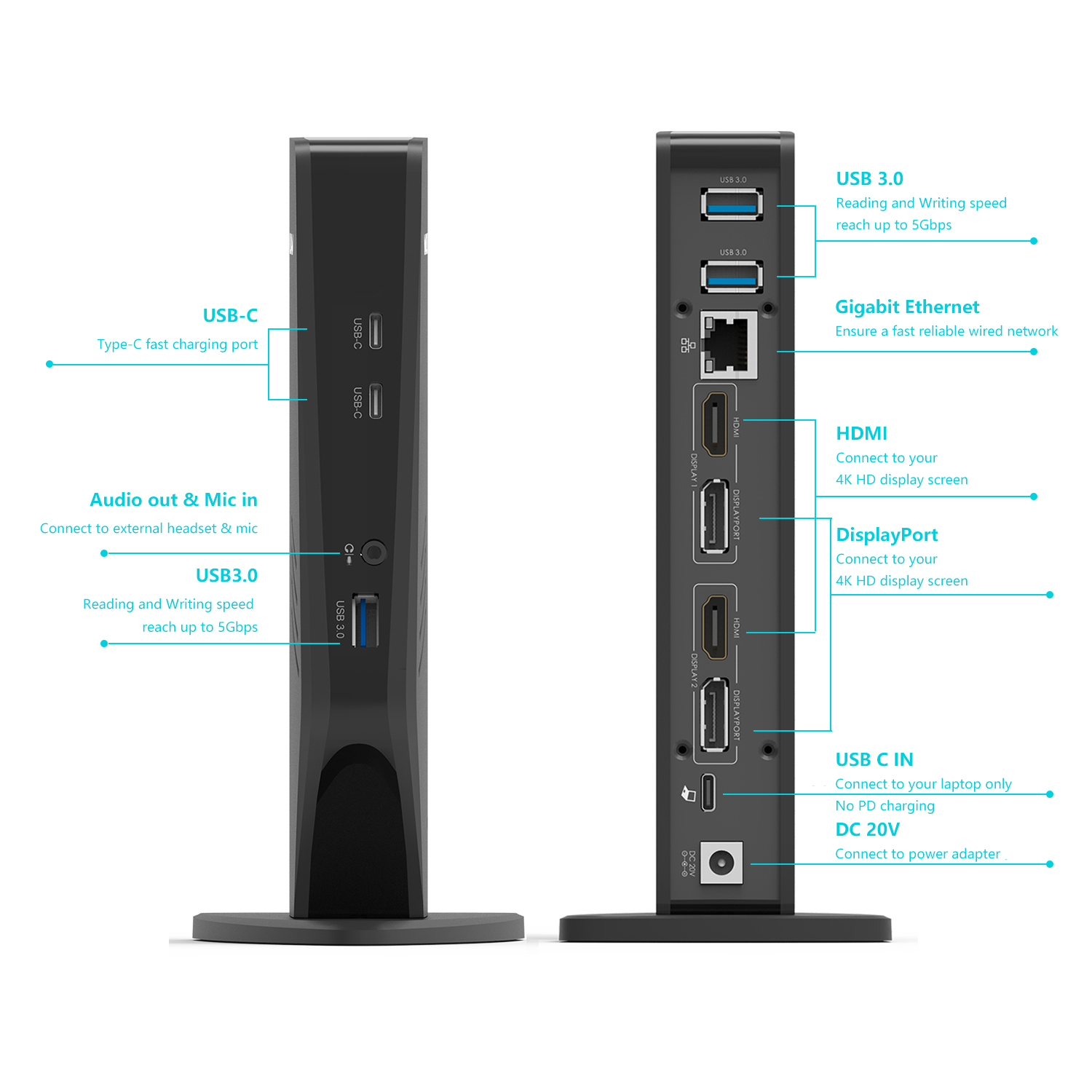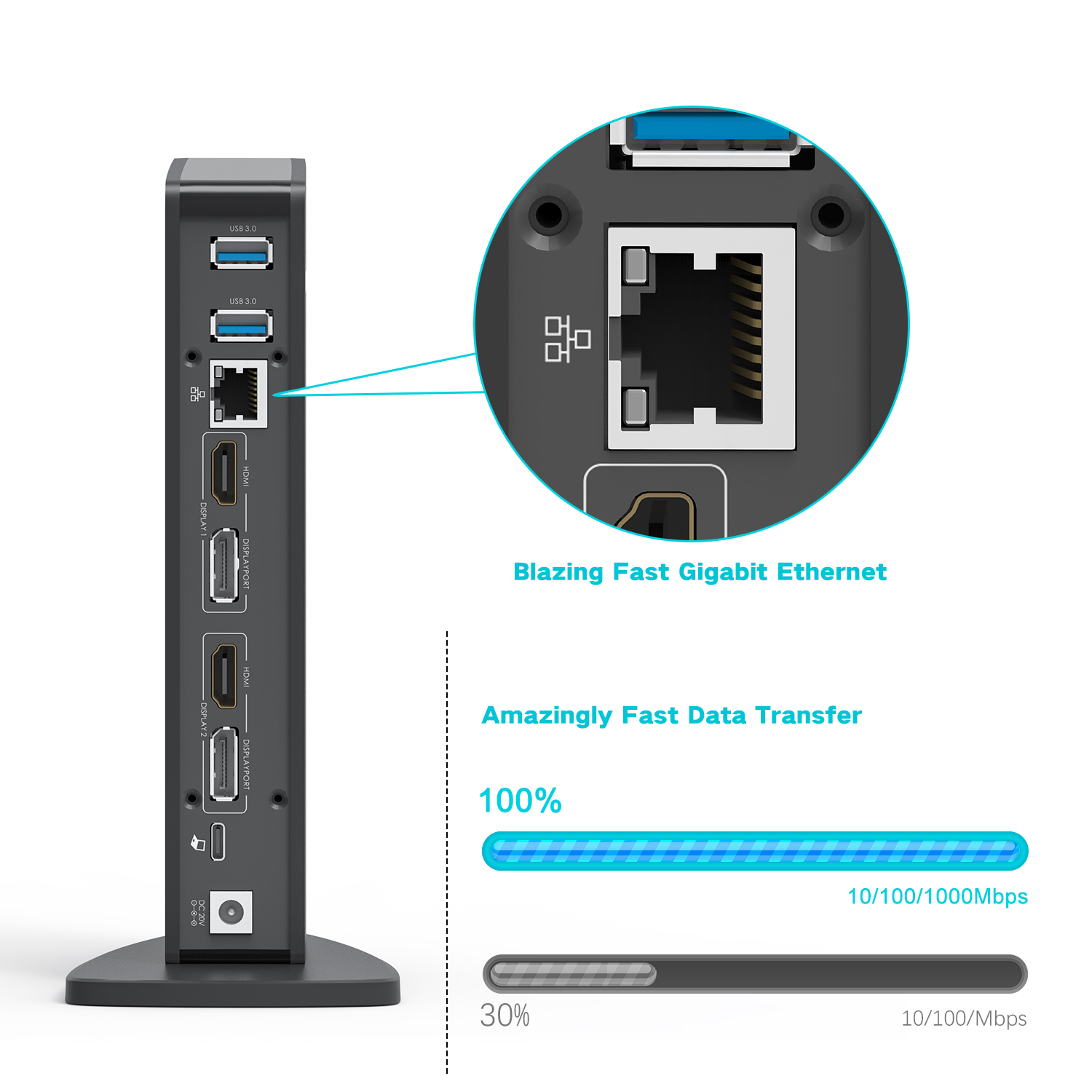 Package
1 x USB-C Universal Docking Station
1 x USB 3.0 C to C Cable
1 x USB 3.0 A to C Cable
1 x DC20V Certified Power Adapter
1 x User Manual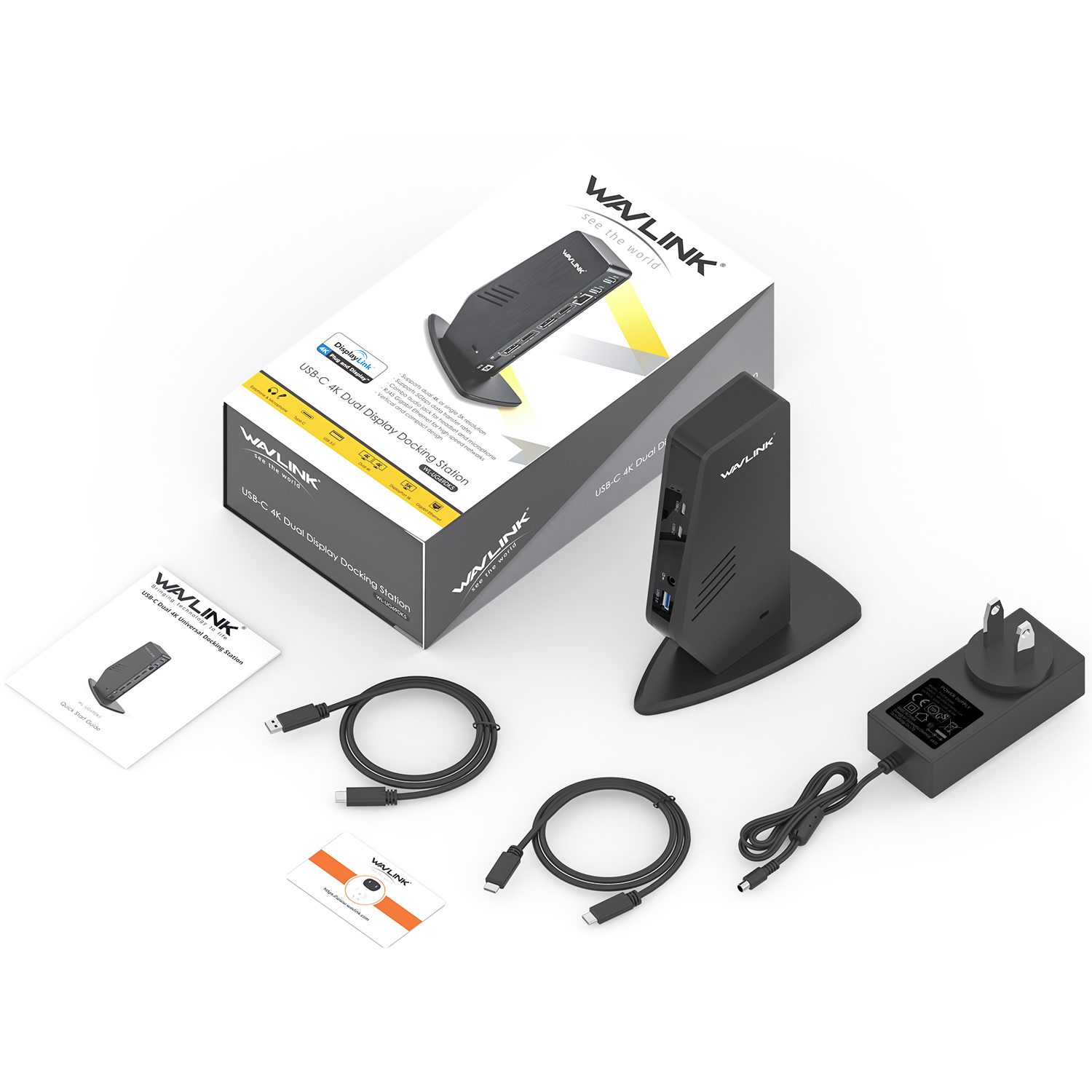 Notes
Not Compatible With: Windows XP (64-bit ) and Surface RT. Not supported Linux Not compatible with Acer G-Sync enabled monitors' DisplayPort port, like the Acer XB321HK. Does not support DisplayPort MST daisy-chain connections or Dual-Link DVI conversions. Drivers& Updates: displaylink.com/downloads Troubleshooting: support.displaylink.com Mac macOS High Sierra needs attention: 1, Since macOS High Sierra 10.13, the user has to explicitly enable this system extension in the Security & Privacy system preference after installation and before the DisplayLink software is allowed to run. 2, macOS Catalina 10.15 requires the user to permit "Screen Recording" in order for DisplayLink devices to work properly.
Ask Question About Product
Note:
HTML is not translated!
All(0)
Good(0)
Fair(0)
Poor(0)
Image(0)